SNL To Bring Weekend Update To Primetime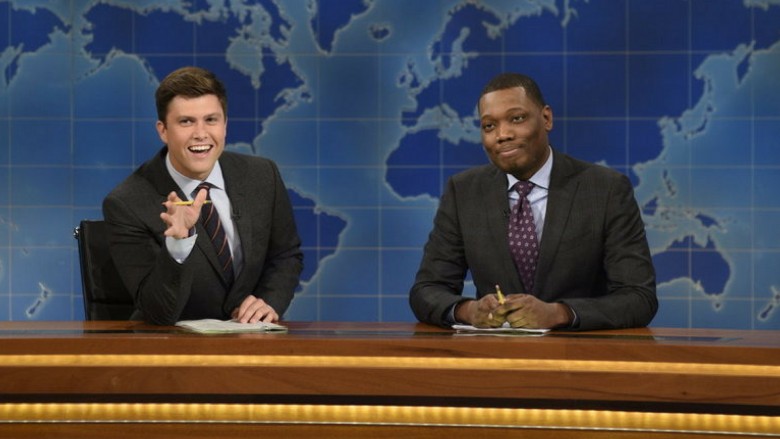 Saturday Night Live is trying to parlay their post-election ratings bump into something more by bringing their topical news segment "Weekend Update" to primetime for four half-hour episodes. The show announced the run on Twitter Tuesday morning.
This isn't the first time that "Weekend Update" got a primetime berth. Current hosts Michael Che and Colin Jost appeared on MSNBC last summer during the Republican and Democratic National Conventions. The show has had similar primetime episodes before presidential elections and other big political moments in the past as well.
Saturday Night Live is currently in the midst of a ratings renaissance, enjoying its most-watched season in 24 years, since the heyday of Adam Sandler, David Spade, and Dana Carvey. (via Variety) This has been largely due to the show's topical political sketches (although we like to think that David S. Pumpkins also played a part).
"SNL is having its best season in a quarter of a century— how many shows can say that?!— so we didn't want them to take the summer off," said NBC Entertainment chairman Robert Greenblatt to The Hollywood Reporter. "We're thrilled to have Colin Jost and Michael Che continuing their unique brand of news with fresh 'Weekend Update' shows in primetime this August."
Additional SNL cast members are expected to join Jost and Che on the show, NBC says. The four episodes are set to begin on Thursday, Aug. 10 at 9 p.m. on NBC. In the meantime, fans of SNL will definitely want to read about the show's untold truth.