The Walking Dead Character Death That Fans Agree Would End In Riots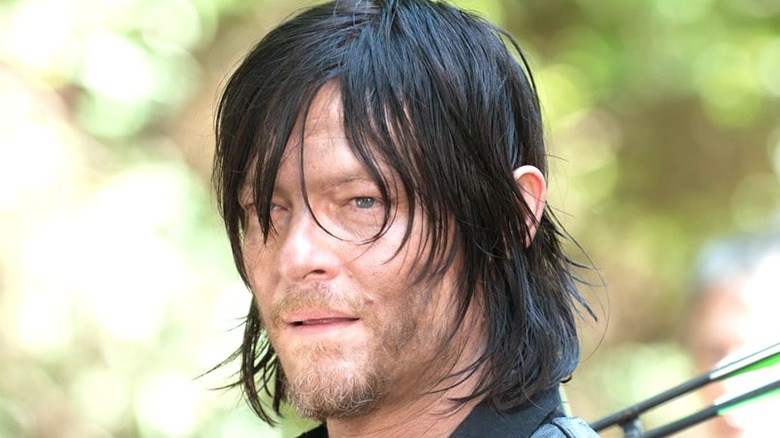 AMC
Death is an obvious and natural part of "The Walking Dead." Characters have come and gone since the early days of the AMC drama about the survivors of a zombie apocalypse. And while some characters have mattered to fans more than others, everyone has those people they'd be devastated to see bite the dust, especially now that the show is so close to finishing its run.
"The Walking Dead" returns for its 11th and final season on Sunday, August 22. The final chapter, which was announced in October 2019 but delayed by the COVID-19 pandemic, consists of 24 episodes that will air over a two-year period. The new episodes, which have a new look and feel, find the remaining survivors encountering the Commonwealth, which in the comics is a sizable network of communities with advanced equipment.
In the lead-up to the show's highly anticipated return, AMC aired a live episode of "Talking Dead" on Sunday, August 15 that previewed the new season. The results of a fan poll that asked viewers which character they're most worried about this season were revealed during the special. And the answer probably isn't who you would expect but still makes perfect sense.
The Walking Dead fans are really worried about Daryl's dog
Josh Stringer/AMC
The results of the fan poll included the recently returned Maggie (Lauren Cohan), who came in last place with just 9% of the vote. Connie (Lauren Ridloff) was in fourth place with 13%, while Negan (Jeffrey Dean Morgan) was a little bit higher and in third place with 15% of the vote. Meanwhile, Ezekiel (Khary Payton) came in second with 23%. But the winner of the poll, with a whopping 40% of the fan vote, was Daryl's (Norman Reedus) beloved dog, who actually received his own backstory during Season 10 that revealed just how he came to be Daryl's loyal companion.
"I think [Daryl] would go to any lengths to protect Dog. He's been out in the woods, that dog has been his best buddy," Reedus said during the special (via ComicBook.com). "I think if anybody hurt the dog, he would just go ballistic, apesh*t."
Based on the results of the fan-voted poll, Daryl's not alone in those feelings. But fear for Dog's safety has been a widespread concern since he was introduced in 2018, so much so it's come up often in interviews. "I don't know if I have the heart to kill the dog," showrunner Angela Kang told Entertainment Weekly in 2018 when asked about Dog's future.
We know this final season is going to be brutal, so let's hope Kang hasn't changed her mind. "The Walking Dead" Season 11 premieres Sunday, August 22 at 9/8c on AMC.