These Plot Synopses For Two Walking Dead Season 11 Episodes Have Fans Excited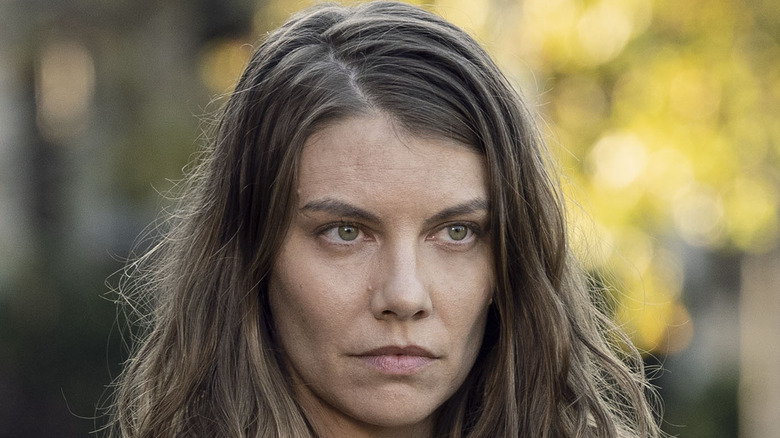 Josh Stringer/AMC
AMC's long-running zombie drama will return for the super-sized 11th and final season of "The Walking Dead" later this summer. The final installment will pick up where Season 10 left off and track various storylines, like Maggie's (Lauren Cohan) difficult reintegration into her community after being away for many years and returning to find that her nemesis Negan (Jeffrey Dean Morgan) is free and trusted; the capture of Eugene (Josh McDermitt) and his traveling party by the mysterious Commonwealth; and Carol (Melissa McBride) and Daryl (Norman Reedus) getting ready to get a "Walking Dead" spinoff of their very own.
But before we get to the end, we have to get through the beginning of the end and AMC is teasing out new reveals about Season 11 for 11 weeks leading up to the premiere on August 22. This week's reveal features titles for the season's first eight episodes and plot synopses for the first two, which comprise a two-parter called "Acheron." It will be the first true two-part episode in "The Walking Dead" history, though there have been call-and-response titles on successive episodes before, like Season 5's "Remember" and "Forget" and Season 9's "The Calm Before" and "The Storm."
Fans are analyzing the episode descriptions for "Acheron: Part I" and "Acheron: Part II" and finding some exciting details.
'Acheron: Part I' has an intriguing premise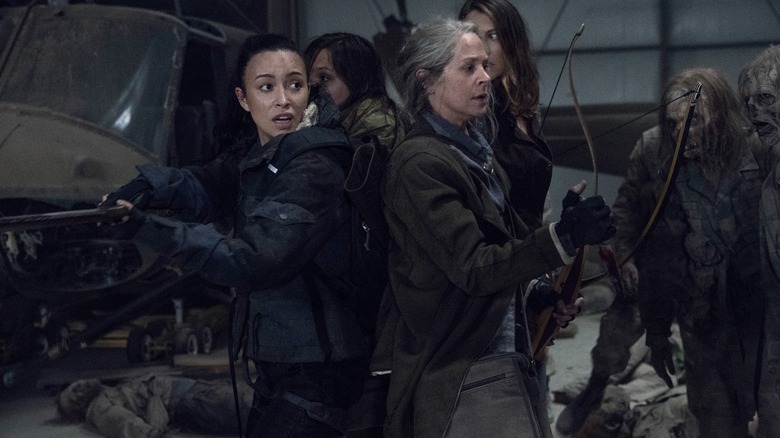 Josh Stringer/AMC
"Acheron: Part 1" is written by Angela Kang and Jim Barnes and directed by Kevin Dowling, an experienced TV director making his "Walking Dead" debut. It's the first season premiere not directed by executive producer Greg Nicotero since Season 3's "Seed." The episode will find Maggie leading a group of survivors on a dangerous mission in search of food after the Whisperers destroyed Alexandria's crops in Season 10.
Here's the official plot synopsis from AMC: "Returning to Alexandria from a critical food mission, the group realizes it isn't enough. Maggie proposes a new plan, potentially a suicide mission. What choice do they have? They must find more food for all their people in order to survive and efficiently rebuild Alexandria. If they don't, Alexandria falls, taking them down with it. Once on the road, a violent storm erupts forcing them underground into a subway tunnel. As nerves fray and suspicions increase, chaos ensues. The terror is relentless as our people get a glimpse of what Maggie and her group endured prior to returning to Alexandria. Meanwhile, those captured by the strange soldiers are relocated to another undisclosed location."
Fans on Reddit are excited by the prospect of a bottle episode set in a subway (presumably in the remains of the Washington Metro, which has a route from Washington D.C. to Alexandria). "Truth be told that's a really good idea for an episode like this, since god only knows how many Walkers have wound up just swarming the subway systems across the US," user WorldLieut8 wrote. "If any place were to have a massive number of them left around this long into the outbreak, it would be underground like that."
'Acheron: Part II' will probably see a character return
Josh Stringer/AMC
"Acheron: Part II" is also written by Angela Kang and Jim Barnes and directed by Kevin Dowling. Here's the official synopsis: "The group discovers a member did not make it to safety inside the subway car. Surrounded by walkers, going back out into the tunnel to search is a guaranteed death wish. All eyes are on Negan as the rule of survival shifts. It is no longer No Man Left Behind. The motto now is We Keep Going. With very little ammo and energy remaining, the group must ready themselves as the walkers have found a way inside the subway train. Meanwhile, Daryl is in his own intense hellish situation trying to find Dog and finding more than he expected; and Yumiko challenges the process at the Commonwealth outpost, which threatens her future and that of Eugene, Ezekiel, and Princess."
For this episode, people are most concerned about Daryl and Dog and what – or whom – Daryl finds. Some fans on Reddit suspect Daryl will find Dog's former owner Leah (Lynn Collins), the woman with whom he had a brief, intense relationship during his time in the wilderness, as seen in the "Walking Dead" Season 10 episode, "Find Me."
"Daryl's looking for Dog? Maybe Dog smelled his former owner and ran to her," JustACreativeGirl wrote. "Would be typical for him to [lead] Daryl to Leah..." Other fans think he could find Connie (Lauren Ridloff), who survived a cave collapse in the middle of Season 10. She and Magna (Nadia Hilker) escaped the cave but got separated, and in the episode "A Certain Doom," Virgil (Kevin Carroll) found her outside of Oceanside, filthy and exhausted. Connie is the more popular character of the two options, and it would be great to see her again after she was sidelined for much of Season 10 while Ridloff was filming "Eternals."