The Forgotten Tom Hiddleston Horror Comedy That You Can Watch On Hulu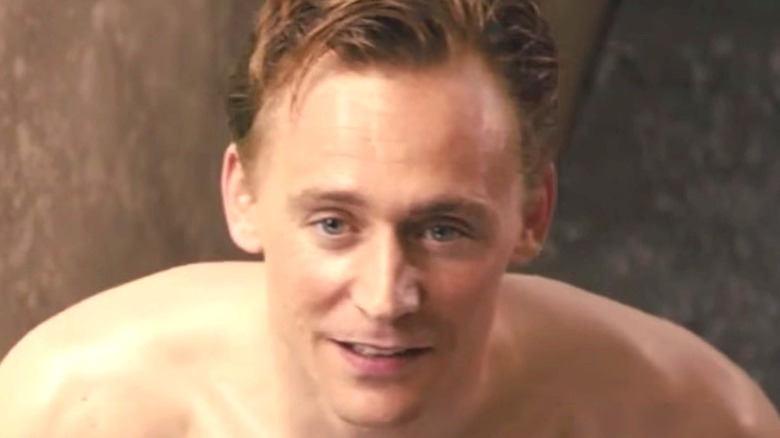 StudioCanal
Tom Hiddleston may be best known by audiences for his role as god of mischief, Loki, in the Marvel Cinematic Universe, but the talented actor has shown his chops in many other projects. One such project is "High-Rise," the 2015 British horror-comedy based on J.G. Ballard's beloved novel of the same name. Hiddleston stars as Dr. Robert Laing, who moves to a high-rise apartment just outside of London in the hopes of being left alone. However, he soon finds himself enveloped in the insular world of decadence created by the building — and the ensuing chaos. 
Set in the 1970s, this dystopian film boasts a number of equally impressive actors, including Jeremey Irons, Sienna Miller, and Elisabeth Moss. "High-Rise" was generally liked by critics, earning a score of 65 on Metacritic, with IGN's Chris Tilly calling the film a "deliciously dark satire that feels fresh and original," and Kate Wilson of Varsity saying "it is undoubtedly destined to become a cult classic."
High-Rise is a highly entertaining dystopian film
A recurring theme in "High-Rise" is class inequality — especially in the high-rise itself, as the higher the floor you live on, the wealthier you are. In an interview with Time Out London, Tom Hiddleston shared his thoughts on the film's statements, calling it "quietly" political. He adds, "The film and the novel could be read as a reflection of what is happening today. Power lies in the hands of a very small percentage of the populace, in all professions: politics, law, the media, and, yes, the arts too." 
Playing a role in such a dark and dystopian film was certainly a challenge for Hiddleston, but a welcome one. The actor told Esquire how he finds the confidence to tackle difficult roles, saying, "I think it's a desire to challenge myself. It comes back to that thing I was saying about expansion and wanting to stretch and grow. It's the same reason people travel ... You want to broaden your horizons, and the process of being an actor is that. I feel like I want to travel far and wide, and that's why I choose to do different projects. I don't know where the confidence comes from. I think it comes more from curiosity than confidence."
If you're a fan of Tom Hiddleston, or even just love a good dystopian film, you can't go wrong with "High-Rise," now streaming on Hulu.