This Is Where Where Aladdin Was Really Filmed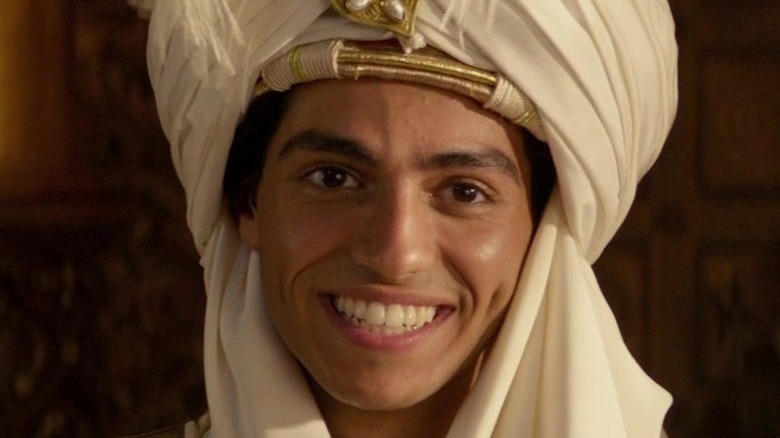 Walt Disney Studios
The original Disney "Aladdin" was "filmed" — or, more accurately, animated — at two branches of Walt Disney Feature Animation simultaneously, one in Burbank, California, and the other in Bay Lake, Florida (via Animated Views). Although having each animator work on their character separately brought a whole set of challenges to the production, the film, like every other one in the Disney Renaissance of the 1990s, took full advantage of cel animation's boundless potential for scenic exuberance. Much like "The Lion King" did for the African savannah and "The Hunchback of Notre Dame" did for olden-day Paris, "Aladdin" brought its Arabian setting to life in rich, dazzling colors and finely-detailed vistas.
The work done on the film was so mesmerizing that you'd be excused for believing it involved on-location research like "The Lion King" and "Mulan" — but in reality, according to the book "The Emperor's Old Groove: Decolonizing Disney's Magic Kingdom" by Brenda Ayres, the makers of "Aladdin" only used pictures and paintings for guidance.
When the live-action remake of "Aladdin" got off the ground, therefore, it was an opportunity for Disney to paint a more lived-in picture of the Arab world than it had previously been able to. But did 2019's "Aladdin" make good on that opportunity? Was any of it actually shot on location? The answer would be yes — partly.
Aladdin was shot in England and Jordan
The majority of the scenic design in "Aladdin" is, much like in the original 1992 animation, make-believe. According to Atlas of Wonders, most of the film was shot on two studio lots in England; the fictional Arab city of Agrabah had "all the streets, the square, and the palace" built on an enormous set in Longcross Studios, Surrey, and other scenes were filmed in Arborfield Studios, near Reading. A huge amount of CGI went into recreating the original film's iconic landscapes — if the behind-the-scenes footage is anything to go by.
But not all of the sightseeing in "Aladdin" is virtual. For the many scenes taking place in the open desert, a unit was assembled in the Wadi Rum valley in southern Jordan, a stunning location previously seen in movies like "Lawrence of Arabia," "The Martian," and "Rogue One." Per The Location Guide, the crew for this unit was about 50% local, as the Wadi Rum's popularity in Hollywood has ensured that the government and the local Bedouins know all the ins and outs of working with American movie studios by now — to say nothing of the host of experienced Jordanian professionals who regularly provide support for local shoots. Mena Massoud, who plays the titular character, even gushed about the experience on Instagram, writing: "Can't begin to explain the vast beauty of this land & its people ... Jordan, you've reminded me of my roots – shokran!"