How Sarah Michelle Gellar Really Felt When She Joined Freddie Prinze Jr. On Scooby-Doo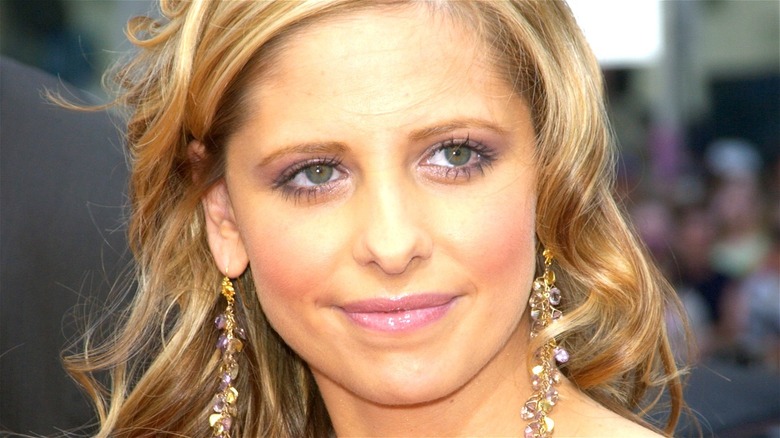 Shutterstock
Sarah Michelle Gellar and Freddie Prinze Jr. have been married since 2002 — a millennium in celebrity couple years. Perhaps one reason for their relationship's long-term success is that they were friends first. Gellar and Prinze met in 1997 on the set of "I Know What You Did Last Summer." Sparks didn't immediately fly, but the two became chummy. "She didn't have a driver's license. She didn't know how to drive," Prinze Jr. told Us Weekly. As the shooting location was an hour from the closest city, Prinze Jr. started driving Gellar everywhere. "[T]hat's when her and I became friends," he said. "And we just would talk about life and stuff like that, and we had completely different philosophies on just about everything."
After wrapping on "Summer," the two stayed close. Prinze Jr. would bring his cousins over to Gellar's house to cook for her and her friends, as feeding people is the Prinze family's love language. "I just wanted to be friends with her because I thought she was too skinny and I wanted to cook for her," he said in the same US Weekly interview. Gellar would briefly cameo in Prinze Jr.'s film "She's All That," but the two wouldn't really work together again until "Scooby-Doo."
Prinze and Gellar got engaged while filming Scooby-Doo
Warner Bros.
Prinze Jr. and Gellar were already an item when "Scooby-Doo" started filming. The couple had their first date in 2000 at a sushi restaurant, according to a Facebook Live interview Prinze Jr. gave in 2016. Prince Jr. was impressed by how much food Gellar housed while on the date, including a crab that was killed right in front of them, according to E!. Principal photography on "Scooby-Doo" began in February 2001, per the Guardian, and the couple announced their engagement in April of that same year.
2002's "Scooby-Doo" was a major couple milestone for the characters Gellar and Prinze Jr. played as well. It was the first time Fred and Daphne were portrayed as an official romantic couple. Romantic tension was part of the franchise for years, and there were always fan jokes by adult "Scooby-Doo" viewers about why Fred and Daphne always paired up to look for clues. But the interpersonal dynamics of the Scooby Gang had never been a main focus of the cartoons. Later versions of "Scooby-Doo" like "Mystery Incorporated" highlighted the Scooby gang's relationships much more.