The Real Reason Jaws Doesn't Show Up Until Later In The Movie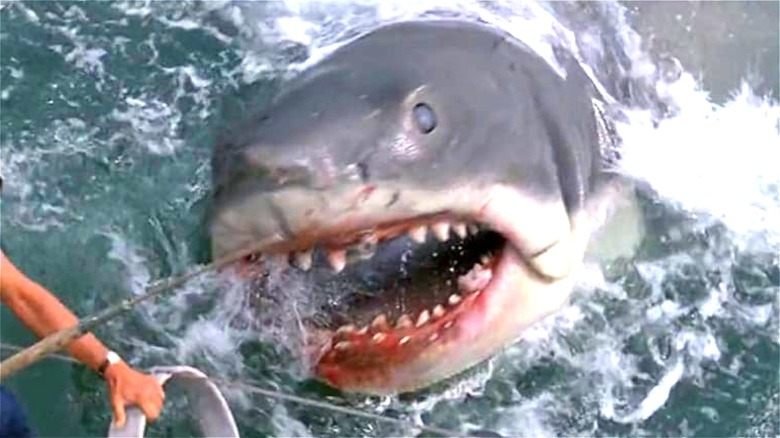 Universal Pictures
When it comes to iconic films of the past 50 years, "Jaws" is easily one of the most memorable. Directed by Steven Spielberg and featuring an instantly recognizable theme by John Williams, the classic thriller spawned three sequels and became a pop culture phenomenon. The 1975 film, based on the novel by Peter Benchley, was the highest-grossing movie of all time, grossing a then-unheard-of $470 million worldwide (via The Numbers). It held that record until "Star Wars" came out in 1977. As the first film to gross over $100 million at the box office, "Jaws" is also certified as the world's first summer blockbuster by Guinness World Records. 
Much of the frenzy around "Jaws" was thanks in part to its impressive special effects. The film did utilize some real great whites, hiring professional divers Ron and Valerie Taylor to capture live shark footage. Valerie told Inside Hook that they were hired to get the footage prior to filming the rest of the movie "because it would be much easier to adjust the acted scenes than to change what the real sharks were doing. Of course, Spielberg and co. weren't going to let the plot of their film hinge on the behavior of animals, so the team had to get creative.
The animatronic shark in Jaws wasn't very reliable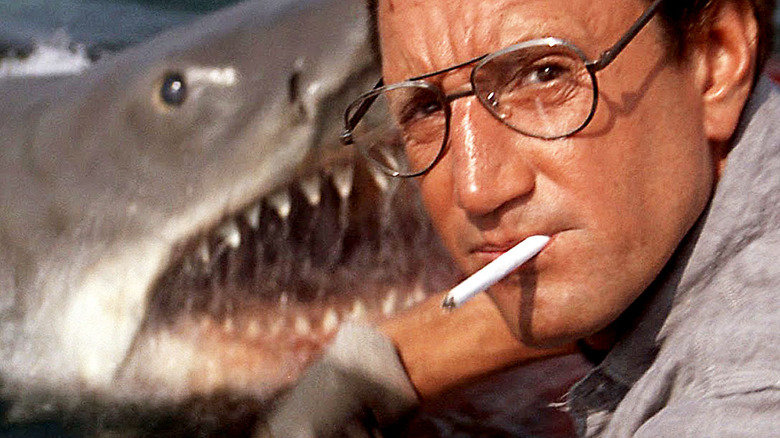 Universal Pictures
The "Jaws" team opted to create their own sharks using innovative animatronic technology. Three sharks were made, collectively named Bruce. "Jaws" production designer Joe Alves spoke with NPR about creating Bruce, saying they enlisted the help of special effects legend Bob Mattey, who created the terrifying squid for "20,000 Leagues Under The Sea." However, even with top talent on board, the trio of Bruces faced many issues, constantly breaking down and delaying filming. Steven Spielberg and the rest of the filmmakers had to adopt clever ways to demonstrate the ominous presence of the shark, as the technical problems meant they were unable to actually show Bruce, who doesn't appear until nearly the end of the film.
As a result of these special effects malfunctions, "Jaws" finished filming way over budget. "We were in deep trouble," Alves told NPR. "The studio was reluctant to make the movie; they had no confidence in it." 
Of course, "Jaws" exceeded any and all expectations, no doubt to the relief of Universal Pictures. Now, fans of the film can see the original Bruce in all his restored glory at the Academy Museum of Motion Pictures when it opens in September 2021, according to Deadline. Technology has come a long way since 1975, but Bruce remains one of the most impressive special effects in cinematic history.