Paul Bettany Opens Up About Vision's Possible MCU Return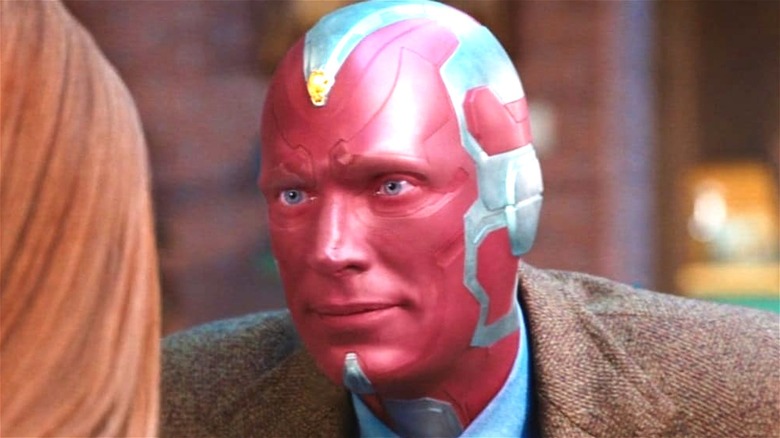 Marvel Studios/Disney+
After a year of zero Marvel content in 2020, this year started with a bang by giving fans the perfect way to reintroduce them to a post-Thanos Marvel Cinematic Universe with "WandaVision." It was a superhero show unlike any other that's come out before with its sitcom-inspired premise that sees Wanda Maximoff (Elizabeth Olsen) and Vision (Paul Bettany) live out a semi-idyllic lifestyle in the suburbs via "I Love Lucy" and "The Brady Bunch." One episode out per week created a lot of excitement surrounding the series, making fans wonder where all this madness was heading.
Marvel fans weren't the only ones obsessed with the show, as it also clearly has a passionate fanbase among Emmy voters. The show garnered a total of 23 nominations for this year's ceremony, which is extraordinary for a superhero series. One of those nominations goes toward Paul Bettany's exemplary performance as the philosophical android Vision. The actor recently sat down with Deadline to discuss the show and how he prepared to go into such a unique project. While much of the interview looks toward the past, the end had Bettany setting his sights on the future and whether Vision is genuinely done in the MCU.
Paul Bettany says 'you never know with Marvel'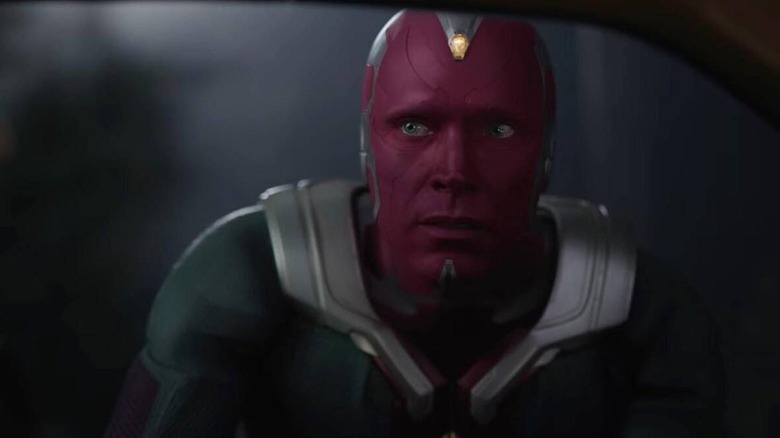 Marvel Studios/Disney+
Paul Bettany's Vision died for the first time in "Avengers: Infinity War." He died for the second time in ... well, again "Avengers: Infinity War." There were many questions about how the character could come back in "WandaVision" before the series premiered, but in this comic book universe, you never know what will happen next. By the end of the Disney+ series, Wanda relinquished control of Westview, which saw the death of Vision once again. The assumption would be that this was indeed the last time we'll see the character, but Bettany holds out hope he's not done in the MCU quite yet. 
Bettany tells Deadline, "You never know with Marvel, whether you're done, or not. So I don't want to call it the end yet." It's obvious he had an absolute blast working on the show and making something unlike anything else done within the genre. He explains, "This was one of the most creative experiences of my life, joyful and free, making this show. To see it embraced by an audience the way it was, was so wonderful."
As audiences saw in "WandaVision," a version of the android is still out there. White Vision flew away in the final episode, so there's always a chance he could join the Avengers down the line. Plus, with Wanda returning in "Doctor Strange in the Multiverse of Madness," she could always find another reality with an alive Vision in it. If there's one thing we've learned so far in the MCU, it's that death is never truly the end.