The Suicide Squad: How You Can Watch This Touching Deleted King Shark Scene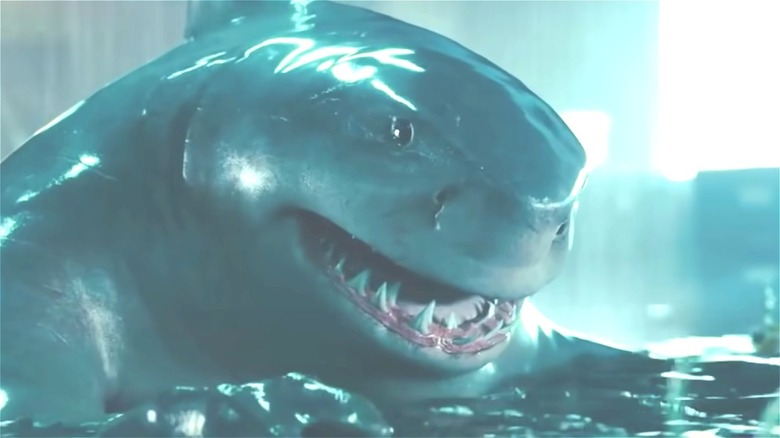 Warner Bros/DC Entertainment
The arrival of James Gunn's "The Suicide Squad" has been a welcome addition to DC lore by adoring fans. With an impressive 91% critics score on Rotten Tomatoes, it's clear this film has helped make up for the sin's of the previous iteration of the comic book tale — in stark contrast, 2016's "Suicide Squad" has a score of 26% and some very scathing reviews.
"The Suicide Squad" introduces some new characters to the DC Extended Universe, including Idris Elba's Bloodsport, John Cena's Peacemaker, Pete Davidson's Blackguard, Daniela Melchior's Ratcatcher 2, and of course, King Shark. Performed by Steve Agee in motion capture and voiced by Sylvester Stallone, the anthropomorphic man-eater surprisingly served as one of the more emotionally-driven characters in the film, leading to some of the movie's most tender moments. However, as director James Gunn has revealed, some even more heart-wrenching King Shark moments were filmed that didn't make the cut — but they aren't lost forever.
Fans can catch more of King Shark on The Suicide Squad's Blu-ray Release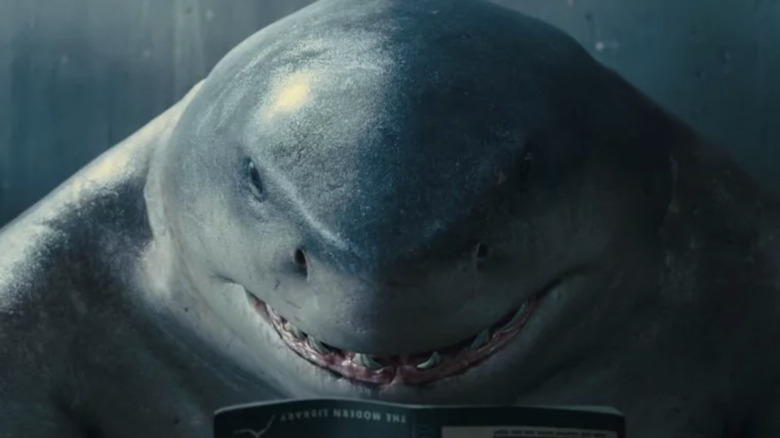 Warner Bros/DC Entertainment
In an interview with Collider, "The Suicide Squad" director and writer James Gunn shared what audiences have to look forward to on the film's Blu-ray release. Like any film, some scenes were left on the cutting room floor, including a heartfelt King Shark moment that was cut because "it was at the wrong place in the movie."
"You see this moment, where King Shark is looking out the window, and he sees a young couple kissing. And you realize in that moment, hopefully just how he's not a part of this world and how he longs to be a part of this world," Gunn told Collider. "That actually was a much longer sort of montage. That is really beautiful, and I really like in and of itself." The original cut of "The Suicide Squad" was 2 hours and 40 minutes, Gunn revealed, and was eventually cut down to 2 hours and 12 minutes, so there's quite a lot of additional footage to be seen. 
Though "The Suicide Squad" already lives on HBO Max, dedicated DC fans will definitely want to scoop up the film's Blu-ray release for all the extra behind-the-scenes goodies.