17% Said This Was The Worst Parks And Recreation Character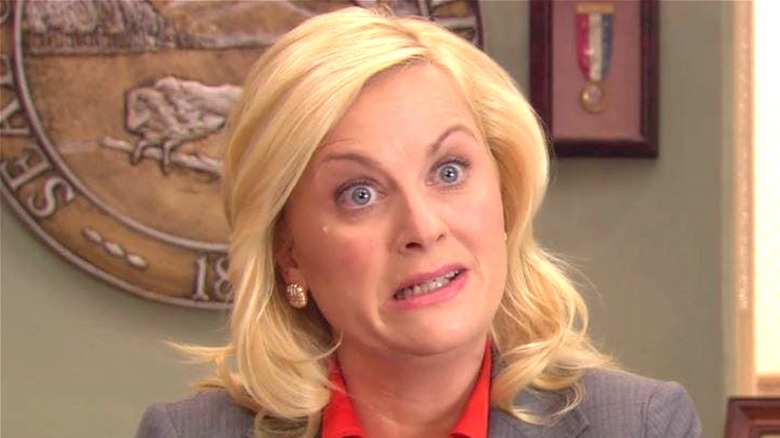 NBC
There are a couple of different ways to measure a television ensemble. 
Some series are pulled forward by their strongest characters. You get a key pairing, maybe a love triangle, and you let them go to work on top of the background provided by the rest of the group, who pop up with their problems or solutions to other people's problems as required, but mostly try to stay out of the way. All that is true, though a lot of the most successful shows know that the best way to take your show to new heights is by having a high floor. There's a lot more flexibility in your storytelling, and a lot more options for funny moments, if the vast majority of your characters can carry the show on their own for a time.
But even on a show with a strong ensemble like "Parks and Recreation," the rising tide does not necessarily lift all boats. Sometimes you have to take a hard look at the people bringing up the rear. And so, Looper asked 636 American "Parks and Recreation" fans for their opinion on the show's worst character.
It was a narrow vote, with no one standing out head and shoulders above the rest. Just over 50 votes separated the highest vote-getter from the lowest, with everyone else crammed in between. That seems like the sign of a well-balanced cast of characters. Everyone is playing his or her part in the success of the greater unit. Everyone takes his or her share of the love, and the hate.
Fans picked Tom Haverford as the worst Parks and Recreation character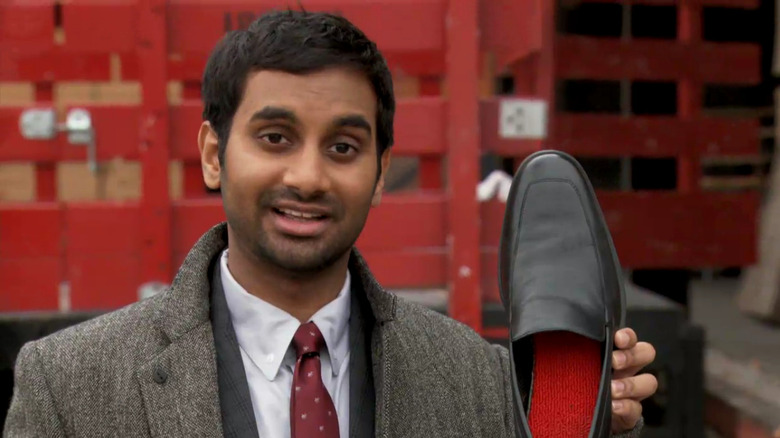 NBC
But however close the vote might have been, somebody had to win — or lose, in this case — and so the character the fans picked as the worst of them all was underachieving municipal bureaucrat and aspiring media-entertainment mogul Tom Haverford (Aziz Ansari), who garnered 17% of the vote.
Of course, Tom's terribleness was very much the point. He is an exaggerated caricature of a certain vintage of status-obsessed man-child whose arrogance can't hide his insecurities. He probably does tip too often over the line that divides self-care (Treat Yo' Self Day!) from selfishness (Bringing Ron's ex-wife to a party to enact revenge upon him, among many, many others).
But he does learn and grow over the course of the show, reaching at least within spitting distance of maturity by Season 7. From the very beginning Tom has shown a willingness to go out and get what he wants –– his own fragrance, his own signature drink, his own multimedia entertainment conglomerate, Entertainment 720 –– but it takes the better part of the show's run for him to learn the wherewithal to stick with them through the various mishaps and sabotages that seem so endemic to Pawnee with his last entrepreneurial enterprise, Tom's Bistro. He finally learns to do the work in a relationship too, eventually becoming engaged to his girlfriend Lucy (Natalie Morales).
Narrow margins separated the bulk of Parks and Recreation's ensemble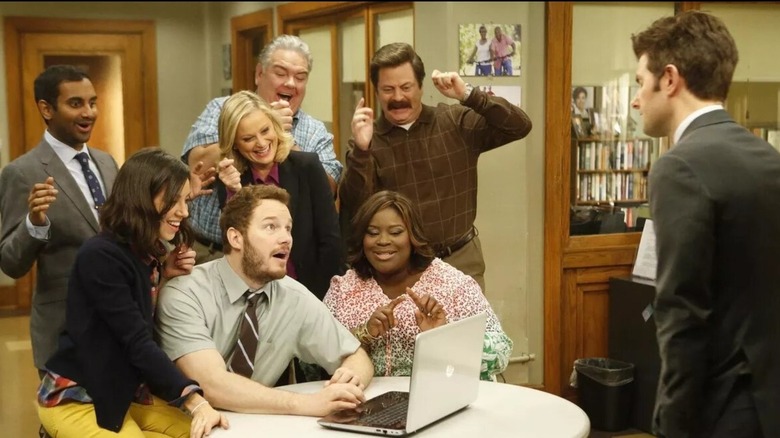 NBC
Joining Tom in the top, or in this case bottom, tier of "Parks and Recreation" characters is everyone's second-least-favorite lovable idiot, Andy Dwyer (Chris Pratt), who finished just behind Tom at 16% of the vote. In his own way, Andy possesses much of Tom's ambition. He's constantly ginning up new bands, new characters, and new endeavors, but he lacks Tom's hustle, and constantly has to be pushed by other characters even to launch his breakthrough idea, Johnny Karate.
After that pair there's a bit of a gap, and then a cluster featuring most of the show's biggest names. In third place in the polling with 12% of the vote was the Ice Clown himself, former mayor of Partridge, Minnesota turned possible-President of the United States Ben Wyatt (Adam Scott). After Ben were four different characters with just a handful of votes separating them. Leslie Knope (Amy Poehler) and Ann Perkins (Rashida Jones) finished in a two-way tie for 4th, with 11.5% of respondents selecting each of the BFFs. Coming in at 11.3%, a single vote below Leslie and Ann, was perpetually optimistic auditor Chris Traeger (Rob Lowe). Rounding out that contingent at 11% even was Pawnee's resident cynic April Ludgate (Aubrey Plaza).
And the least unlikable character on "Parks and Recreation"? Ron Swanson (Nick Offerman), of course.