The Surprising Inspiration For Ethan Hawke's Moon Knight Character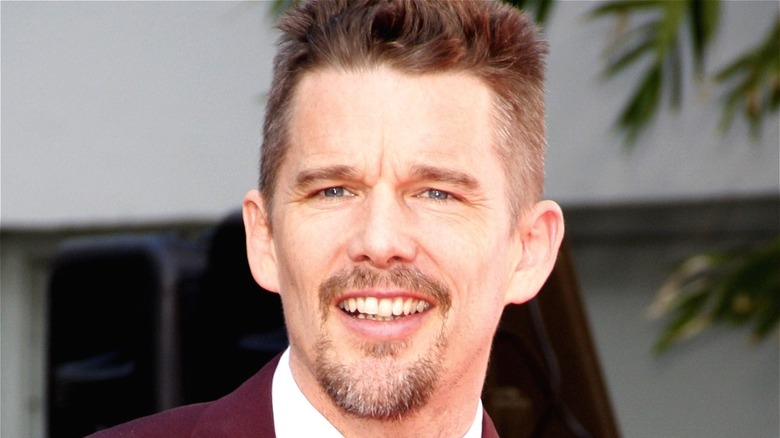 Shutterstock
With filming on the upcoming Marvel Disney+ show "Moon Knight" continuing in Budapest, Hungary, it won't be much longer until Moon Knight makes his MCU debut. As we get closer, new teases for "Moon Knight" seem to be emerging from the set (per Screen Rant) and cast member Ethan Hawke, specifically. 
"Moon Knight" stars Oscar Isaac as Marc Spector, a former mercenary who becomes the earthly embodiment of an Egyptian god and uses his newfound superpowers to help others. In addition to Isaac and Hawke, the cast of the "Moon Knight" also includes Gaspard Ulliel ("Hannibal Rising"), who plays Moon Knight's nemesis Anton Mogart, and "Ramy" star May Calamawy in an undisclosed role. 
While clues about Calamawy's role are few and far between, we may have gotten a clue about Hawke's character from the man himself. This week, Hawke appeared on "Late Night With Seth Meyers" (via YouTube) to promote his new graphic novel "Meadowlark." Since Hawke is currently in Budapest working on "Moon Knight" — and thus giving the interview from the Hungarian capital — the Marvel show was the first topic of conversation. Naturally, Hawke couldn't divulge specific details about the show, but he did offer up a vague morsel about the look and feel of the show overall. Hawke shared with Meyers that, in the course of his 30-plus-year career, the "Moon Knight" sets are "the best sets I've ever been on in my life," and added, "The costumes, the set, the production design, the cinematography. All those elements are kind of mind-boggling." 
That tease wasn't the only exciting bit from Hawke's chat with Meyers, either. As it happens, the actor also offered up an intriguing clue about the inspiration for his character.
Ethan Hawke was inspired by David Koresh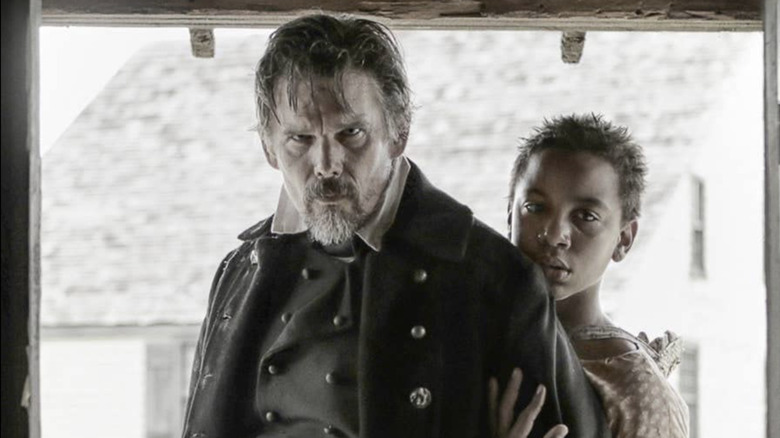 Showtime
We may be one step closer to knowing which "Moon Knight" comics character Hawke is bringing to life on the Marvel Disney+ show thanks to an intriguing exchange with Meyers. At one point, Meyers remarked, "By the way, I should note, that with those glasses, your long hair, and those candles, you're giving off a real David Koresh vibe."
Hawke appeared stunned for a moment, then went on to confirm to Meyers, "I've based my character on David Koresh! I guess it's working. You're good, Seth. Or maybe I'm not out of character yet."
While the conversation about Koresh ended there, Hawke confirming that the ominous leader of the Branch Davidians is, to some degree, a source of inspiration is an interesting clue here. While "Moon Knight" appears to have the villain role sewn up with Ulliel's casting, Hawke name-checking Koresh teases the possibility that he is also playing a villain or, at best, a shadier character in the MCU. There is also the possibility that Hawke is drawing on the personality of Koresh to make sense out of his "Moon Knight" role; even if that's the case, it still leaves the door wide open to possibilities about who he's playing.
For now, eager "Moon Knight" fans will have to wait for more clues about Hawke's character to better theorize about his identity. Until then, we just have David Koresh.