How Rainn Wilson Injured Almost Everyone On Set Of The Office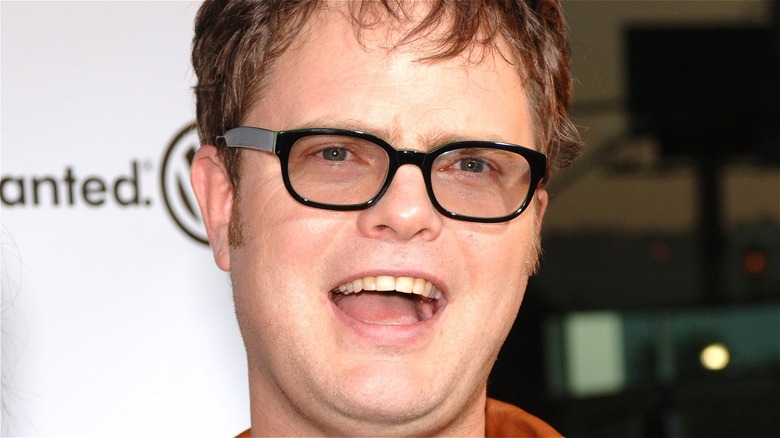 Shutterstock
"The Office" is easily one of the most influential shows of the 21st century. At this point, it's hard to imagine there's anyone who hasn't seen at least one episode of the iconic sitcom. The show's cultural influence is massive, with its inspired memes and references remaining a huge part of our modern internet culture. "The Office" may have ended eight years ago, but its popularity endures. 
With such a long-running show, the cast certainly has its fare-share of behind-the-scenes gossip to dish. Fans of "The Office" have delighted in Angela Kinsey and Jenna Fischer's podcast "Office Ladies," which gives audiences a look into each of the show's 201 episodes. However, Kinsey and Fischer aren't the only cast members who've given audiences a peak behind the curtain. Rainn Wilson, beloved for his portrayal of the hilariously unusual Dwight Schrute, shared some memorable "The Office" anecdotes in his 2015 book "The Bassoon King: Art, Idiocy, and Other Sordid Tales from the Band Room." Turns out, Wilson was the cause of quite a few on-set injuries. 
Rainn Wilson accidentally injured many of his Office colleagues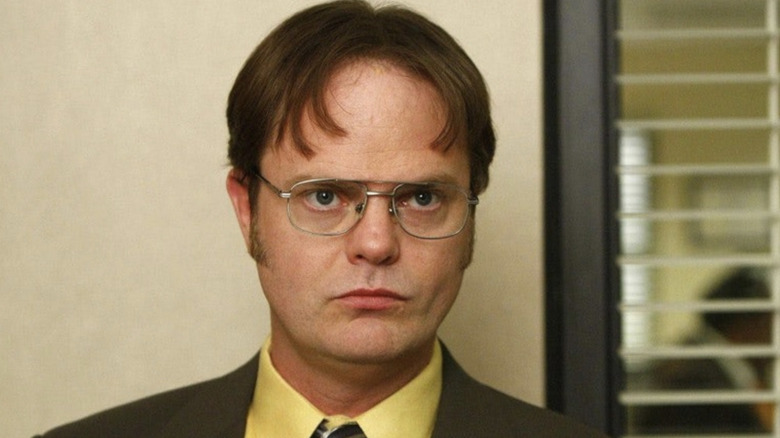 NBC Universal
Dwight isn't a character known for his grace and tact, so it makes sense that the actor behind the character would be prone to clumsiness, too. However, it is pretty shocking just how many injuries Rainn Wilson accidentally caused to his castmates.
In his book, Wilson details how he "hit John Krasinski in the eye and enormous nose with an icy snowball and other desktop objects," and how Phyllis Smith (Phyllis Vance) and Brian Baumgartner (Kevin Malone) were victims of accidental punches more than once. Angela Kinsey, who played Dwight's love-interest Angela Martin, got many "debilitating bruises" from Wilson throwing her "on top of desks and car hoods" and spanking her "far too hard" during romantic scenes. However, Leslie David Baker (Stanley Hudson), faced the brunt of on-set injuries, after Wilson "accidentally kicked sand" into Baker's eye while filming the infamous Season 3 "Beach Games" episode. Baker had to be taken to the hospital, where he was treated for a scratched cornea. 
Though all these injuries were of course accidental, Wilson used his book to make amends. "This is my chance to apologize to the entire cast," Wilson wrote. "I'm sorry. It's a wonder that I was never sued." 
With so many of "The Office" cast members sharing they're open to a reunion, though, it seems there's no love lost among the cast, even with all the accidental injuries.