Why Jim And Pam's First Kiss On The Office Means More Than You Think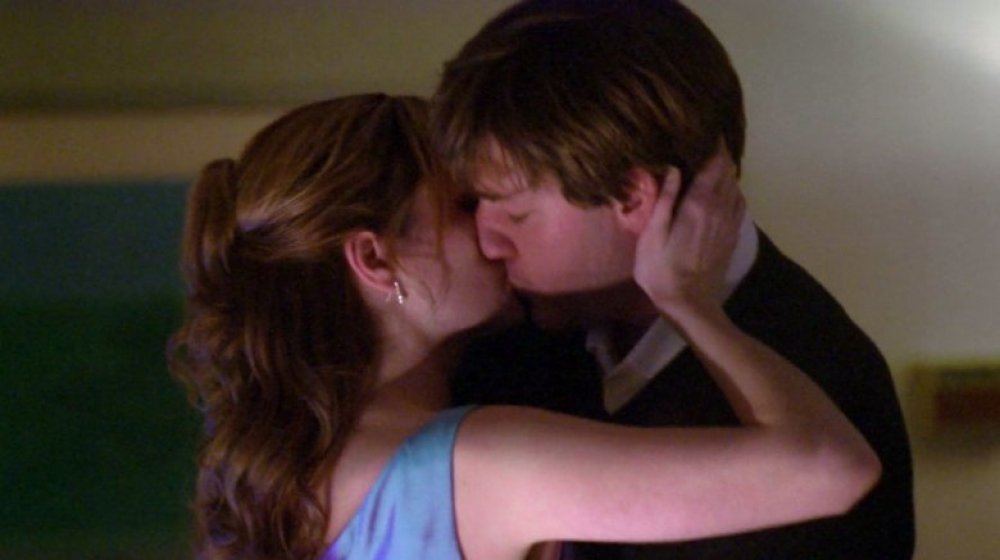 Even after years off the air, NBC's workplace mockumentary The Office has remained one of the most beloved and re-watchable shows of the 21st century, especially as it's lived on through streaming services like Netflix. Longtime fans and new viewers alike have flocked to this irreverent, funny, and surprisingly emotional series, thanks to its pure relatability, excellent sense of humor, and incredible cast of characters. Throughout nine seasons, the Scranton branch of Dunder-Mifflin — a modest paper company always seemingly on the verge of going under — lived, laughed, loved, and, occasionally, even did some work.
By the time the series came to a close in May 2013, fans knew everything there was to know about characters like Michael Scott (Steve Carell), Dwight Schrute (Rainn Wilson), Jim Halpert (John Krasinski), Pam Beesly-Halpert (Jenna Fischer), and more, having spent years watching the staff of Dunder-Mifflin grow and progress. However, there are some behind-the-scenes facts that even The Office's most ardent followers might not know, including a big one about a major scene between Jim and Pam early on in the show. 
Here's why the first kiss between Jim and Pam on The Office is even more meaningful than you think.
Jim and Pam bet big during "Casino Night"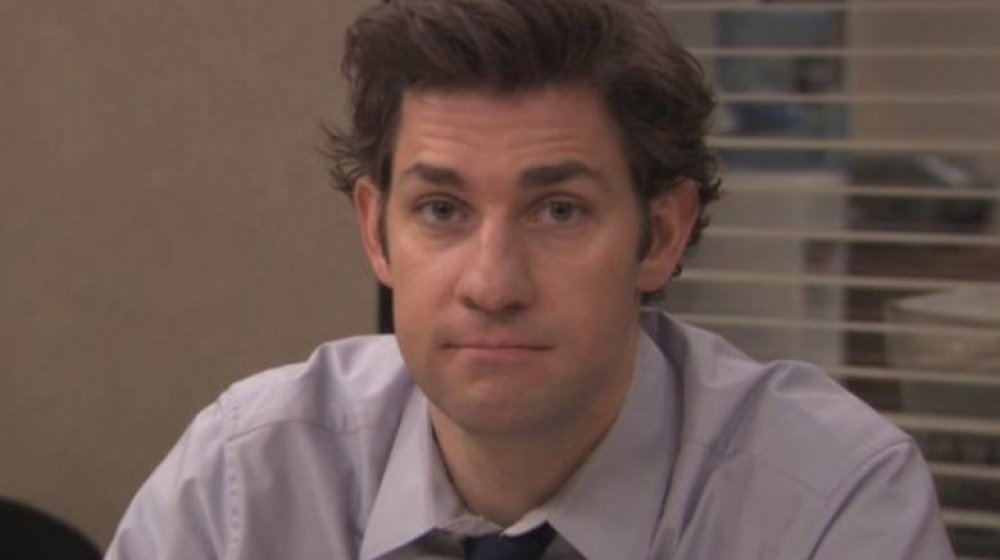 After spending two seasons watching Jim and Pam build an undeniable tension, fans were dying for the duo to finally realize their mutual feelings for each other. Even though Jim's crush on Pam gets outed in the office (during the season 2 episode "The Secret," in which Michael is predictably terrible at keeping this secret), Pam treats Jim as a friend — especially since she's already engaged to Roy (David Denman), who works down at the warehouse. However, by the time season 2 ends, the entire situation comes to a head after a Casino Night-themed party.
As Pam's wedding gets closer and closer, Jim is clearly at a loss as to what to do, and eventually, he confesses his love to Pam in the parking lot on one of the series' most emotional moments thus far. Pam, who didn't expect this proclamation, tells Jim that he's her best friend, but when he tells her he wants "more than that," they part ways — only to come back together shortly after for a passionate kiss in the dark, empty office.
On IMDb Snow Hat, a series that asks actors about different experiences and projects, Krasinski admitted that the kiss that Pam and Jim share in the office was actually his first on-screen kiss. He revealed, "It's a pretty big moment to have be your on screen kiss, and it's not one that we really wanted to screw up."
As if the stakes weren't high enough, Krasinski also 'fessed up to the fact that he didn't even tell Fischer the truth: "I don't think I told her it was my first on-screen kiss; in fact, I think she was like, 'this isn't your first on screen?' [...] I was like, 'pfft, no.' What am I, an idiot?"
Just the beginning of an Office romance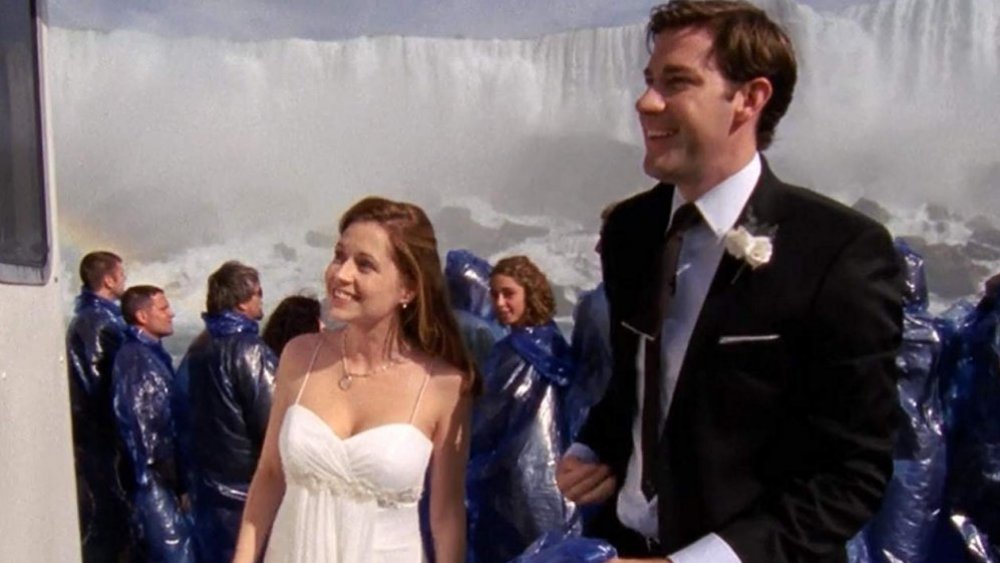 Things might have seemed dire after Jim and Pam's first kiss, considering that Pam calls off her wedding to Roy and Jim moves to Stamford to take a job at another branch during the third season, but that wasn't the end of the story for these two lovers. Despite the fact that Jim eventually returns to Scranton with a new girlfriend, Karen (Rashida Jones), the connection between him and Pam is truly undeniable. By the time the fourth season of The Office begins, the two are happily dating.
Before long, Jim proposes to Pam — making for not just one of The Office's sweetest scenes, but also one of television's most touching proposals — and the two get married with the whole office in tow, all while Pam is visibly pregnant with their first child. Eventually, the couple ends up with two children — Cecilia and Phillip — but their family dynamic gets disrupted when Jim tries to pursue a new career in Philadelphia with Athlead, a buzzy sports marketing company.
Fans might have worried about their favorite pair's fate by the time The Office came to a close, especially when Jim's ambitions drive several serious wedges between himself and Pam, but the finale provided happy closure for the couple. In order to help Jim achieve his dreams, Pam announces that she wants to move the family to Austin, where Athlead is now located.
Obviously, the story of Jim and Pam is nothing short of epic, which makes it particularly amusing that their first kiss was as momentous for Krasinski in real life as it was for Jim. The Office is currently streaming on Netflix, and eventually, it will move to NBC's new streaming service, Peacock.