HBO Max's Gossip Girl Season 1, Part 2 - What We Know So Far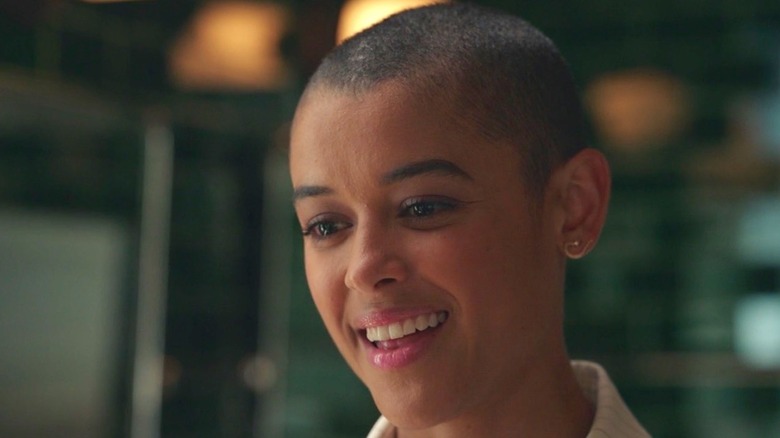 HBO Max
The first half of "Gossip Girl" Season 1 has just wrapped up — and fans are likely already eager for the second half of the season to air.
Developed by Joshua Safran, "Gossip Girl" is a reboot and extension of the CW show of the same name from 2007. The new series follows Zoya Lott (Whitney Peak), a high school freshman from Buffalo, who transfers to a wealthy Manhattan private school to connect with her estranged half-sister, Julien Calloway (Jordan Alexander), the school's "it girl" and a social media influencer. Julien's friend group extends to longterm couple Audrey (Emily Alyn Lind) and Aki (Evan Mock), pansexual flirt Max (Thomas Doherty) and Julien's "minions" Luna (Zión Moreno) and Monet (Savannah Lee Smith). While the teens deal with their own interconnecting drama, the young teachers of Constance Billard, tired of the spoiled kids' constant misbehavior, revive the online anonymous presence known as Gossip Girl, led by English teacher Kate Keller (Tavi Gevinson).
The first six episodes have already depicted some intense drama — from social rivalries to teacher-student hookups — ending with a crazy development in the Zoya-Obie-Julien love triangle. If you're as eager as we are to see how the drama unfolds in the second half of Season 1, read on to find out everything we know about "Gossip Girl" Season 1, Part 2 so far.
When will Gossip Girl Season 1 Part 2 be released?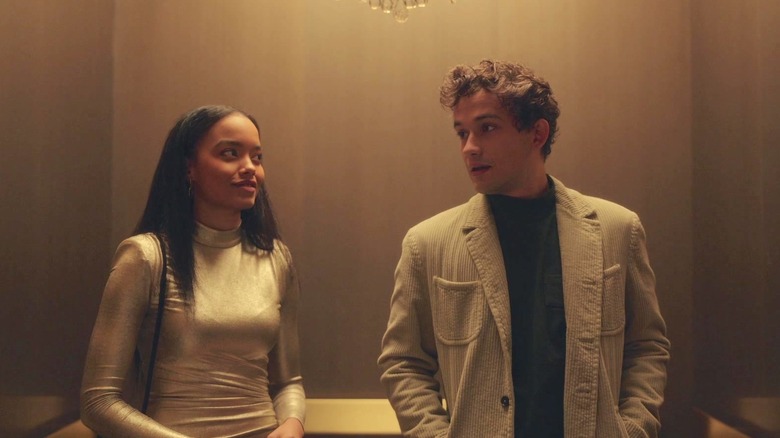 HBO Max
After the intense mid-season finale, fans are left wondering when they'll get the second half of the season. Luckily, the wait isn't going to be too long. In a Refinery29 interview with the show's creator, Joshua Safran, it's confirmed that the show will start back up again in November. Safran also revealed that the second season is "all but officially" greenlit, and that he already has a ton of exciting plans for beyond the remaining six episodes of the first season.
It seems fans are expecting the show to get even better in the second half. A Twitter user, @eiffeltyler, an editor who describes herself in her bio as "Part-time Gossip Girl historian," tweeted, "Okay so episode 6 of @gossipgirl is the best yet and I am gonna have to ask y'all to get on board because this show is CLEARLY going places in the back half." 
Safran himself quote tweeted this, writing, "I, of course, agree."
Who will be in Gossip Girl Season 1 Part 2?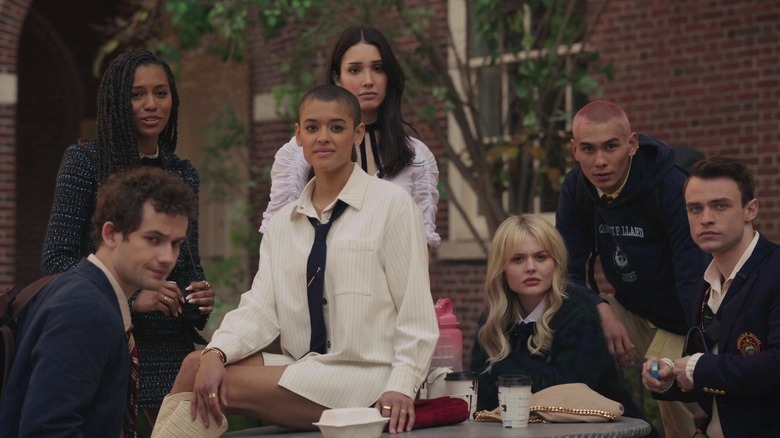 HBO Max
We can expect to see all of the main teens returning for Part 2, including the players of the main love triangle: Zoya, Obie, and Julien. Additionally, Aki, Audrey, and Max — who are in a different kind of love triangle, having finally given into a threesome — will all be returning. And Julien's minions, Luna and Monet, will be returning and even getting some spotlight on their backgrounds separate from Julien, as Safran confirmed to Refinery29.
Additionally, the kids' parents have only become more involved in the narrative as the season has progressed. Zoya's dad, Nick (Johnathan Fernandez), has developed feelings for Kate — unaware that she's behind Gossip Girl, of course. In Episode 6, we were also finally introduced to Obie's mother, Helena (Lyne Renée), whom Obie is scared to confront, as well as Aki's parents, including his right-wing media mogul father Roger (Malcolm McDowell). Safran recently revealed on Twitter that both of Aki's parents will play a major role moving forward.
Finally, we can expect to see more drama on the teachers' side, as they continue to grow Gossip Girl. Besides Kate, computer science teacher Jordan (Adam Chanler-Berat) and administrative staff member Wendy (Megan Ferguson) have become just as involved in Gossip Girl behind the scenes action and will definitely be showing up in Part 2. And classics teacher, Rafa (Jason Gotay) has joined the Gossip Girl team as well, although for the wrong reasons — namely, to keep his frequent trysts with his students a secret.
What will Gossip Girl Season 1 Part 2 be about?
HBO Max
Season 1 Part 1 definitely set up an abundance of drama to be picked up in the second half. To begin with, Gossip Girl definitely isn't going anywhere. Despite Kate developing feelings for Nick, she breaks it off before a relationship can begin so that her personal life doesn't get in the way of her Gossip Girl exploits.
Elsewhere, couple Audrey and Aki have begun exploring their sexuality, starting with a three-way tryst with Max. We can likely expect to see more of the growing feelings and lust between the three of them in Part 2. And, while we don't know much yet about the lives of Monet and Luna, we can expect them to have bigger roles in Part 2, possibly including their own love interests, which we have yet to see for either of them.
Finally, there is definitely a lot more in store for the love triangle between Obie, Julien, and Zoya. Obie and Zoya have been together for most of Part 1 — and Julien has insisted that she's okay with her ex-boyfriend dating her sister — but Episode 6 saw Zoya and Obie fighting over Obie not standing up to his mother. Julien later admits to Zoya that she still loves Obie, and Zoya runs off. The episode ends with, in the midst of the protest, Julien and Obie sharing a kiss. When the season returns, we can expect to see some answers here, but for now questions remain.
Safran confirmed that Episode 7 will pick up right before Thanksgiving — at a dinner that will have all 17 key characters in attendance. We can't wait to see the drama pick up there.