Why TWD's Norman Reedus Says Daryl Would Punch Rick During A Reunion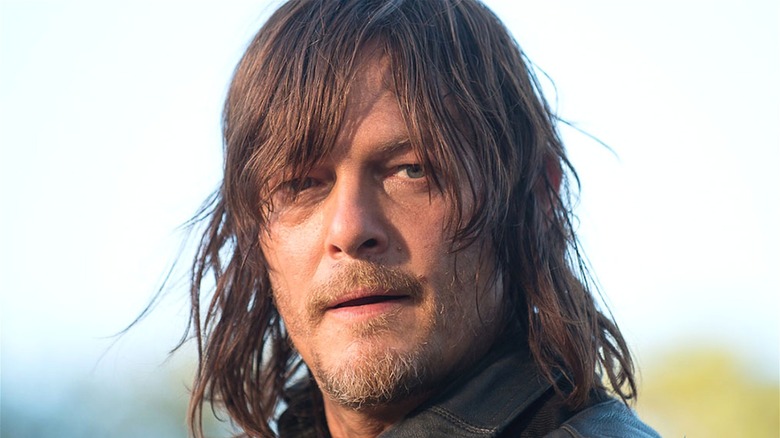 AMC
We're mere days away from the premiere of the eleventh and final season of AMC's long-running zombie apocalypse drama "The Walking Dead," and diehard fans still don't quite know what to expect. That's largely because "The Walking Dead" has deviated so far from its source material (Robert Kirkman's graphic novel series). The show is essentially telling its own story at this point — so much so that Season 11 will even feature a new villainous group who never appeared in the comics. 
While the coming narrative promises lots of new faces in "The Walking Dead" landscape, fans of the series are dying to find out if the familiar face of Andrew Lincoln's Rick Grimes might turn up somewhere in the final season, as well. At the moment, series creatives are remaining exceedingly tight-lipped about whether or not Rick will return in Season 11 after narrowly escaping death in his Season 9 exit. 
As stoked as "The Walking Dead" fandom would surely be to see Rick return in the upcoming season, series star Norman Reedus thinks his fan-favorite character might have a different response. Reedus told Insider he believes Daryl would probably take a swing at Rick if or when he shows up. "I think Daryl should see Rick and first punch him in the face, before he says anything, just for putting him through that, all those tears, punch him in the face."
Daryl probably has good reason to take a swing at Rick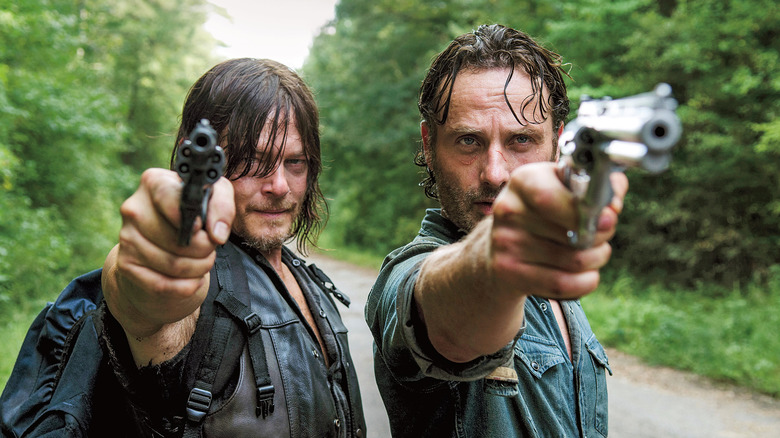 AMC
If there's a character in "The Walking Dead" stable who has good reason to take a poke at Rick after his long absence, it's Daryl. He did, after all, take Rick's seeming demise harder than most, collapsing into a puddle of tears upon losing his friend, then spending literal years searching the wilderness for any clue as to what happened to him. So even as Reedus likely made that statement in jest, one has to wonder if such a response wouldn't actually fit the moment.
Reedus continued to make light of a possible Rick and Daryl reunion saying, "And then he [Daryl] should say, 'It looks like you've gained weight." And the actor didn't let up there, hilariously offering that Daryl might even feel Rick owed him child support for helping raise his kids Judith (Cailey Fleming) and RJ (Antony Azor) in his absence. 
Fortunately, one of Lincoln's other former co-stars, Melissa McBride, thinks her character would have a very different reaction to Rick returning to the fold. She told Insider, "I think Carol will be ecstatic." McBride's use of the word "will" there might prove telling of Lincoln's possible Season 11 return, the timing of which would make sense given Rick's "Walking Dead" movie is still very much in-the-works. 
For now it's probably best to take it with a grain of salt and let the season play out however it may. "The Walking Dead" returns to AMC on August 22, 2021.