What Marvel Fans Really Think About Jeffrey Wright's Watcher In What If...?
Marvel Studios/Disney+
With only one episode out in the world, the latest Marvel series for Disney+ "What If...?" is already getting a positive response. We've been introduced to an alternate version of Peggy Carter (Hayley Atwell) who takes the super soldier serum and becomes Captain Carter, while Steve Rogers becomes a Hydra-smashing giant Iron Man. If you're curious how things turn out compared to "Captain America: The First Avenger" the answer is "differently, but also the same."
We've seen the result of that adventure which, much like with Captain America, ends with Captain Carter trapped 70 years in the future — a future we know we'll be seeing more of. And we know there's plenty of Chadwick Boseman as T'Challa to come, as well as all sorts of other parallel stories up to and including the Marvel zombies.
However, there's one character we don't talk about nearly enough — the Watcher (whose actual name is Uatu) as voiced by Jeffrey Wright. Think of the Watcher as the "What if...?" equivalent of Rod Serling in "The Twilight Zone" — he's our narrator and our guide to places, peoples, and things unknown. So, even more so than Captain Carter and T'Challa, he is the one other character we'll be seeing in every episode.
So, how do fans feel about Wright's portrayal of The Watcher so far?
Why fans think Jeffrey Wright makes such a great Watcher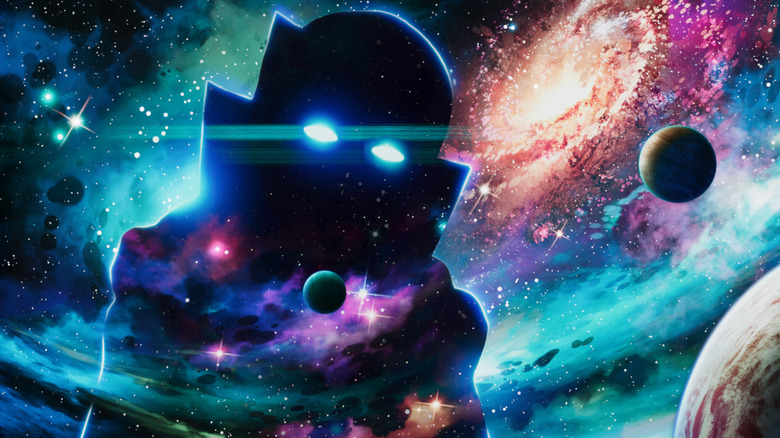 Marvel Studios/Disney+
Fun fact: Jeffrey Wright is not the first person to ever voice The Watcher in an animated series. In fact, in addition to silently appearing in "The Marvel Super Heroes," "X-Men: The Animated Series," and the "Silver Surfer" cartoon, he's been voiced by Paul Frees in the 1967 "Fantastic Four" cartoon, Dave Boat in "The Super Hero Squad Show" and, perhaps most notably, by the legendary voice actor Alan Oppenheimer in the '90s "Fantastic Four" animated series. Phil Lamar also played the Watcher in the video game "Marvel: Ultimate Alliance."
In short, there is at least one large pair of shoes to fill by Jeffrey Wright as he takes on Uatu for "What If...?" And if the online response is anything to go by, Wright is already doing a stellar job.
Over on Twitter, @MrNiceGuy513 did not hold back his excitement writing, "Can we talk about how —ing awesome Jeffrey Wright is as the Watcher? Perfect casting." 
@Blurayangel concurred, writing, "Jeffrey Wright is the perfect voice as The Watcher in #Whatif."
@unspokeninq went even further, tweeting that "One of the best parts of #WHatif Ep. 1 was the intro. Jeffrey Wright's ominous narration over the cosmic animation of MCU characters was perfectly done."
In short: Wright is doing incredibly well at mastering the art of playing an otherworldly, omniscient being eyeing the alternate fates of mortals across time and space with a quiet, distant respect. Just imagine how good he'll be at playing James Gordon in "The Batman."
New episodes of "What If..?" stream Wednesdays on Disney+.