How Fans Really Feel About The 2021 Return Of Wild 'N Out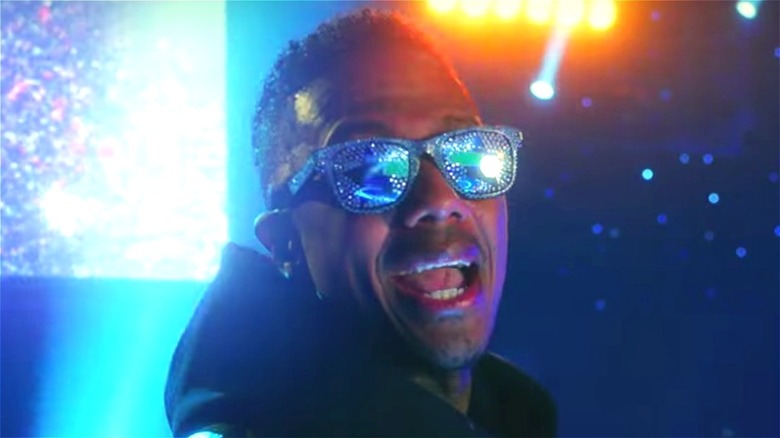 VH1/ViacomCBS
The mega-hit improv comedy showdown "Wild 'n Out" had its big Season 16 premiere on August 10, 2021 on VH1. While Season 15 was still airing toward the beginning of the year, those episodes were filmed back in December 2019, according to All Hip Hop. That was before the COVID-19 pandemic and before the show's host and creator Nick Cannon was fired and then rehired after he made, and then apologized for, anti-Semitic statements on his podcast.
Season 16 looks to be trying to start a fresh new era. Before the new episodes dropped, MTV News teased some changes to the look and format of the series. One of the most notable is the way in which the series will handle its guest stars. Each week, a special celebrity performer serves as a captain of one of the two teams competing to best each other in a series of improv games. For Season 16, these special guests will be appearing via hologram.
This change was no doubt the result of COVID-19 related filming limitations. But regardless of why the changes were made, the celeb holograms and other tweaks to the show had fans on Twitter giving more than a little side-eye to the Season 16 premiere.
Wild 'n Out fans had some fearless feedback about the Season 16 premiere
While you might think that fans of "Wild 'n Out" would be happy to have the show back, many were left feeling more than a little disappointed at the season premiere.
"This new season and episode of #WildNOut just not doing it for me what's going on....." wrote Twitter user @Hunney_Kisses. They were far from the only one for whom the new season was just not doing it. User @kingtalklive balked, "#WildNOut I don't what I just watch. Hopefully the next episode is better. This can't be wild n out," while @cierra_cii said bluntly of the changes to the show, "Uhhh I'm not really feeling this new format #WildNOut."
For @Nick_ForeverFly, the hologram special guests were a bridge too far. "If they gonna have all the guest stars appear and perform virtually, they can keep this season," they tweeted. Meanwhile, other fans of the series were disappointed that some of their favorite performers from previous seasons were absent.
"Ummmmmm, not Karlous, DC, and Chico not being on the first episode of #WildNOut," opined @LaurenBMorgan_. On a similar note, @over__9__ had a request for the show's production: "#WildNOut Ya'll @ me when Karlos show up."
And @Thim_slick88 had both a helpful bit of information and a prayer, "DC, Los, & Chico are on tour yall! I pray a tour stop is close by before the next episode cause baybay ..."
Season 16 of "Wild 'N Out" is currently airing on VH1.