New Details About Angelica Ross's Role In AHS: Double Feature Finally Revealed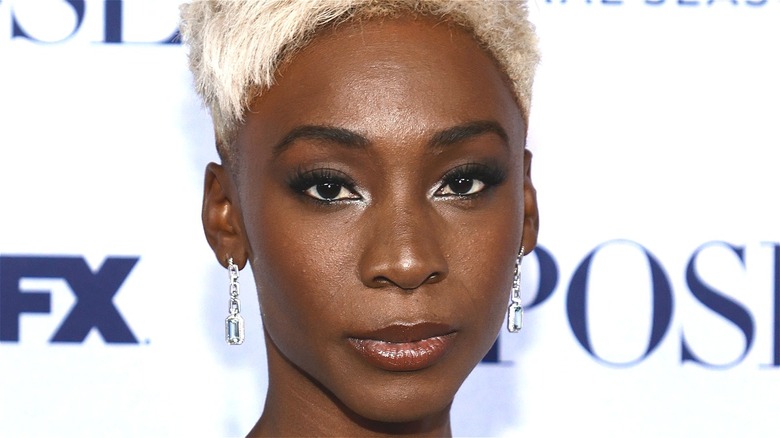 Jamie McCarthy/Getty Images
Actor, producer, composer, and activist Angelica Ross is no stranger to our television screens. She's helped tell stories of trans and queer dating in "Her Story," appeared in iconic series like Niecy Nash's "Claws" and "Transparent." And, of course, she plays Candy on Ryan Murphy's show "Pose."
But if you're a horror fan, the thing you most likely know Ross from is a different Ryan Murphy series altogether: "American Horror Story." Ross first appeared during the anthology show's ninth season "American Horror Story: 1984" which was the series' ode to the excessive blood and gore of '80s slashers. Naturally, because it's "American Horror Story," things took a hard left turn towards the supernatural, seeking to explain both where slasher killers come from and playing with the afterlife (a staple of the series).
In "1984" Ross seemed to be playing the Camp Redwood's Nurse Rita, but it's eventually revealed that she's actually a serial killer obsessed psychologist named Donna Chambers.
Since "American Horror Story" is an anthology series with a fresh story each season, actors often return to the show in different roles. And, in fact, Ross has returned for the latest season "Double Feature" and she's finally talking about who she's playing this time around.
Angelica Ross says to trust The Chemist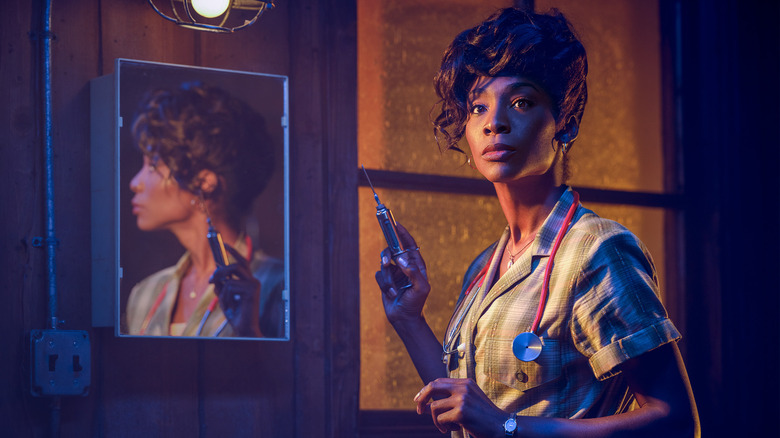 20th Century Television
"Double Feature" takes a page from the latest AHS spin-off, "American Horror Stories." The new anthology series has new stories almost every episode. Similarly, "Double Feature" features two separate tales, one set in the sea and the other set in the sand.
The new season features returning players like Sarah Paulson and Evan Peters as well as new cast members including 19-year-old supermodel Kaia Gerber and "Home Alone" star Macaulay Culkin.
Angelica Ross is back playing a character known as "The Chemist" and she's excited to be back in the "AHS" world. "I am thankful to be in Ryan Murphy's favor right now," Ross told the Windy City Times in an interview. "He recognizes my talent to give me more than what I did on 'Pose.' He is giving me more screen time and more in-depth storylines. I can tell all of the writers are writing for me when I open the script. That is a wonderful thing to see."
She's especially thrilled about her latest role. "Playing The Chemist was a wild roller coaster ride," she says. "I will give you a little scoop. When it comes to the conversation of drugs, trust the chemist. I trust the chemist more than I trust the government or the pharmaceutical industry. Is she perfect? No, but I trust where she is going."
While not much is confirmed about The Chemist, it does seem she is responsible for the black pills we've seen this season. It will be interesting to see how the story justifies those pills and what they do.
"American Horror Story: Double Feature" airs on FX.