By All - What We Know So Far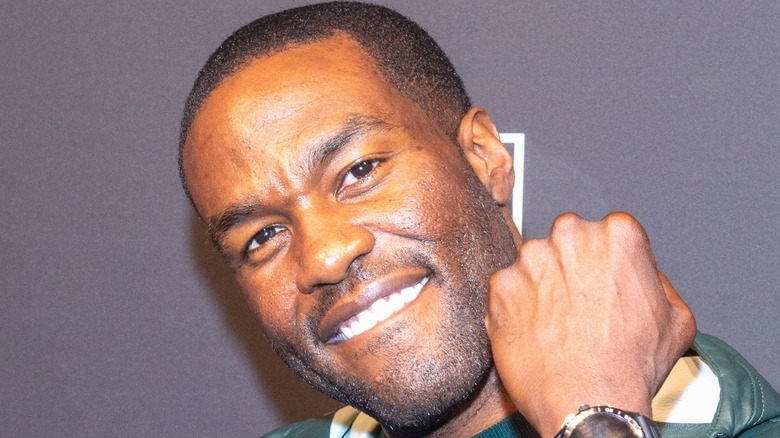 Shutterstock
Over the last decade, the action genre has gotten a major revamp as it has been blended with other genres to heighten the thrills contained in a particular story. Consider "The Purge" movies, which blend dystopian horror with action, or the "John Wick" franchise, which turns the classic pairing of action and thriller genres into a bone-crunching, visceral affair. There are also intriguing singular entries like "Nobody," "Atomic Blonde," and more recently, "Jolt," all of which introduce compelling leads with high-concept backstories and thrust them into action movies with tinges of thriller or spy genre drama. Truly, there is no time like the present to be a fan of action movies and all of their many subgenres.
This week, The Hollywood Reporter teased an exciting addition to this trend. A new movie is in the works at Warner Bros. titled "By All." The upcoming feature film is touted as a "dystopian crime thriller," but considering the plot and the crew behind this project, it's also very likely that action will play an important role. "By All" was written by "Space Jam: A New Legacy" co-writers Juel Taylor and Tony Rettenmaier. THR also notes in their report that Steven Caple Jr. has signed on to direct "By All." To date, Caple Jr. is probably best known to audiences as the helmer of "Creed II," starring Michael B. Jordan. 
Here's what else we know so far about "By All," including the release date, cast, and plot.
What is the release date of By All?
No release date has been set for "By All" yet. However, with a major star finally secured to appear in the feature film, production should start to move at a decent pace. With news of "By All" making headlines in late summer 2021, we can expect additional essential production phases including casting and scheduling filming to occur in fall 2021. Additionally, Warner Bros. will most likely set a release date for "By All" before the year is over.
Hypothetically, at this point, it's likely that "By All" will be set for release in 2023. This is the likeliest scenario since the movie's director and its lead star, Yahya Abdul-Mateen II, already have big tentpole features lined up on their respective schedules. Steven Caple Jr. is currently at work directing "Transformers: Rise of the Beasts," which could leave him tied up through the end of 2021 and unable to even think about working on "By All" until spring 2022. Meanwhile, Abdul-Mateen II is locked in to finish work on "Aquaman: The Lost Kingdom," which is currently filming, and may have to turn his attention to the "Mad Max" prequel "Furiosa" at some point. Add to this the fact that "By All" will need to secure locations, finish casting, and spend anywhere from two to four months filming (depending on how big a budget Warner Bros. gives the feature). With all of this in mind, "By All" will likely not be picture-locked until late summer or early fall 2022, which means Warner Bros. will be keen to feature the picture as a tentpole title in its 2023 lineup.
Who is in the cast of By All?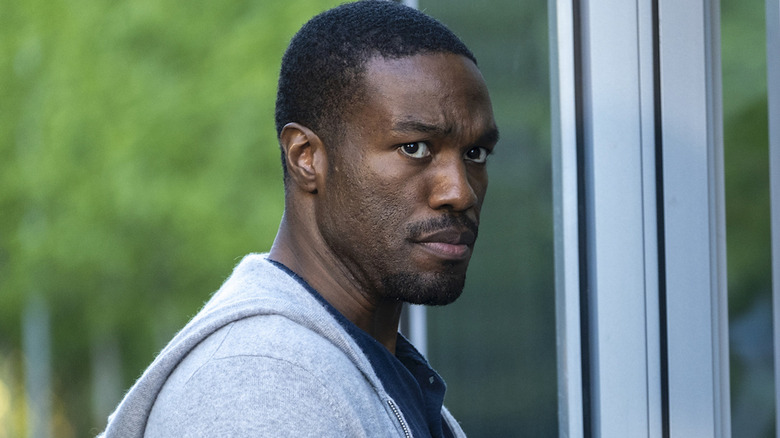 HBO
"By All" will star Yahya Abdul-Mateen II as Donte, the protagonist at the heart of this dystopian crime thriller. The Hollywood Reporter also notes that Warner Bros. hopes this pic will be "a franchise starter" for Abdul-Mateen II. With this in mind, if "By All" does well at the box office when it finally hits theaters, audiences may get to see the actor reappear as Donte in at least one sequel.
It is hardly an overstatement to say Abdul-Mateen II is a hot, in-demand name right now — and his star rises higher each day. Following a breakout turn in Baz Luhrmann's Netflix series "The Get Down," Abdul-Mateen II has quickly staked his claim as one of the most bankable actors of his generation. He's played Black Manta in "Aquaman," Dr. Manhattan in HBO's "Watchmen," and Bobby Seale in "The Trial of the Chicago 7." He's played pivotal supporting roles in Jordan Peele's "Us," "The Greatest Showman," and 2017's "Baywatch." Soon, he'll be seen in a leading role in "Candyman," Nia DaCosta's spiritual sequel to the 1992 horror movie of the same name. Like we said: hot. Abdul-Mateen II has also rapidly become a favorite son at Warner Bros. as the studio has invested in him big-time with roles in "The Matrix 4," "Furiosa," and now, "By All."
With Abdul-Mateen II signed on for "By All," more casting announcements will emerge in the coming months.
What is the plot of By All?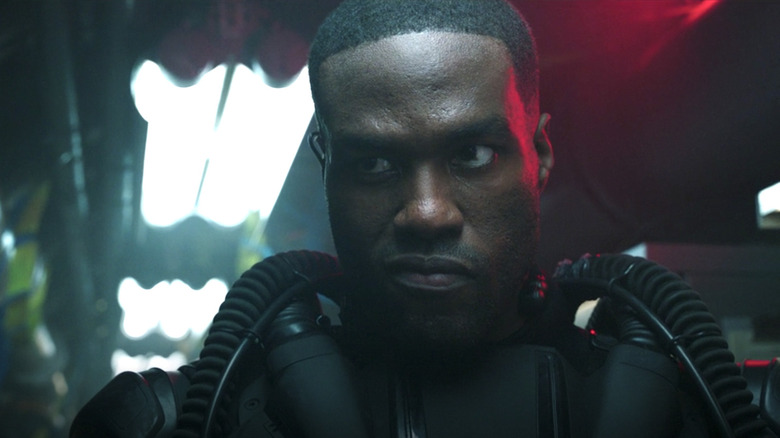 Warner Bros.
THR's report on the upcoming project shared a brief plot summary of "By All." Per the outlet, the film's story "kicks off in the aftermath of a tragic event and follows Donte, a man struggling to make ends meet who is forced to go on the run in a world without police, where justice is crowd-sourced."
In addition to this, THR notes reports that both Warner Bros. and Yahya Abdul-Mateen II were attracted to "By All" because, thematically, this story is a "provocative and timely premise" in its discussion "about the imbalance of power in communities and how it warps the sense of responsibility, family and friendship."
As "By All" gets deeper into production, chances are very good that clearer plot details will emerge through cast and crew interviews, stills from the movie, and trailers. For example, hopefully, we'll get an idea of what it means for justice to be "crowd-sourced" and a better sense of what tragedy has befallen the movie's hero, Donte. However, those deeper looks at the "By All" story won't arrive until the movie is filming or has wrapped. So stay tuned, because more information is coming soon.