The Suicide Squad's David Dastmalchian Reveals What It's Really Like Working With James Gunn And Margot Robbie - Exclusive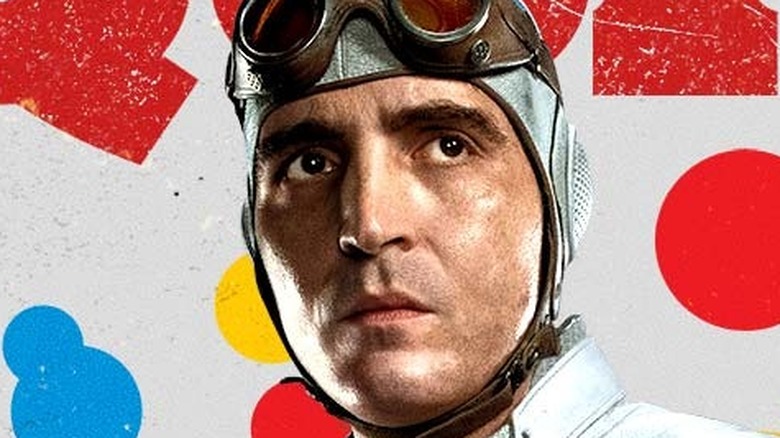 Warner Bros./DC Entertainment
"The Suicide Squad" star David Dastmalchian has been blessed to work with several talented actors and directors in his career.
After roles in the Marvel Cinematic Universe's "Ant-Man" and "Ant-Man and the Wasp" — not to mention a career-making turn in Christopher Nolan's "The Dark Knight" — Dastmalchian is once again coming back to the comic book well for "The Suicide Squad." Directed by Dastmalchian's longtime friend and colleague, "Guardians of the Galaxy" filmmaker James Gunn, "The Suicide Squad," like the actor's previous comic book movie projects, boasts a roster of top-notch talent, this time led by Margot Robbie and Idris Elba.
In "The Suicide Squad," which is playing in theaters nationwide and streaming exclusively on HBO Max, Dastmalchian stars as Abner Krill, aka The Polka-Dot Man, one of a group of imprisoned super villains recruited against their will by ruthless government honcho Amanda Waller (Viola Davis) to join The Suicide Squad, aka Task Force X, to infiltrate the Latin American Island of Corto Maltese. Possessing the deadly capability to decimate any object in his way with colored flying discs, Polka-Dot Man is part of the small Black Ops mission that includes Harley Quinn (Robbie), Bloodsport (Elba), Peacemaker (John Cena), and Ratcatcher 2 (Daniela Melchior). Keeping Task Force X in line is Waller's field contact, Colonel Rick Flag (Joel Kinnaman).
David Dastmalchian says he is a fan of his co-stars' professionalism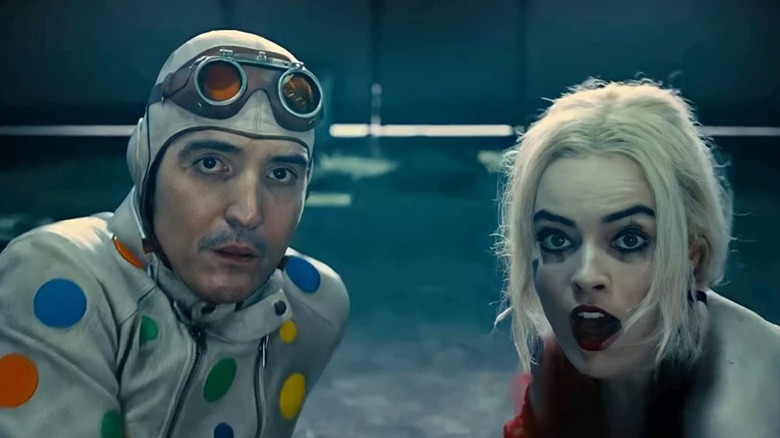 Warner Bros./DC Entertainment
In an exclusive interview with Looper to talk about his work on "The Suicide Squad," Dastmalchian said he "looked up to and admired" Robbie and Elba for years, and was thrilled to get the opportunity to work with other people he admired, since the film employed such a big ensemble.
"Something that blew me away about both of them that I feel like I learned and got to take away, as well as from other actors on the set who I have been a longtime fan of, like Joel Kinnaman and Peter Capaldi, was their professionalism," Dastmalchian revealed to Looper. "The ability to come to set every day with a positive attitude, willing to endure the physical discomfort of a hard shoot like this, having an amazing attitude and a great sense of humor, and being able to really treat everyone around them with the respect and the dignity that an ensemble needs. When you're making a film, any film, a small film to a big film like this, it is a collaboration."
Perhaps what Dastmalchian admired most was his co-stars' leadership, as demonstrated every day on the set. It was a dynamic he credited Gunn for fostering. "You are an ensemble, and James set a great tone for this by really gathering just some of the best people in the business for each of the different roles and departments," Dastmalchian observed. "But at the same time, those big movie stars, the way that they brought the most can-do 'We're going to do this' and 'We're going to make this the best movie we can' attitude every day to work. It was so inspiring for the rest of us who really were looking up to them for inspiration and guidance."
David Dastmalchian credits James Gunn for adding new dimensions to Polka-Dot Man
Warner Bros./DC Entertainment
While Dastmalchian brought his own personal pain to the fore to inform Polka-Dot Man's fragile emotional state, he credited Gunn for unearthing and building a fresh foundation for the obscure DC villain. Polka-Dot Man was so under-the-radar, in fact, that Dastmalchian — an avid comic book reader growing up in Kansas — didn't even know who the character was until Gunn unearthed the decades-old character with a Google search.
"He picked the character that was, I think, voted 'The Lamest Villain of all the Batman Villains.' I believe he was on that list. And so, James was like, 'I'm going to not only make this character a member of the Suicide Squad, I'm going to do something interesting with him,' because that's what James Gunn does," Dastmalchian said. "He's so gifted at making any character, every character, no matter how obscure, no matter how absurd, meaningful and heartfelt, and interesting. And so, he took what source material there was on Abner, the Polka-Dot Man. And by the way, there's not much. If you go back and you look at the comics, he first appeared in 1963. It was this over-the-top, absurd villain who was throwing these polka dot contraptions from his suit."
Dastmalchian noted that since Polka-Dot Man has been the "butt of the joke" the past few decades in the comics, it was Gunn's mission to change all of that. "He's never been very intimidating, to say the least. So, James just went to town and used his brilliant imagination, and created a lot of the story and the character, and the depth that we get to see in the film," Dastmalchian said. "So, as much research as I did in looking back at the ways that Abner has appeared in the comics and other animated and video game appearances, the most important thing was just James' script, which is one of the best scripts I'd read. And it just blew me away. It was great."
"The Suicide Squad" is playing in theaters nationwide and streaming exclusively on HBO Max.