Did Morbius Director Daniel Espinosa Just Spoil A Huge Marvel Cameo?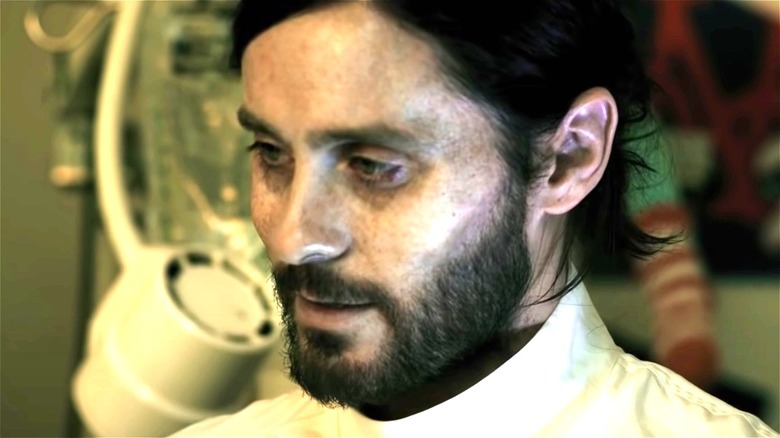 Sony Pictures Releasing
As the Marvel Cinematic Universe continues to produce feature films grossing hundreds of millions of dollars, the Sony Pictures Universe of Marvel Characters is doing pretty well in its own right, too. The SPUMC currently has two films scheduled for release in the next six months: "Venom: Let There Be Carnage," which premieres September 24, 2021, and "Morbius," which comes out on January 28, 2022.
Just like with films in the MCU, one of the biggest draws for movies like "Morbius" is the possibility that other characters from the Marvel canon might make an appearance. Various legal issues mean that the SPUMC's roster of potential cameo candidates is much smaller than the MCU's, but it's still big news any time a major superhero or supervillain makes a crossover appearance.
Until now, no "Morbius" cameos have been officially confirmed. But director Daniel Espinosa might have just changed that, as suggested by a recent interview.
It sounds like Morbius might run into another of Spider-Man's worst enemies
In an interview with the Swedish film publication Moviezine, Espinosa was asked what it was like directing big-name actors. "It usually feels strange before the day begins, when you look at the schedule and stand on the set yourself," he explained. "When you walk around there, the recording looks just like a Swedish production, but then when you look at the schedule and read names like Michael Keaton, Jared Leto, Tom Hardy, then it feels cool and very exciting. But once you start working, it's exactly the same thing. An actor wants a director and actors want to be directed."
The big surprise there is obviously Tom Hardy. Hardy is arguably the biggest name in the entire SPUMC, and Espinosa's comments would seem to confirm that the actor will be appearing in "Morbius."
It's less clear what that cameo might actually look like, however. As "Spider-Man" fans are no doubt aware, Morbius and Venom are two of Spidey's long-running nemeses. But "Morbius" takes place mostly in New York City (via Sky News), while the first "Venom" film took place in San Francisco. That might again be the case for the upcoming "Venom" sequel – it's about Eddie Brock/Venom protecting the city from the serial-killer-turned-supervillain Carnage. It's possible Eddie/Venom might travel to New York City in person, but there's also a chance the character will appear in another way altogether. We'll have to wait until January 2022 to see how it all fits together.