WandaVision Songwriters Had Some Surprising Influences For Agatha All Along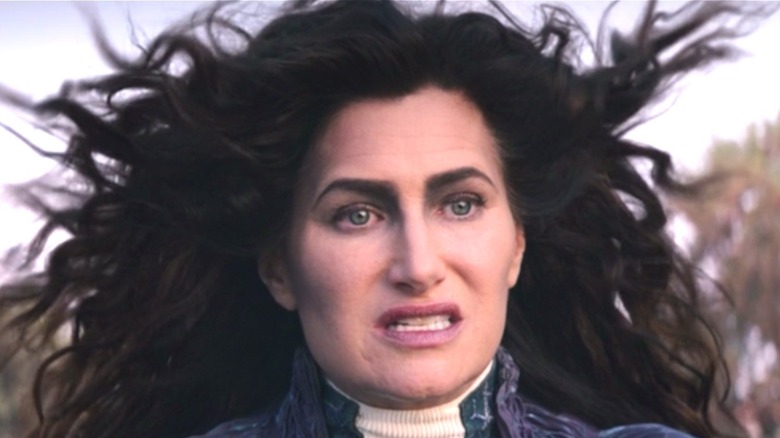 Marvel/Disney+
There was no way "WandaVision" was just going to tell everyone who its big villain was.
The show was so thoroughly steeped in the conventions of its medium, and that meant it was going to reach deep into the television sitcom's bag of tricks for the reveal that overbearing neighbor Agnes was really the powerful witch Agatha Harkness (Kathryn Hahn). What it pulled out was one of the entire series' most memorable gags, the finger-pointing theme song replacement "Agatha All Along."
Who's been pulling (nearly) every musical string for the series from their perch behind the scenes? It's award-winning wife-and-husband songwriting duo Kristen Anderson-Lopez and Robert Lopez, best-known as the writers of the omnipresent "Let It Go" from Disney's "Frozen." The pair has an impressive pedigree –– Lopez has accumulated two separate EGOTs, while Anderson-Lopez has collaborated with him on the Oscar- and Grammy-winning legs of that honor. But that doesn't mean an earworm like "Agatha All Along" came easy to them, as Anderson-Lopez told The Hollywood Reporter. The song they were asked to create was very different from the finished product.
What sitcom staples inspired Agatha All Along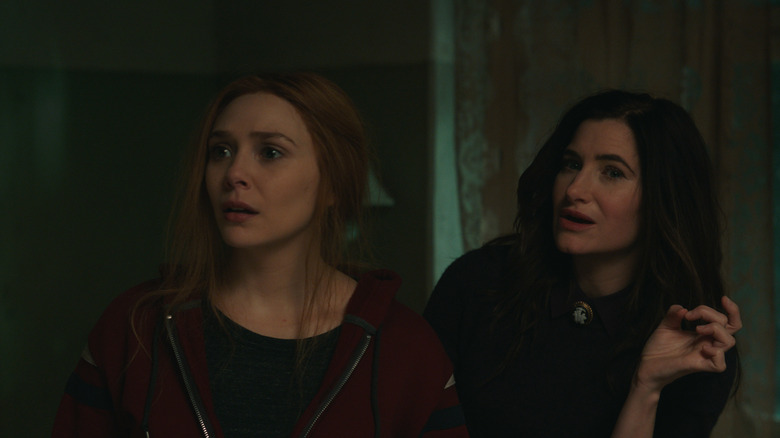 Marvel/Disney+
In addition to "Agatha All Along," Kristen Anderson-Lopez and Robert Lopez were tasked with creating era-appropriate theme songs for each of the show's decade-hopping episodes. When it came time to write "Agatha All Along," it was originally meant to be placed in the era in which its episode "Breaking the Fourth Wall" occurs — the mid-to-late 2000s. Anderson-Lopez told The Hollywood Reporter the show's writers provided them with an idea called "That's So Agatha," a play on "That's So Raven."
"We sort of struggled with that, [though] we loved the title," she said. After trying a couple of variations, she said the breakthrough came when she realized there was another place to mine for inspiration, one more to do with genre than a time period. "I think at 3 in the morning one day, I was like, 'We should look at 'The Addams Family' and The Munsters.' We should go to that witchy kind of place that TV does have history in.'"
Once the right concept was landed upon, Anderson-Lopez said the rest of the work was easy, with the ideas quickly coming to use Hahn's voice opposite what she calls the "Oompa Loompa" male chorus. The result reached back through the show's own history to better tie into Agatha's machinations in the early episodes, presenting an alternate view of the series from her perspective, all in roughly a minute.
It also became a breakout hit in its own right, leaping up the charts on iTunes and Spotify, per Cleveland.com. Now Anderson-Lopez and her husband have been nominated for an Emmy for the song, as well as their work on the actual themes.