Vanessa Estelle Williams Opens Up About Her Role In American Horror Stories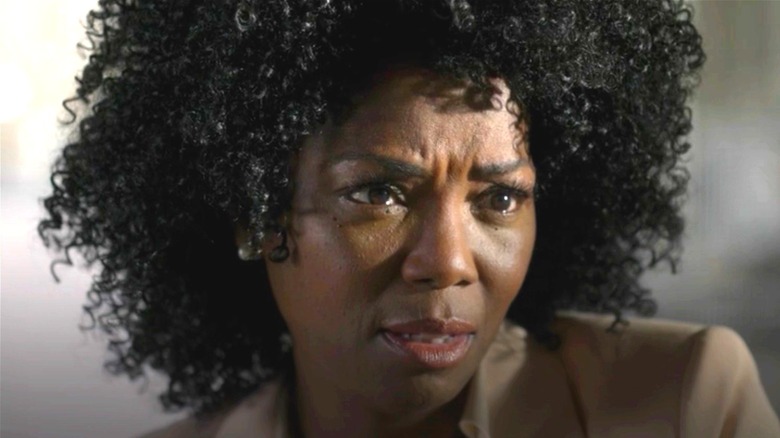 FX/Hulu
The first season of "American Horror Stories," the spin-off of to the popular long-running anthology show "American Horror Story," has aired five of its seven episodes, with its finale set to air on August 19, 2021. The fifth and most recent episode, "Ba'al," stars Billie Lourd and Ronen Rubinstein as Liv and Matt, a married couple who have been trying to get pregnant. After visiting a fertility clinic, the couple is given a small, creepy-looking statue that is meant to be put under their bed while they're trying to conceive to give them good luck with fertility. The statue seems to work — Liv does get pregnant — but soon after the birth, she begins to experience strange and scary occurrences.
Another key character from the episode is Dr. Berger, the therapist that Liv goes to see after she begins experiencing the scary oddities. Dr. Berger is played by Vanessa Estelle Williams, a horror genre veteran who acted in the classic 1992 film "Candyman," and will appear in its upcoming sequel, also entitled "Candyman," directed by Nia DaCosta (with involvement from none other than horror genius Jordan Peele).
Speaking recently with Decider, Williams opened up about her experience working on "American Horror Stories."
It was an easy 'yes' for Williams to work on AHS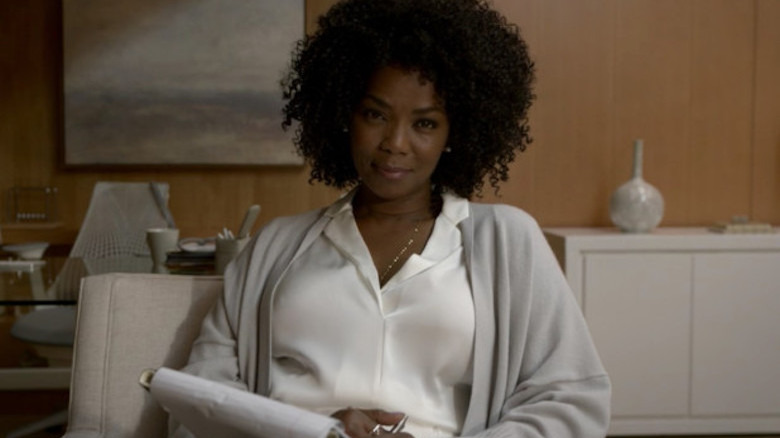 FX/Hulu
When Decider writer Kayla Cobb asked Williams what the conversation was like when she was approached to work on "American Horror Stories," Williams declared it was "an actor's dream," even though it came directly after Williams had suffered a major loss in her life.
Williams explained, "I'd had a major loss, that of my younger brother. We were finally able to gather as a family, because the restrictions have been lifted, and I was planning a memorial for Saturday. I got a call from my agent saying, 'Can you be on a plane tomorrow?' This was Friday. And I was like, 'No, I'm doing my brother's memorial.' He was like, 'Oh, yeah, that's right. Well, Ryan Murphy —' And I was like, 'OK, you had me at Ryan Murphy.'"
She then got on a plane the day after her brother's memorial and then started work a few days later, calling the experience a "reward" for all of the good work she had done before as an actor. She continued, "My agent reminded me that there was another role with their production company that I had been up for, but it didn't pan out. So you know, all good things come to those who are patient and tenacious in this business."
Williams was 'concerned' for co-star Billie Lourd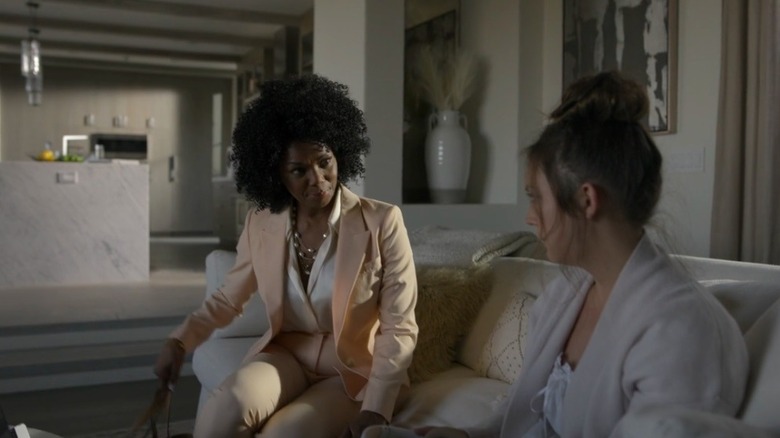 FX/Hulu
Williams admitted that she gets "frightened very easily" despite the work she's done in horror. Naturally, there were some episodes of "Ba'al" that kind of freaked her out. She told Decider, "The thing that scares me: I was grateful to have no Latin chants in my dialog. In fact, I was very concerned for Billie. She had just had a baby herself. And she was saying, 'What am I doing? I've got to do this.' I was like, 'I know, baby girl.' I said, 'Have you looked up [what] those chants may mean?' ... I would want to know, for sure, that I'm not really calling up something."
Even though she found the chants in this episode scary, she clarified that she is open to being more involved in the horrific scenes of projects in the future. She said, "It would be amazing to walk in that space. Do the thing that scares you, you know? Have your head spin around and wear a prosthetic. I'm always looking for that kind of adventure as an actor. But I will say that I was happy that I didn't have to this go 'round."
Williams also expressed interest in working with "American Horror Story" again — she's "hoping that this is just the beginning of [her] membership in the family of Ryan Murphy [and] Brad Falchuk" — so she may just get the chance to delve deeper into the horror realm.