Why Dr. Berger From American Horror Stories' Ba'al Looks So Familiar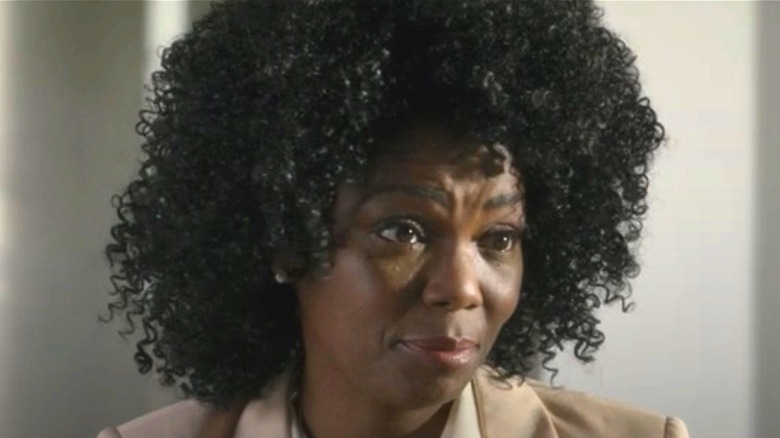 FX on Hulu
It's always a good idea to check with your doctor before you trust the treatment of any medical conditions to a mysterious demon totem given to you by a stranger.
When Liv (Billie Lourd) comes to believe her family and her new baby is haunted by the spirit of such an object in the "Ba'al" episode of "American Horror Stories," it's up to Dr. Berger to help her work through what's real and what's being caused by hormones and sleep deprivation. Given the show's penchant for hiring familiar faces, it's no surprise that you might recognize the actress who plays the shrink. 
However, it's important to note that the Vanessa Williams who appears in "American Horror Stories" is not the only working actress to go by that name. There's also the Vanessa Williams who became the first African American to win Miss America in 1984 and then became a singer and actress, featuring prominently in shows such as "Ugly Betty" and "Desperate Housewives." Normally, the Screen Actors Guild would require one or the other to use an initial to distinguish between the two, but an arbitration hearing in 2003 found that since they both achieved fame as Vanessa Williams in different arenas at around the same time, they could both use the name.
So with all that out of the way, where have you seen this Vanessa Williams before?
Vanessa Williams ruled the roost in New Jack City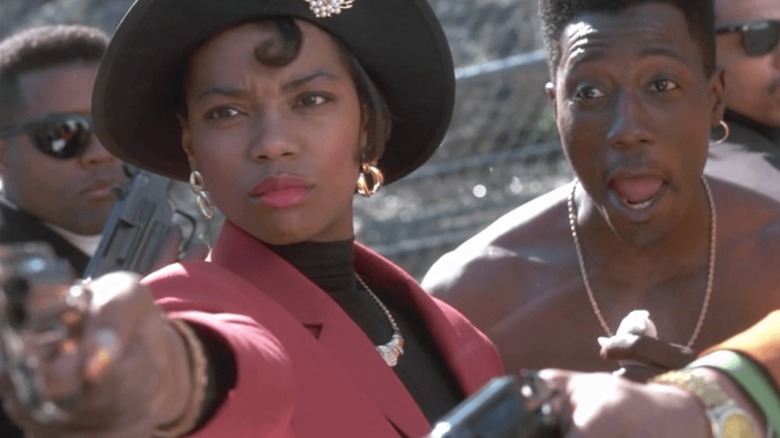 Warner Bros.
Williams got her start on television, with small parts in the pilot episode of the short-lived drama "Dream Street" and the fifth-ever episode of the not-at-all short-lived "Law & Order." But her big break came a year later when she was cast as the stylish gun moll Keisha in the Wesley Snipes-starring crime thriller "New Jack City."
Keisha is a member of the Cash Money Brothers gang, which has risen to the top of the New York City drug business after the introduction of crack cocaine. Their success means the CMB and its leadership, especially Nino (Snipes) and his best friend Gee Money (Allen Payne), has been targeted by police detective Scotty Appleton (Ice-T), who also has a personal motivation for bringing down Nino. Even as the CMB expands its empire, with Keisha helping to kill rival Fat Smitty, Nino finds himself squeezed by the police on one side and the mob on the other after he refuses to pay protection. Keisha is eventually killed in a shootout with hitmen sent by the mob to assassinate Nino. 
Williams told Blackfilm.com that playing the part of tough girl Keisha didn't come naturally to her. "Even though I grew up in 'Do or Die' Bed-Stuy, I grew up in the 'Do' section and was very, very protected and had to go inside before the street lights came on," she said. "I had a very protective style. My preparation was modeling and emulating the tough folks I saw in my hood."
Vanessa Williams had her son kidnapped by the Candyman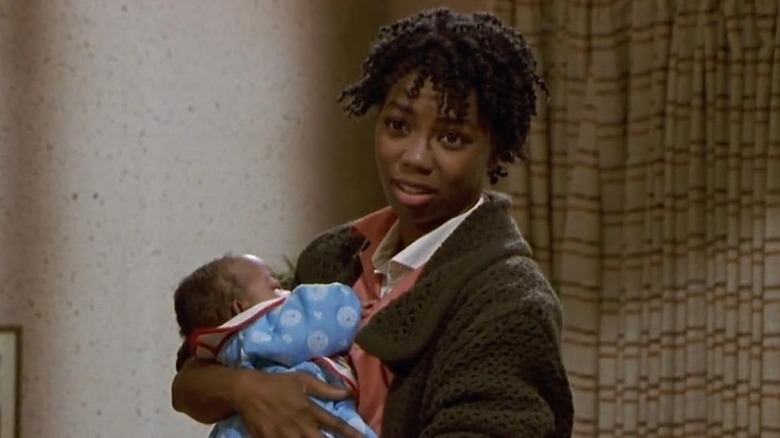 TriStar Pictures
In 1992, Williams took a role as a young, single mother whose baby is kidnapped by the vengeful spirit of a man killed in a 19th-century lynching in "Candyman."
Anne-Marie McCoy is raising her son Anthony in the Cabrini-Green housing project in Chicago when she meets Helen Lyle (Virginia Madsen), a graduate student doing research into the Candyman legend. Helen's investigations provoke the Candyman (Tony Todd) into action, and he kills the McCoys' dog and kidnaps Anthony. Helen is arrested for Candyman's murders, but he helps free her and offers to release Anthony if she agrees to join him. She does so, but he goes back on his deal and tries to kill burn them both alive. Helen saves Anthony and uses the bonfire to destroy Candyman, but dies from her injuries, whereupon she becomes a new vengeful spirit, very much like the original Candyman, even as Anne-Marie and her neighbors honor the sacrifice she made for Anthony.
Williams will reprise her role as Anne-Marie in the 2021 sequel, also called "Candyman," directed by Nia DaCosta and produced by Jordan Peele. The new film stars Yahya Abdul-Mateen II as an adult Anthony McCoy, who once again comes into contact with the horror icon, bringing him back into Anne-Marie and her family's life. The film is set to premiere on August 27.
Vanessa Williams was at the center of the family on Soul Food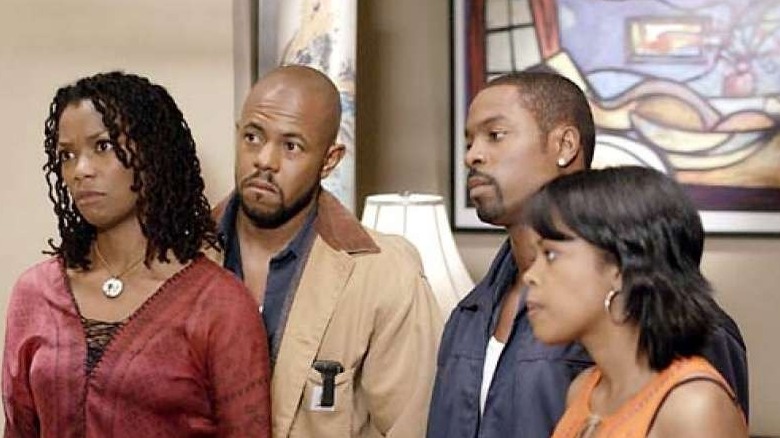 Showtime/Ken Worner
In 2000, Vanessa Williams was cast as one of the leads in the Showtime series "Soul Food."
"Soul Food" was a sequel series to the 1997 film of the same name, which told the story of Chicago's Joseph family: matriarch Big Mama Joseph (Irma P. Hall), her three daughters Teri, Maxine, and Bird, and their husbands, boyfriends, and children. In the film, the family splinters after Big Mama's death, and they only gradually learn to forgive one another and come back together. The series continued with this structure but earned praise from critics and audiences for using its wider scope to address political and social issues, including racial discrimination, HIV/AIDS, relationships between politicians and their constituents, and abuse.
Williams played Maxine, the middle sister of the three Josephs who's married to Kenny (Rockmond Dunbar), the former boyfriend of her older sister Teri (Nicole Ari Parker). Over the course of the show, her relationships with Kenny and Teri have their ups and downs, as they all attempt to do what's right by her son, Ahmad (Aaron Meeks). Maxine runs for office against an unresponsive alderman and eventually gets a job at a shelter for women fleeing domestic violence. In 2003, Williams won the NAACP Image Award for Outstanding Actress in a Drama Series for her work on "Soul Food." She was nominated three other times for her work on the show. 
Fun fact: the other Vanessa Williams appeared in the film version of "Soul Food" as the character Teri, while Vivica A. Fox had the role of Maxine.
Vanessa Williams left behind family on The Flash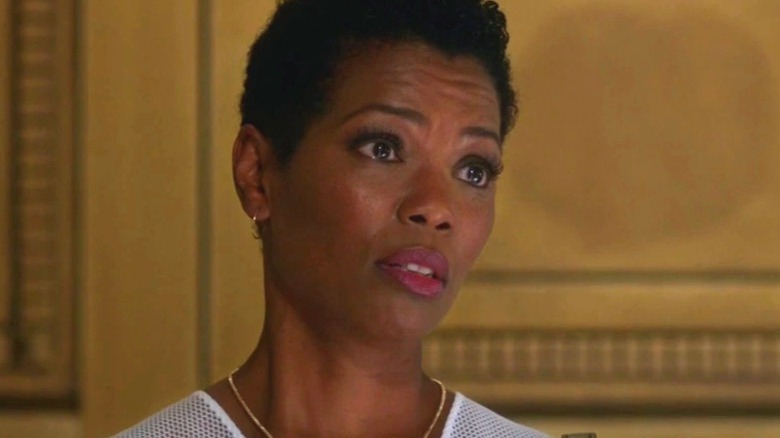 The CW
In 2015, Vanessa Williams took on a small but pivotal role in a series of episodes on The CW's "The Flash," playing Francine West, the estranged wife of Joe West (Jesse L. Martin) and mother of Iris West (Candice Patton).
Francine abandoned her family before the events of the show began as she worried that her drug abuse was endangering Iris. She moved to Keystone City, and there, she discovered that she was pregnant with Wally West. She kept this news hidden from her family even after she sobered up and learned to be a better mother for Wally. She returns to Central City after being diagnosed with a terminal illness related to her past substance abuse, seeking out Joe and Iris in order to introduce them to Wally and ask them to watch over him. The reunion is a rocky one, but the pair eventually forgive her before she dies. They also welcome Wally into the family — and the Flash Family as well.
Francine's death didn't necessarily end Williams' relationship with the show. As she told Soap Opera Digest in 2017, "Now they're doing all this time travel back and forth, so even though my character died, I'm like, 'This is sci-fi, she can come back any time.'"
Vanessa Williams brought back a long-gone character to Days of Our Lives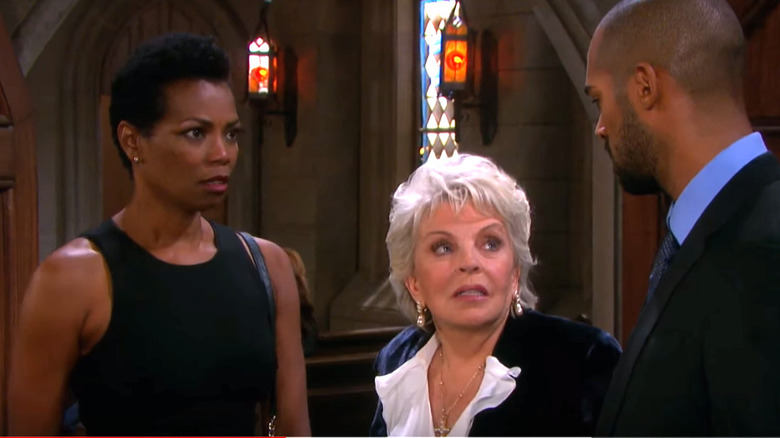 NBC
In 2016, Williams became a recurring cast member on the daytime television fixture "Days of Our Lives," where she revived the groundbreaking soap opera role of Valerie Grant.
In 1975, Grant, then played by Tina Andrews, was introduced when her family took in an injured stranger — David Banning (Richard Guthrie). The young nurse cares for David, and the pair develop an attraction that blossoms into what was, at the time, the first interracial romance on daytime television (via The Atlantic). They were even engaged to be married, but David's cheating ended the relationship, with Valerie exiting the show to go to medical school. The character returned in 1981, played by Diane Sommerfield, and developed a romance with the African American police officer Abe Carver (James Reynolds). This stay was short-lived, though, and the character departed the show for more than three decades.
Now played by Williams, Val returned in 2016 as a doctor overseeing Abe's treatment, drawing the ire of his son Theo (Kyler Pettis). The pair begin to rekindle their relationship, but it isn't long before David's sudden death leads her into the middle of another big soap opera twist when she's confronted by her son Eli (Lamon Archey), who reveals at the funeral that he knows David is his father. That made him the first Black member of the Horton family in the show's long history.