The Devastating Death Of Jane Withers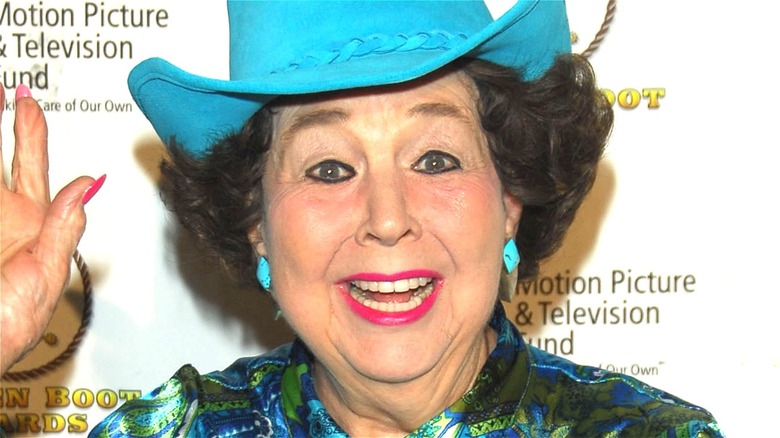 Shutterstock
Actress Jane Withers has died at age 95 at her Burbank, California home. The news was confirmed by her daughter Kendall Errair, who said in a statement, "My mother was such a special lady. She lit up a room with her laughter, but she especially radiated joy and thankfulness when talking about the career she so loved and how lucky she was" (via Deadline). 
Born April 12, 1926, Withers was one of the most prolific child stars of the 1930s and 1940s. The Atlanta native had her big break in 1934 starring alongside Shirley Temple in "Bright Eyes." At just nine years old, she landed her first headlining role in 1935's "Ginger." The young actress continued to find success throughout the decade, appearing in numerous films including "Little Miss Nobody," "The Holy Terror," "Always in Trouble," "High School," and "Rascals."
After further success in her teens in movies like "My Best Gal," "Johnny Doughboy," and "Affairs of Geraldine," Withers would retire at age 21 to focus on her personal life. She was married twice and had five children. 
Jane Withers was a versatile and cherished performer
Jane Withers would return to Hollywood in 1956, however, with "Giant," leading to even more success as an adult. She appeared in popular shows including "The Love Boat," "The Alfred Hitchcock Hour," "General Electric Theater" and "Murder, She Wrote." Withers also worked on the stage, appearing in productions of "Hello, Dolly!,"  "Mame," and "No, No, Nanette."
In 1960, she took on what would become one of her best-known roles, as Josephine the Plumber in TV commercials for Comet cleanser. Later that year, Withers was honored with a star on the Hollywood Walk of Fame. Younger audiences will also recognize her from her voice acting work in the classic Disney film "The Hunchback of Notre Dame" and its sequel, in which she voiced one of the gargoyles. A dedicated philanthropist, Withers also served on the board of her local American Cancer Society chapter.
Jane Withers' versatile acting skills have been cherished by generations of audiences, and she will be missed.