Why The Santa From American Horror Stories' The Naughty List Looks So Familiar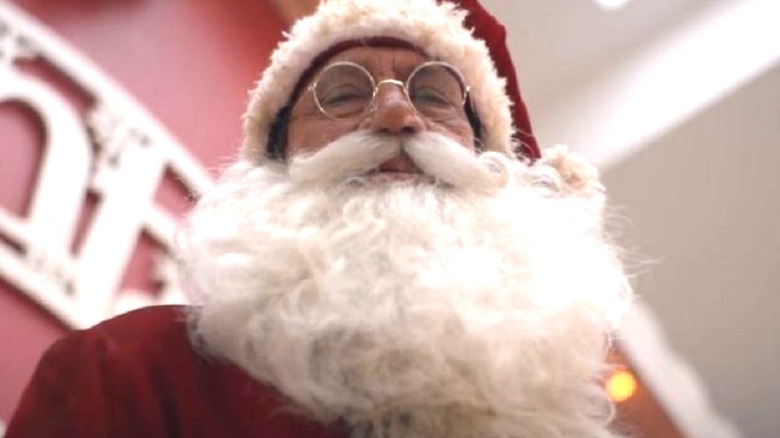 FX on Hulu
Sometimes, in horror stories, the victims are so unsympathetic that you can't help but root for the killer.
The fourth episode of the anthology series "American Horror Stories," titled "The Naughty List," is one such example. It features a serial killing mall Santa who sets out to enact his revenge on a house full of would-be social media influencer bros who crashed his display and posted it for the lulz (This is arguably the least of their sins). Santa rigs up their cameras to capture each of their gruesome deaths, and when they start crying for help, no one believes them that this isn't just another stunt.
Under the episode's beard and hat is a bona fide Hollywood legend, the staggeringly prolific actor, author, and taco and donut entrepreneur Danny Trejo. Trejo has accumulated more than 400 IMDb credits as an actor, appearing in countless B-movies but also on everything from "The Masked Singer" to a Snickers commercial. His deep growl has earned him countless voice roles, and his grizzled face, most often framed with long hair and a big mustache, is iconic in its own right. You almost certainly recognize him from somewhere, but here are a handful of the most important, and most representative, roles of his career.
Danny Trejo got his start on Runaway Train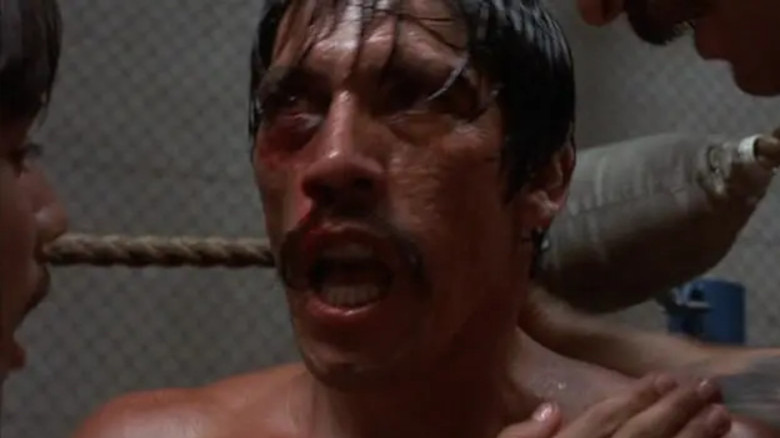 The Cannon Group
As his fame has grown, Trejo has never shied away from telling the story of his early life. It's part cautionary tale, part inspirational journey, but one of the key details is how his life changed completely after he found work on the set of the 1985 prison escape film "Runaway Train."
Trejo was in and out of prison as a young man, largely for drug-related offenses. He eventually became a prison boxing champion and got clean, both of which were integral to his Hollywood breakthrough. He was invited to the film's set by an extra with whom he was working as a rehab counsellor. The man hoped Trejo could help keep him on the path to recovery, despite the temptation of drugs on set. While he was there, he was recognized by screenwriter Edward Bunker, who had met Trejo in San Quentin.
Trejo was hired to help teach the film's star, Eric Roberts, how to box, and when director Andrei Konchalovsky liked his look, was given a part in the film as Roberts' opponent. Their fight is brief and one-sided; the real-life student makes short work of his teacher on-screen, meaning Trejo gets just a few minutes of screen time. However, his career had left the station, despite the fact that Trejo was already 41 years old when "Runaway Train" was released. 
He fought a living legend in Desperado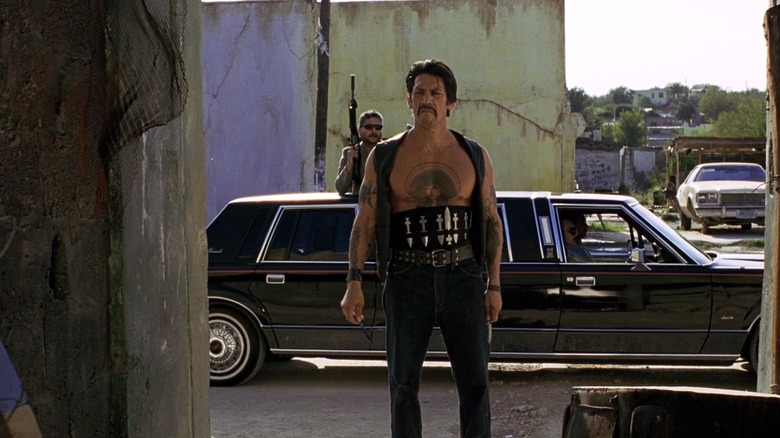 Sony Pictures Releasing
For the next decade, Trejo worked here and there in Hollywood, appearing in everything from "Death Wish 4: The Crackdown" to episodes of "Baywatch." It wasn't until 1995 that he began his most prolific collaboration in Hollywood, when he appeared in his second cousin Robert Rodriguez's "Desperado."
"Desperado" spends much of its early acts building up its hero El Mariachi (Antonio Banderas) into a legendary gunfighter, dispatching roomfuls of assailants with his guitar case full of guns. To increase the tension in the film's second half, Rodriguez introduces a similarly mythic antagonist, Trejo's scowling, knife-throwing Navajas, sent by the Colombians to clean up the mess El Mariachi is making of the drug trade with his revenge quest.
The character is given little backstory. His mystique is all down to Trejo's grimace, the tattoo on his chest, and the way he moves as he pulls knives from the belt on his chest. He is unmistakably a bad man. Navajas kills El Mariachi's contact, Buscemi (yes, Steve Buscemi), and wounds the gunfighter with his knives, but before he can finish the job, he's found by the henchmen of the local drug lord Bucho (Joaquim de Almeida), who mistake the dangerous stranger for El Mariachi. A battle ensues, with Navajas hopping on and around their bulletproof car, fighting off multiple assailants with submachine guns with just a handful of throwing knives. He's finally killed by the last survivors and taken to Bucho, who realizes their mistake.
The death of Navajas was only the beginning of his work with Rodriguez. He'd return for the "Desperado" sequel, "Once Upon a Time in Mexico," playing a different part as the duplicitous tough guy Cucuy in 2003.
Trejo blazed a trail in Machete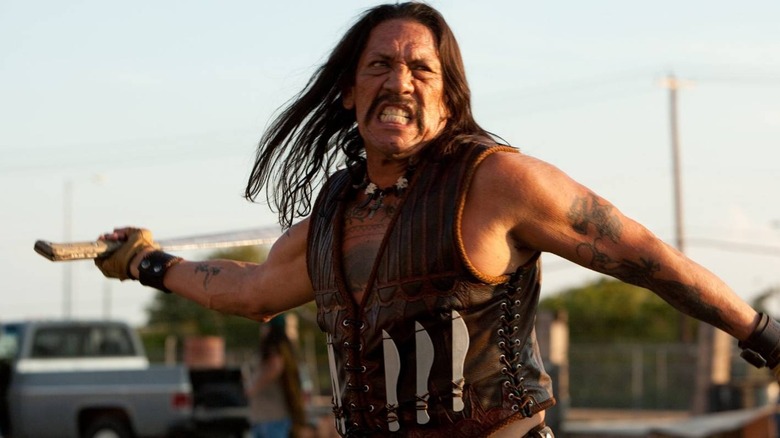 20th Century Fox
Earlier, in 2001, Trejo joined Rodriguez for his other big franchise, playing the role of Isador "Machete" Cortez in Rodriguez's 2001 kids movie, "Spy Kids." In the original film, Machete is the older brother of former agent Gregorio Cortez (Antonio Banderas) and uncle to Carmen (Alexa Vega) and Juni (Daryl Sabara). He and his spy shop serve as a kind of Q Branch for the kids as they embark on a mission to rescue their parents, but his initial reluctance to help them gives way to a surprise entrance in the film's final struggle.
Machete would appear in each of the three "Spy Kids" sequels, but the character would also escape his child-friendly origins to star in his own franchise, one presaged by a fake trailer in Rodriguez and Quentin Tarantino's double-feature "Grindhouse." In 2010's exploitation-style action movie "Machete," Trejo plays the character as a former Mexican federale now working as a laborer in Texas. He's hired to assassinate an anti-immigration state senator (Robert De Niro) but is betrayed in a plot to boost support for the senator's policies.
From there, Machete and his allies cut a gruesome path through the politicians, drug lords, shady businessmen, and border vigilantes who worked together to set him up and enact this plan. It's a far cry from the gruff-but-kindly uncle of "Spy Kids," but the first Machete proved so popular Trejo and Rodriguez made a sequel, "Machete Kills." This one leans even more into the insanity by casting Charlie Sheen as the President of the United States and Mel Gibson as the evil madman.
He kept the pressure on the Sons of Anarchy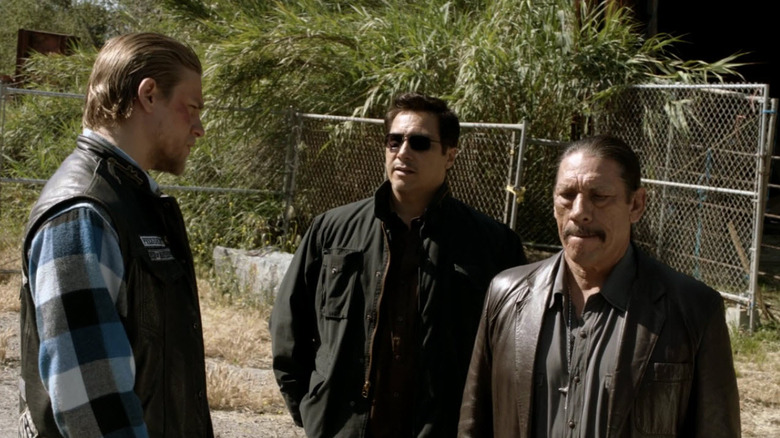 FX
In 2011, Trejo came to television to play Romeo Parada in the fourth season of the crime drama "Sons of Anarchy."
Parada is introduced to the Sons of Anarchy Motorcycle Club Redwood Original chapter as a representative of the Galindo Cartel. SAMCRO gives them guns to transports their cocaine, raising the stakes for the organization past the point where some members, including Jax Teller (Charlie Hunnam), are comfortable.
In the season finale, however, Romeo and his associates with the Galindo Cartel reveal that they've been working with the CIA, who is bolstering one Sonoran cartel to keep the others under control. They threaten Jax and SAMCRO with racketeering charges unless he agrees to stay in the club, and also to keep Clay Morrow (Ron Perlman) involved to help with the gunrunning the group does to the True IRA. Their threats work: Jax is forced to keep Clay alive, and he assumes the presidency of SAMCRO.
"Sons of Anarchy" wasn't Trejo's first gig working for a cartel on a dark, anti-hero-focused cable drama. In 2009, he appeared on two episodes of "Breaking Bad" as the cartel runner-turned-DEA informant Tortuga, who's perhaps best known for his memorable post-death appearance as a booby-trapped severed head placed on a tortoise and discovered by Hank Schrader (Dean Norris) and his DEA agents.
Danny Trejo decked the halls in A Very Harold and Kumar 3D Christmas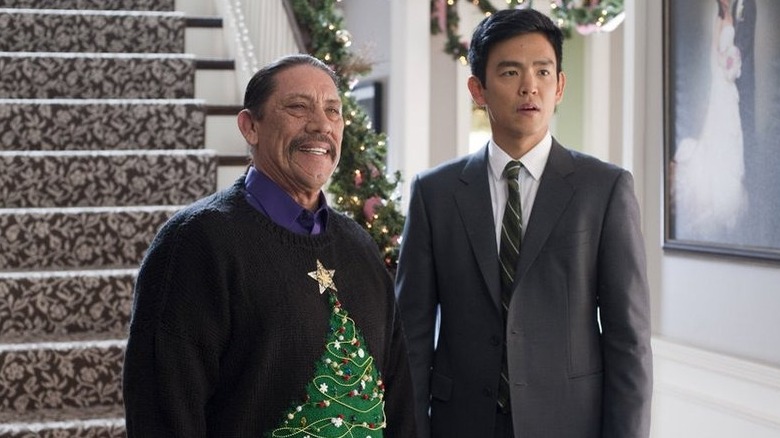 Warner Bros.
Most of the roles name-checked above show one particular side of Trejo, and it's easy to understand why. As soon as he puts on that frown, he looks like someone you don't want to cross, and so he gets cast as that person, playing tough guys who often mean violent ends in everything from 1995's "Heat" to 1997's "Con Air" and 2010's "Predators."
However, Trejo's also aware of how to play his distinctive voice and appearance for laughs. He sang and danced for Kermit the Frog as a Gulag prisoner in "Muppets Most Wanted" and returned for the television series "Muppets Now." He's done episodes of "Brooklyn Nine-Nine," "Monk," and "What We Do in the Shadows." He played a wise bartender in "Anchorman: The Legend of Ron Burgundy," but perhaps his biggest role in a big screen comedy came in another Christmas role, as a demanding father-in-law in 2011's "A Very Harold & Kumar 3D Christmas."
In the film, Trejo plays Carlos Perez, the father of Harold's (John Cho) new wife Maria (Paula Garces), who visits the couple for Christmas and brings his own home-grown Christmas tree for the occasion. When Kumar visits his friend for the first time in years, the pair end up destroying the prized tree, and they set out on an adventure to replace it.
Despite their crazy adventures, they fail to replace the tree before Mr. Perez notices. As he gets angry with Harold, Harold argues back, finally standing up for himself and at last earning his father-in-law's respect in the process.