Atlanta's Zazie Beetz Cast As Domino In Deadpool 2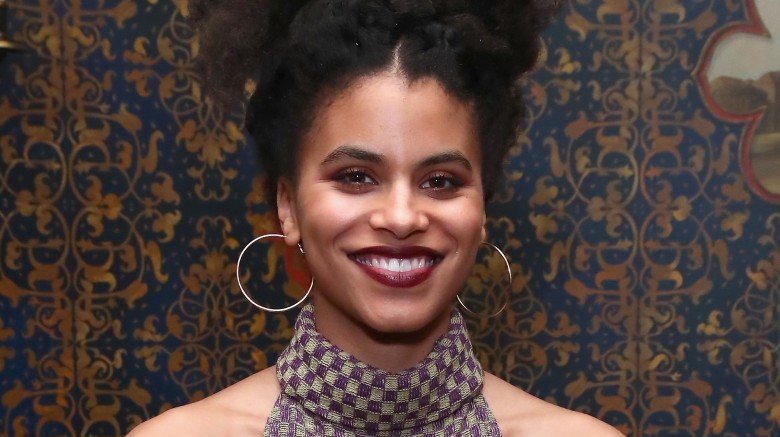 Marvel fans, rejoice once more: we've got new information on the upcoming Deadpool sequel.
Following the release (after an initial unofficial leak) of the Deadpool 2 teaser that was shown in screenings of Logan this past weekend, fans have been clamoring for more sneak peeks and announcements to start rolling out. Enter the Merc with a Mouth. Ryan Reynolds himself broke the news that Zazie Beetz, known for her work as Van in the Donald Glover-created series Atlanta, will be starring as Domino in Deadpool 2.
Reynolds tweeted a (now deleted) photo of a domino grid with the actress's name spelled out in black dots. He included the witty caption, "Domino effect" to confirm her casting. 
Once Reynolds had fans' attentions held strong and fast, he posted another photo to stir up excitement. An apparently Photoshopped pic of the Deadpool "The Mi$ion for Money" comic cover shows Domino standing on Wade Wilson's back like she's surfing. Holding a gun in either hand, Domino's taking down the bad guys, only it's Beetz's face superimposed over the mercenary's head. Reynolds captioned this one, "Zazie Beetz effect."
Zazie Beetz Effect. pic.twitter.com/Kvtyk1aI7O

— Ryan Reynolds (@VancityReynolds) March 9, 2017

As Domino, Beetz will play one of Marvel's mythical mercenaries who has a similar backstory to Deadpool's—and they even debuted in the same issue: number 98 of New Mutants in 1991. Like Deadpool, Domino has survived a brutal government program bent on crafting the ultimate soldier to use as a human war weapon. She emerged from it with a special power: the ability to alter probability in her favor, bringing luck to herself and others. Domino has even been seen using her powers with Cable, the highly-anticipated (and highly-teased) X-Men character who'll be popping up in the sequel as well.
According to The Hollywood Reporter, the producers of Deadpool 2 were "looking to specifically cast a black or Latina actress in the role of Domino," and went through multiple audition rounds before settling on the perfect pick in Beetz.
Beetz will join Reynolds on the silver screen for the forthcoming sequel, directed by David Leitch and written by returning scripters Rhett Reese and Paul Wernick and new-to-Deadpool writer Drew Goddard. The film tacks on Simon Kinberg, Lauren Shuler Donner, and Ryan Reynolds as producers.
While no set release date has been announced—only that Deadpool 2 is, unfortunately, coming "not soon enough"—it certainly seems great that Beetz has been cast as Domino, with positive response pouring out in big waves. Before more characters are cast in the sequel, be sure to know the ins and outs of Deadpool himself by brushing up on his insane history.