What You Need To Remember Before Watching Riverdale Season 5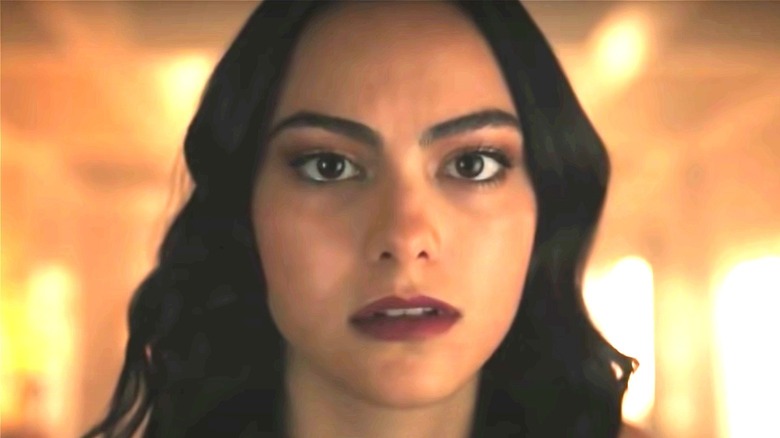 The CW
Although it often seems like new teen dramas premiere constantly, The CW's "Riverdale" has managed to set itself from the pack since it debuted in 2017. Loosely based on the beloved "Archie" comics, the show follows a group of high schoolers as they investigate the hidden evils of their small hometown. Although its storylines have sometimes received pushback for being outlandish, "Riverdale" has also been praised for its ability to balance pulpy, comics-esque fun with darker explorations of losing innocence and confronting your community's larger sins.
The show's fourth season was cut short due to the coronavirus pandemic (via Seventeen), leaving Season 5 to both wrap up Season 4 storylines and begin telling a brand new story of its own. For that reason, it's important to get a refresher on exactly where our characters were when we last saw them in spring 2020.
Here's what you need to remember before watching "Riverdale" Season 5, which drops on Wednesday, August 11.
The first three episodes wrap up Season 4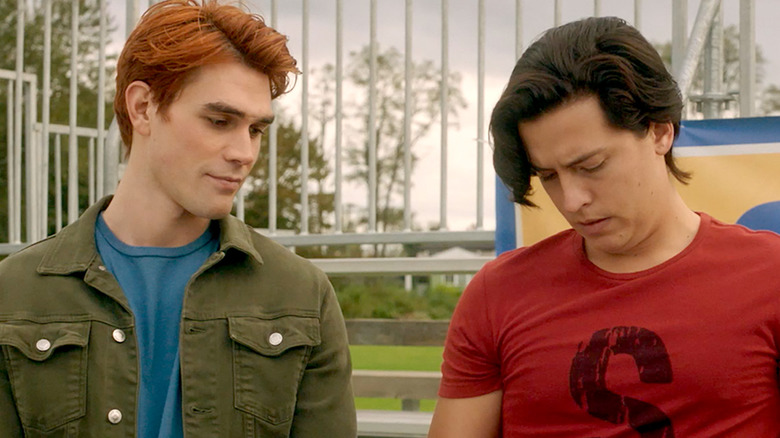 The CW
Although "Riverdale" Season 4 was originally supposed to be 22 episodes long, it was shortened to 19 episodes after filming was halted by the onset of the coronavirus pandemic. When filming was finally able to resume in August 2020, it was decided that the final three episodes of Season 4 would now constitute the first three episodes of Season 5.
These episodes are crucial because they're dedicated to wrapping up the main characters' final days of high school. Before Archie (KJ Apa), Veronica (Camila Mendes), Betty (Lili Reinhart), Jughead (Cole Sprouse), Cheryl (Madelaine Petsch), and the rest of the gang go their separate ways, they contend with plenty of drama at prom and graduation... after all, this is "Riverdale," and nothing ever goes that smoothly. Just treat these first three episodes as an unofficial Season 5 prologue, and you'll be ready to see them enter adulthood for the remainder of the season.
Betty and Jughead are investigating a villain called The Auteur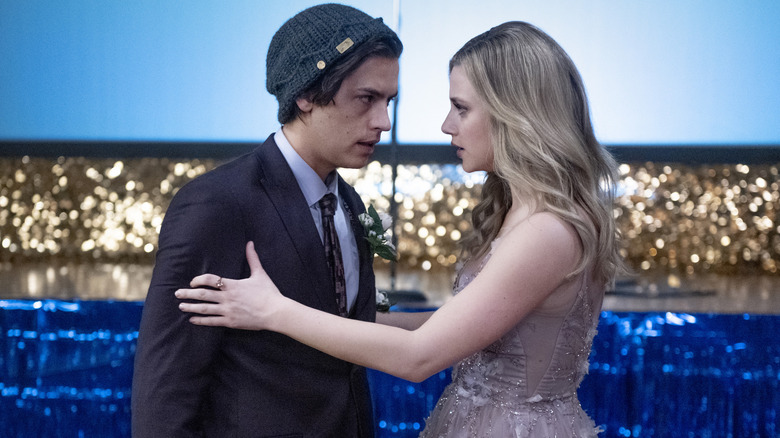 The CW
Now that Jughead and Betty have defeated the nasty students of Stonewall Prep, they're facing another "Riverdale" big bad: The Auteur, who has to be one of the most pretentious "Riverdale" villains yet. The mysterious figure was originally known as the Voyeur, someone who ominously videotaped local Riverdale homes and dropped the surveillance tapes on residents' doorsteps.
Then the Voyeur graduated into becoming the Auteur, who dons creepy masks and re-enacts the gory murders of town residents like Jason Blossom (Trevor Stines) and Jughead himself (who briefly faked his death during Season 4). Since these elaborate re-enactments feature multiple actors, Betty and Jughead also have to contend with the fact that the Auteur is no longer working alone. The duo is currently working with their older half-brother Charles (Wyatt Nash), who's an FBI agent secretly dating "Riverdale" Season 2 villain Chic (Hart Denton).
Betty and Archie's kiss looms large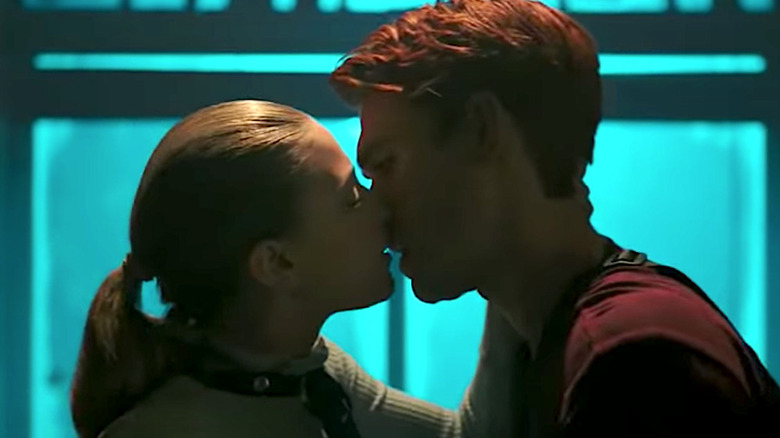 The CW
It wouldn't be "Riverdale" without some messy romantic entanglements, but the main characters' relationships are particularly fraught. You may remember that during last season's musical episode (titled "Wicked Little Town"), Betty and Archie shared a passionate kiss after getting into fights with their respective partners, Jughead and Veronica. Later, they imagined themselves sharing a romantic dance while pining after each other from their separate bedrooms. Archie's love triangle with Betty and Veronica is a key element of the "Archie" comics but has been downplayed over the past few seasons. 
Neither Archie nor Betty came clean about their short-lived affair before Season 4's premature ending, but on "Riverdale," huge secrets like that never stay hidden for long. Betty had a crush on her childhood friend Archie back in "Riverdale" Season 1 and this storyline hints that fans haven't seen the last of their romantic connection.
The season features a seven-year time jump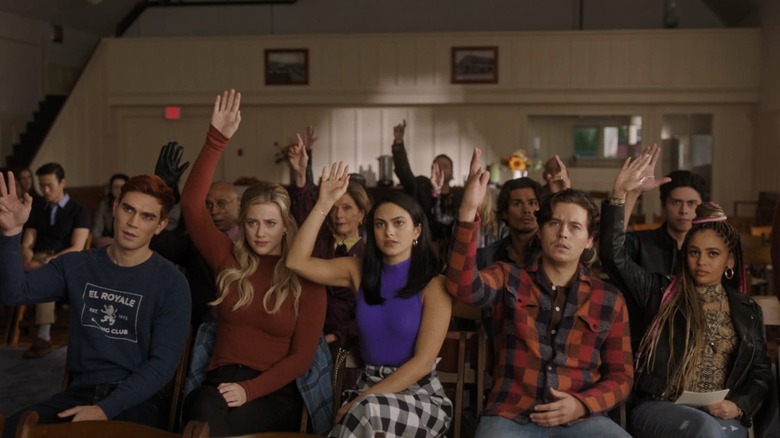 The CW
The first three episodes of "Riverdale" Season 5 may be dedicated to wrapping up the gang's high school years, but then the show is headed far into the future. Season 5, Episode 4 jumps seven years into the future, where the characters are 25 and living completely separate lives: Archie is a war veteran, Betty is an FBI trainee, Veronica is a married ex-Wall Street power player, and Jughead is a struggling novelist in New York City. Of course, since this show is all about the town of Riverdale, expect a mysterious force to bring the old friends back together again as adults.
"In terms of drama, for me, college is a less appealing version of high school stories," showrunner Roberto Aguirre-Sacasa told Entertainment Weekly, adding, "This time jump allows us to start with a clean slate, drop in the middle of stories and then have people catch up. And it allows us to play with new dynamics."
You can catch "Riverdale" Season 5 on The CW starting Wednesday, August 11.