Is Five Feet Apart Based On A True Story?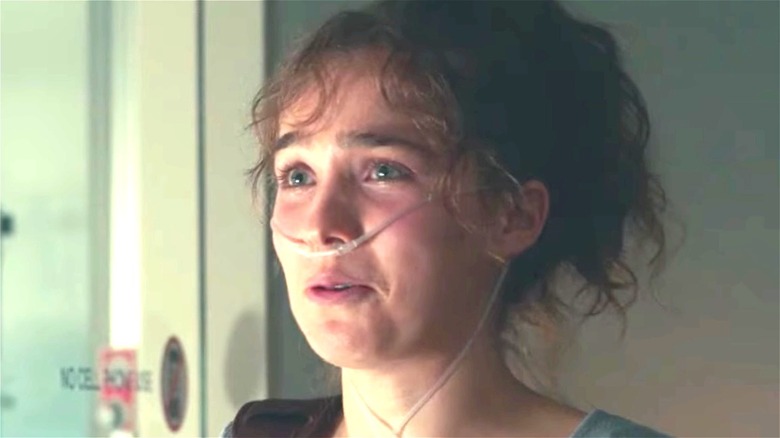 CBS Films
In 2012, John Green's novel "The Fault in Our Stars" was published with massive success. Two years later, a film based on the novel starring Shailene Woodley and Ansel Elgort netted over $300 million worldwide at the box office. Both the novel and the subsequent film popularized a very specific kind of romance focused on young people trying to find love as they are dealing with a terminal condition.
Woodley's character Hazel was very loosely inspired by John Green's real life friend Esther Earl, who died of thyroid cancer at age sixteen in 2010. Naturally, subsequent YA novels and films who follow a similar story often invite the question: Is this based on true events?
Recently, the film "Five Feet Apart" has been getting a lot of attention on Netflix, and it tells a story similar to "The Fault in Our Stars." In "Five Feet Apart," Stella Grant (Haley Lu Richardson) and Will Newman (Cole Sprouse) are two young people living with cystic fibrosis who seek comfort and love through each other while technically having to remain six feet apart. They choose to reduce the distance to five feet, taking that risky one foot for each other as they explore what life they still have left together.
Is "Five Feet Apart" based on a real story, though?
Why Five Feet Apart is dedicated to Claire Wineland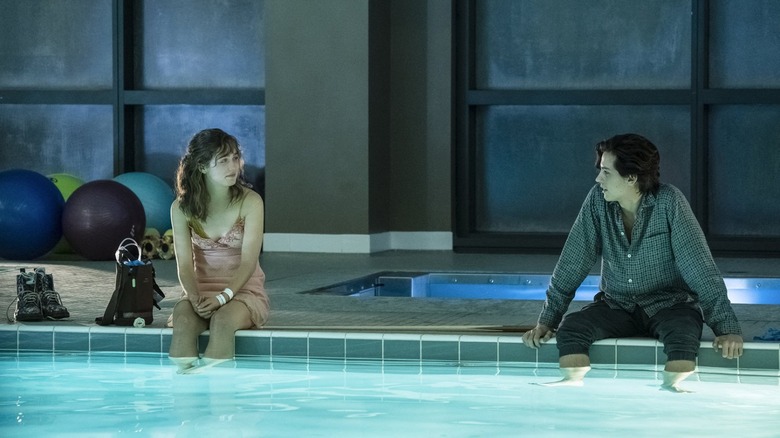 CBS Films
"Five Feet Apart" is not directly based on a true story. However, much like "The Fault in Our Stars," the film is partially inspired and influenced by a real person. "Five Feet Apart" is dedicated to Claire Wineland, who also acted as a consultant for the movie.
Wineland was born with cystic fibrosis and nearly died at age 13 from lung failure. She dedicated the rest of her life towards activism and raising awareness so that people understood what people living with terminal conditions go through and how to treat them with dignity.
Her work included speaking with Justin Baldoni, best known for playing Rafael Solano on "Jane the Virgin." He also directed "Five Feet Apart," and it was Wineland who discussed the dangers of two people with cystic fibrosis having a romance together, specifically the risks of cross-infection — an element which was incorporated into the plot of "Five Feet Apart." Wineland worked with both Richardson and Newman to get the physicality of living with CF to an accurate place. Sadly, Claire Wineland passed away on August 26, 2018 after complications from a double lung transplant.
While Wineland was instrumental in telling Stella and Will's story in a way that's honest, her story is unlike in Stella's. Unlike Wineland, Stella's lung transplant is a success leading to many years of additional life.
Are Katie and Dalton Prager an inspiration for Five Feet Apart?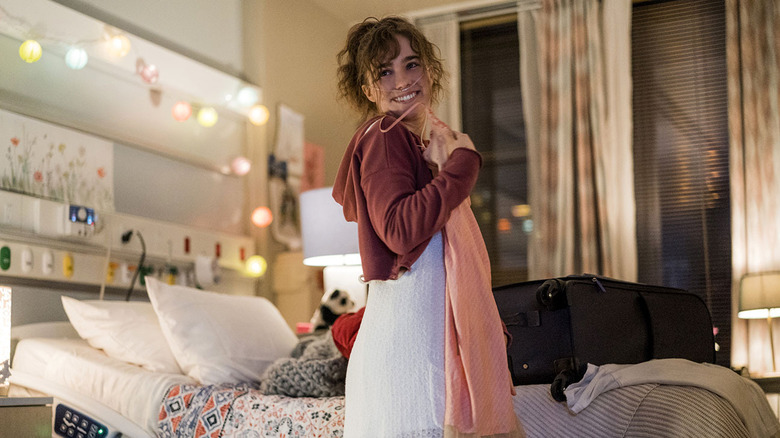 CBS Films
There is one real-life story which bears some resemblance to the events of "Five Feet Apart:" Katie Donovan and Dalton Prager, who came to be known as the real-life version of "The Fault in Our Stars." The pair, who both suffered from cystic fibrosis) met in 2009 through Facebook when they were both 18.
Despite the fact that Prager was also dealing with a dangerous antibiotic-resistant bacteria called Burkholderia cepacia, he and Donovan chose to meet in person anyway. Unfortunately, Donovan did wind up contracting b. cepacia from Prager.
Katie and Dalton married in 2011, and lived together for many years. However, after each getting lung transplants a few years later, they both died within five days of one another.
However, "Five Feet Apart" is not based on reality. "The film is fiction and not based on the Pragers," a representative from CBS Films wrote in an email. "The filmmakers did not meet nor engage with the Pragers, and the 'Five Feet Apart' story and script is not based on them or their family."
Despite this official response, it is worth noting that the fictional characters Stella Grant and Will Newman are required to keep six feet of distance from each other not only because of cystic fibrosis, but also because Will suffers from a b. cepacia bacterial infection.
"Five Feet Apart" is streaming now on Netflix.