Captain Carter And Steve Rogers Spring Into Action In A New What If...? Clip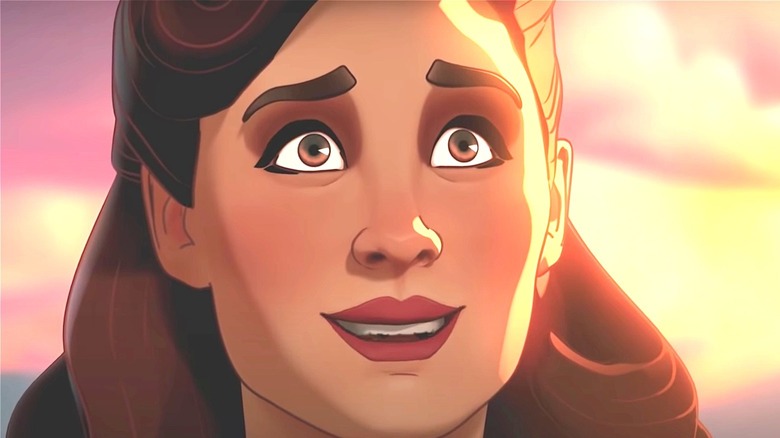 Marvel Studios/Disney+
Marvel Studios has been cranking out some fantastic new Disney+ series on a regular basis, with "WandaVision," "The Falcon and the Winter Soldier" and "Loki" all receiving critical acclaim and massive popularity. However, its next series, "What If...?", looks like it'll make the strange variants of "Loki" look tame, as we've gotten yet another look at one of the bizarre and exciting multiverses the animated series is set to explore.
The newly released clip features Hayley Atwell reprising her role as Peggy Carter, who appeared as the love interest of Steve Rogers, AKA Captain America (Chris Evans) in the "Captain America" films. She played the same role in "Ant-Man" and "Avengers: Endgame" and starred in her own spin-off show as the titular character in ABC's "Agent Carter," which ran from 2015 to 2016.
Now, however, she's appearing as a different universe's version of the character, one that got the super-soldier serum instead of the hero with America's butt.
Marvel's new clip shows Captain Carter and a robot Steve Rogers face off against Hydra
Despite only being 40 seconds long, the clip shows many reasons to get excited. It features Peggy Carter in her uniform as a type of Captain Britain, with the Union Jack boldly displayed on the face of her shield. This now brings the MCU's total of country mascots to three, with the previous one coming in the form of USSR communist spy The Red Guardian (David Harbour), who debuted in "Black Widow."
The clip appears to still take place around the same time as the original "Captain America" film. Carter fights off bullets and bombs along with other soldiers in a trench, likely as part of World War II in the fight against the Nazis, along with their fictitious faction, Hydra.
After calling for backup, Carter gets help in the form of a robot Steve Rogers, which one of the other soldiers calls a "Hydra stomper." It's not entirely clear whether Rogers is operating the robot inside or if he actually became the robot in a "Fullmetal Alchemist" twist, but we can't wait to find out.
"What If...?" premieres exclusively on Disney+ on August 11, with new episodes streaming weekly on Wednesdays.