The Character Everyone Forgets Olivia Rodrigo Played In New Girl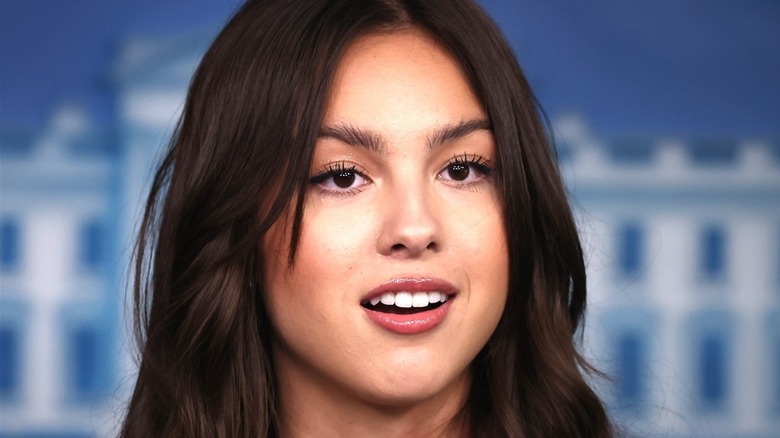 Chip Somodevilla/Getty Images
While it may seem like Olivia Rodrigo became a household name simply overnight, she's actually had a presence in the entertainment industry for several years now. The actor, singer, and songwriter first hit the scene playing Paige Olvera in "Bizaardvark," a musical comedy series that aired on the Disney Channel from 2016 to 2019. Rodrigo then went on to star in "High School Musical: The Musical: The Series," where she plays Nini Salazar-Roberts, a character who quickly became a fan-favorite amongst viewers. The Disney+ original show, which just recently wrapped up its second season, has earned a fair amount of praise from both critics and casual viewers alike (via Rotten Tomatoes) — and even scored a win in the Outstanding Kids & Family Programming category at the 2020 GLAAD Media Awards.
In case her musical talents weren't already evident enough through her acting roles, Rodrigo rose to become a full-fledged pop star in 2021. Her debut album, "Sour," was met with critical acclaim (via Metacritic), and two of the record's singles ("Drivers License" and "Good 4 U") managed to top the Billboard Hot 100. As with all great artists though, there was a time when Rodrigo was just starting out, and in honor of her current success, fellow actor and singer Zooey Deschanel recently shared a clip from the star's early acting days.
Olivia Rodrigo played an awestruck student in New Girl Season 6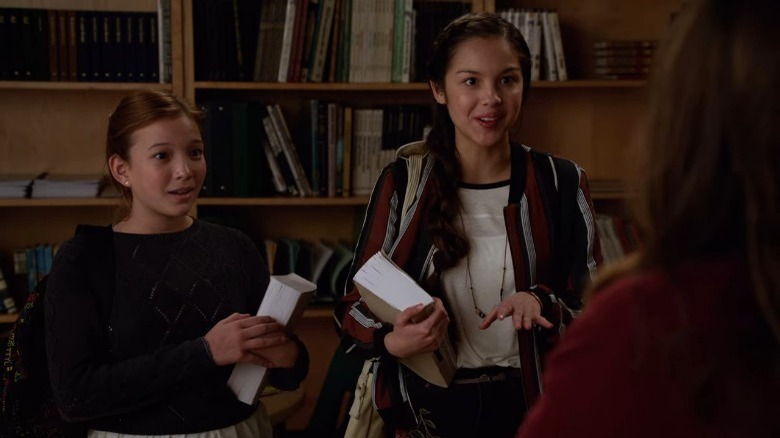 Fox
"New Girl" revolves around the eccentric and adorable Jessica Day (Zooey Deschanel), an endlessly optimistic woman who lives with three male roommates in Los Angeles, all of whom have their own unique quirks. For seven years, the Fox sitcom kept fans interested in the lives of its characters, including Jess, her on-again, off-again beau Nick Miller (Jake Johnson), the narcissistic Schmidt (Max Greenfield), cat-lover Winston Bishop (Lamorne Morris), fitness guru Coach (Damon Wayans, Jr.), and Jess' longtime friend, Cece Parekh (Hannah Simone).
What "New Girl" viewers may not remember is that Olivia Rodrigo also had an appearance on the series, playing one of Jessica's students in the Season 6 episode "Young Adult." Deschanel recently shared a clip from the episode, which sees Rodrigo playing a girl named Terrinea and excitedly telling Day, "You went from kinda meh to sorta cool to totally the coolest ever!" For the tweet's caption, Deschanel wrote, "Real footage of Olivia Rodrigo crediting me for inspiring her number #1 album. (JK, but great album @Olivia_Rodrigo!)"
Despite how the clip makes it seem, Rodrigo's character isn't complimenting Deschanel's Jessica Day for anything she actually did. Instead, Terrinea's excitement is in response to learning about Day's friendship with Nick Miller, whom Jess' students know as the author of "The Pepperwood Chronicles," a detective novel that turns out to be a surprisingly big hit with teenage girls. While she jokingly takes the scene out of context, it's nonetheless sweet to see Deschanel expressing how proud she is of Rodrigo's success.