The Real Reason Mishael Morgan Left The Young And The Restless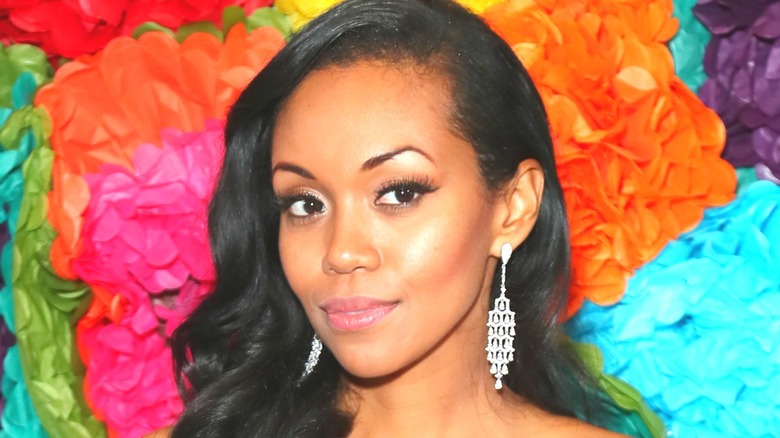 Leon Bennett/Getty Images
The world of soap operas is always exciting, both on camera and behind the scenes. Recently, on the long-running CBS soap "The Young and The Restless," fans have been dealing with shocking developments on both ends, including the kidnapping of Mariah (Camryn Grimes) and changing cast members for the mysterious lawyer Amanda Sinclair.
Amanda is usually played by Mishael Morgan, a veteran of "The Young and the Restless" who played Hilary Curtis on the show for more than five years before she transitioned to Amanda, per IMDb. However, in April 2021, fans were surprised to see Amanda suddenly portrayed by Karla Mosley, a familiar-looking actress who is also an experienced soap opera performer.
While Mosley certainly knows how to handle herself on a soap opera set and played Amanda competently, her time on the show would be limited. Morgan would return to the role she had played since 2019 just a few months later, leaving fans to wonder what had prompted the short-lived cast replacement. Thankfully, a little digging on social media is all it takes to find out what happened. Here is the real reason that Mishael Morgan left — and then returned — to "The Young and the Restless."
Eye surgery forced Mishael Morgan to take a hiatus from The Young and The Restless
Mishael Morgan keeps a very active and informative Instagram account, which she used to inform viewers that she had unexpectedly needed emergency eye surgery on March 18, 2021. However, her spirits were high when she shared the news assuring fans that everything had gone well.
Since Morgan became unavailable with no notice, the showrunners scrambled to find someone to fill in and play Amanda in the meantime, finally settling on Karla Mosley, per Soap Central. Mosley began filling in for Morgan as soon as possible, but her episodes didn't start airing until the end of the following month, April 2021. By that time, Morgan's eye had healed up, and the actress had already announced on Instagram that she was back on set.
Due to the staggered nature of the filming and airing schedules of "The Young and The Restless," Mosley's episodes as Amanda aired through May sweeps and Morgan's on-air return to the show occurred on June 1. Both actresses handed the trade-off gracefully, with Mosley telling Soap Central about what a positive experience it had been to work with Morgan, and the latter posting a heartfelt message of thanks to the former on Twitter.