Clickbait - What We Know So Far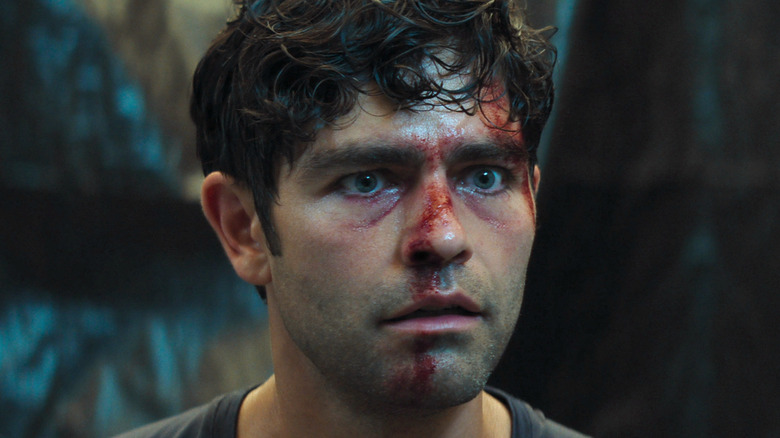 Netflix
If you're in need of a solidly thrilling Netflix television show, then you should mark your calendars for the upcoming limited series "Clickbait." The official trailer for "Clickbait" was released at the end of July (via Collider), revealing its star-studded cast and teasing a nail-biting, timely drama at the heart of the series. 
Ahead of the release of "Clickbait," it's probably best to get caught up on the ins and outs of the limited series, especially since it's been flying under our radar since it was announced. And speaking of that announcement, this limited series was first introduced by Netflix back in December 2019, per a press release from the streaming giant. In addition to the actors starring in "Clickbait," Netflix revealed the series would be overseen by showrunner Tony Ayres ("Stateless") and producer David Heyman ("Gravity"). In addition to his showrunner roles, Ayres serves as co-creator and an executive producer. Brad Anderson ("The Sinner") serves as joined the series as lead director while Emma Freeman ("Stateless") joined as second block director. Additionally, Christian White ("Relic") is the writer on "Clickbait," as well as a co-creator and co-producer. Filming on "Clickbait" began in Melbourne, Australia back in December 2019 but was put on hiatus in March 2020 at the onset of the COVID-19 pandemic. Filming resumed in November 2020 (via TV Tonight). 
Here's what else we know so far about "Clickbait," including the release date, cast, and plot of the upcoming Netflix limited series.
What is the release date of Clickbait?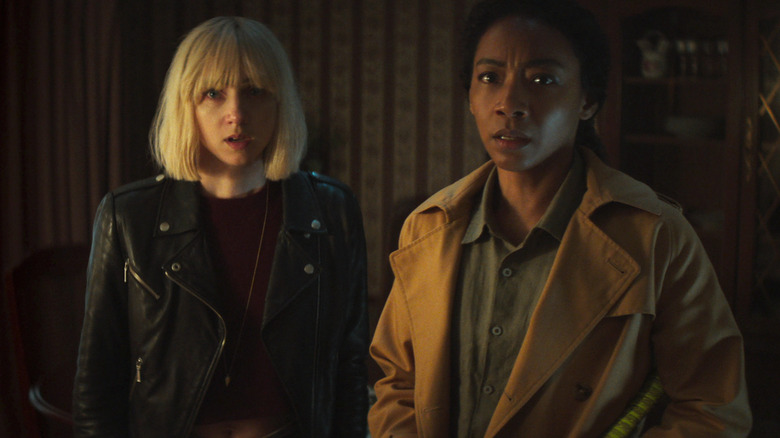 Netflix
The release date for "Clickbait" was featured at the end of the official trailer released by Netflix just one month ahead of its premiere date. At the end of the trailer, it's revealed that "Clickbait" is set to hit Netflix on Wednesday, August 25. 
Since this is a Netflix limited series, audiences can expect all episodes of "Clickbait" to hit Netflix on the same day, which means deciding what new TV show to binge just got a whole lot easier. "Clickbait" will be serving up eight episodes and, since this show leans toward the thriller-drama genre, will likely clock in around an hour apiece in runtime. This means you should also prepare to set aside eight hours if you're planning to binge "Clickbait" in a day, or make some room in your weekend schedule so you can enjoy this limited series over the course of two days.
Who is in the Clickbait cast?
Netflix
The cast of "Clickbait" is led by some familiar faces you've come to know through hit movies and television shows in recent years. The ostensible star at the heart of "Clickbait" is Adrian Grenier, who plays Nick Brewer. Grenier is perhaps best known as Vince Chase from the long-running HBO dramedy "Entourage." Gen Xers and Millennials might also know Grenier from his memorable roles in "Drive Me Crazy," opposite Melissa Joan Hart, and "The Devil Wears Prada," opposite Anne Hathaway. 
Grenier's two main "Clickbait" co-stars are Betty Gabriel, who plays Nick's wife Sophie, and Zoe Kazan, who tackles the role of Nick's sister Pia. Gabriel broke out big with her unnerving performance in Jordan Peele's feature debut "Get Out," and has gone on to appear in "Westworld," "The Twilight Zone" reboot series, and "Tom Clancy's Jack Ryan." As for Kazan, fans may recognize this Hollywood legacy star from her performance opposite Kumail Nanjiani in the romantic comedy "The Big Sick" or as Bess Levin from the 2020 HBO limited series "The Plot Against America." 
Additional supporting cast for "Clickbait" includes Jessica Collins ("Zero Dark Thirty"), Daniel Henshall ("The Babadook"), Camaron Engels ("Black-ish"), Jaylin Fletcher (TNT's "Snowpiercer"), Phoenix Raei ("Stateless"), Elizabeth Alexander ("Home and Away"), Steve Mouzakis ("Where the Wild Things Are"), and Abraham Lim ("The Boys").
What is the plot of Clickbait?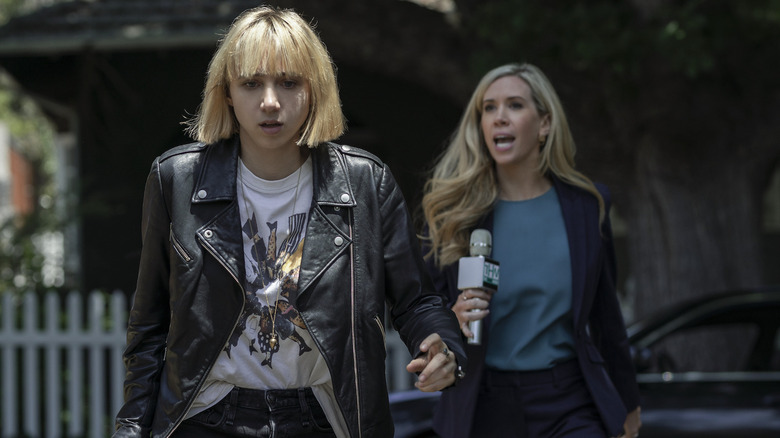 Netflix
Look no further, because we have the official plot for "Clickbait" ready to go.
The plot appears on the Netflix press site for the limited series and begins with — "Nick Brewer is a loving father, husband, and brother, who one day suddenly and mysteriously disappears. A video appears on the internet of the badly beaten Nick holding a card that says 'I abuse women. At 5 million views, I die.' Is this a threat or confession? Or both? As his sister and wife rush to find and save him, they uncover a side of Nick they didn't know existed." The description goes on to describe the television show as "a compelling, high stakes thriller that explores the ways in which our most dangerous and uncontrolled impulses are fueled in the age of social media, revealing the ever-widening fractures we find between our virtual and real-life personas."
The twisty trailer released by Netflix (via YouTube) in late July thoroughly backs up this plot. Over the course of a minute, we're introduced to the impossibly suave Nick Brewer (Grenier), a man who seems well put-together and successful is all areas of his life. Shots of Nick show him as a loving and involved husband, father, brother, and son to a variety of family members. However, as the music swells, audiences get the distinct feeling something isn't right about Nick or the life he leads. The trailer soon cuts to Nick locked in a room and banged up, holding a placard that features a shocking allegation he is an abuser. As both the trailer and the plot confirm to prospective viewers, "Clickbait" will ultimately be a must-see thriller that unravels the truth about who Nick Brewer actually is.