The Real Reason Why Some MCU Actors Aren't Returning For What If...?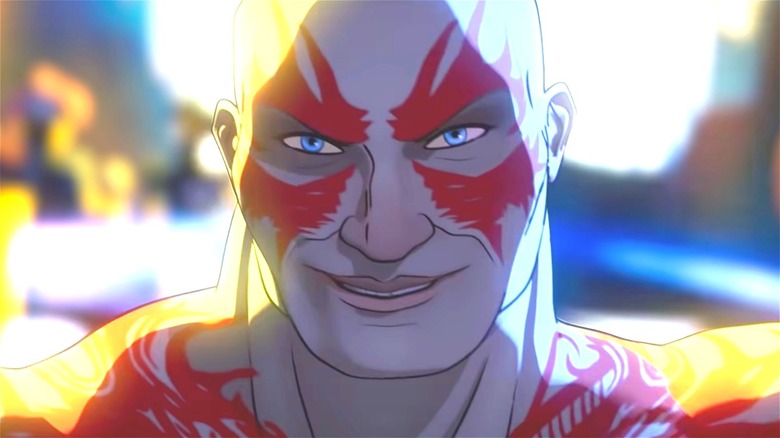 Marvel Studios/Disney+
When Marvel decided to expand their cinematic universe into the serialized world, via Disney+, fans were thrilled. And now, with the rousing success of "WandaVision," "The Falcon and The Winter Soldier," and "Loki," we imagine the execs at Disney are pretty thrilled, too. Following those big wins, we all have another sure-fire hit on its way: Marvel's "What If...?"  drops on the streaming site August 11. Based on the popular comic series of the same name, the animated nine-episode show will follow alternate realities for our favorite heroes, with stories based on if certain key events from MCU lore had gone ... well, a little differently. 
The show is a departure from the usual content we expect from Marvel, but everyone involved is emphasizing that it's just as important as other Marvel shows have been (via Deadline). However, one key difference — due to the format change, from live-action to animation — is that only some actors are returning to voice their characters from the films. Many characters have been recast, including such major figures as Tony Stark, Dr. Strange, and Natasha Romanoff. 
Was there a reason for this? Now, "What If...?" executive producer Brad Winderbaum has shared why some MCU actors didn't return for the animated series.
The creative team wanted What If...? to be defined by its storytelling, not its star power
Marvel Studios/Disney+
In an interview with ComicBook.com, Brad Winderbaum spoke about why many beloved MCU stars didn't voice their "What If...?" characters. And largely, it's because the creative team wanted the show to stand on its own. 
"One early decision was we were not going to let the show be defined by the actors we thought we could get," Winderbaum shared, also adding that he "was afraid [they] wouldn't get any actors to come back." Though some of the biggest names were not involved in the project, Winderbaum and his team still got a huge roster of MCU talent to reprise their roles, including Hayley Atwell, Michael B. Jordan, Sebastian Stan, and Chris Hemsworth. "What If..?" also notably includes Chadwick Boseman in his final appearance as T'Challa.
For actors who didn't return, though, Winderbaum said it was a challenge trying to find the right voice actor to play iconic characters. However, the casting team "[prioritized] the performance over the soundalike," according to Winderbaum, who said they sought out "depth of character," and "dimensionality" for the performances. Though hearing someone other than Chris Evans as Steve Rogers might be a bit jarring, for instance, Winderbaum reminded audiences that the stories exist in a parallel universe, so "there's a cerebral justification for slight differences." 
None of this, if you're wondering, specifically answers why Dave Bautista won't be coming back to voice Drax — he claims that he wasn't even asked — but maybe that's a question for another day. In the meantime, given how Marvel Studios has already proven its impressive ability to push boundaries with innovative storytelling, we can't imagine "What If...? will do anything but delight dedicated fans.
"What If...?" premieres on Disney+ on August 11.