The Good Place's D'Arcy Carden Dishes On That Epic Eleanor And Chidi Kiss Sequence - Exclusive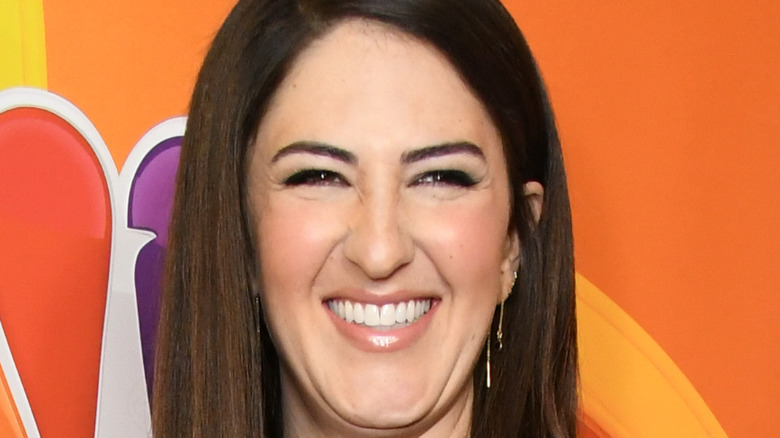 Shutterstock
It's difficult to pick a "most iconic" moment from "The Good Place," with plot twist after plot twist, some of the best one-liners on TV, and a cast that was always ready to serve laughs or barbs. And while Eleanor's season 1 revelation, "Holy mother forking shirtballs, this the Bad Place," ranks pretty high on the list, another moment comes to mind as well. Winning points for ingenuity (and a dash of weirdness), when the soul squad is trapped in Janet's Void, Chidi (William Jackson Harper) and Eleanor (Kristen Bell) have a pretty pivotal moment in their relationship — except they're not wearing their own faces. Everyone appears as Janet (D'Arcy Carden) to protect the Void's integrity. 
With a love declaration to end all love declarations, Chidi helps Eleanor find herself again when he finally makes a decision in less than an hour and tells her how he feels. Of course, they make out as Janets, then turn back into themselves after a dramatic interlude. All in all, it's about as wild of a ride as you'd expect from the series. During an interview for her new Jake Johnson film, "Ride the Eagle," D'Arcy Carden told Looper all about that epic moment, revealing how her favorite ship on the show helped spawn the moment. "I mean, I personally am such an Eleanor and Chidi ... What? Shipper, I guess, you would say," Carden admitted. "I love them together. Yeah, I love them together. I love Kristen [Bell] and Will [Jackson Harper] ... I love their chemistry. I was always really, really, really rooting for them."
Of course, fans of "The Good Place" know that the moment in question really began as Carden's Janet kissing Janet.
The technical side of TV kisses and the ship that started it all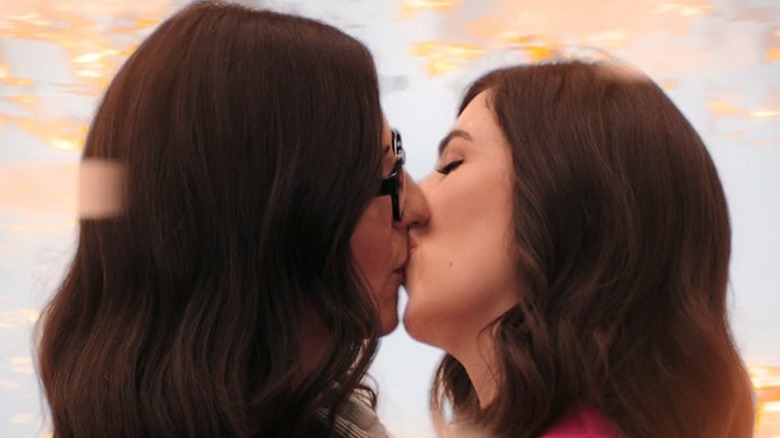 NBC
So, what the heck was it like for D'Arcy Carden to basically make out with herself on "The Good Place"? "It was really technical. I think there's a couple of videos out there if you ever wanted to Google it. Truly. It's hilarious how ... There's nothing romantic or even acting in that moment."
"It's truly like, 'Okay, lift your head up a little bit. Okay, wait, put your head down a little bit. Okay, tilt your head to the right, and turn on to...'" Carden added. "I'm on a spinning platform, and 'Don't move,' and "Ready, go.' Then it's like, 'Okay, now do that on the other side,' it was very technical. It was hilarious. Morgan Sackett, who directed that episode, it's so funny watching him try to get this beautiful moment. But what it really is, is just machinery, but it turned out great, of course.
Carden described Eleanor's relationship with Chidi as one of her favorite parts of the show. "There's something about the fact that they sort of kept finding each other and that they were ... That after a million reboots or whatever, they were still drawn to each other, that type of love story always ... That type of love story, if that's been told before, but you know what I mean, sort of they are being pulled apart, and brought together, and pulled apart, and brought together. That always really gets me." 
"This was sort of the ultimate version of that," Carden added. "So, anyway, I was a very vocal Chidi and Eleanor lover, and Mike Schur definitely knew that," she explained. "So it almost felt like a little winky joke to me that I'm the one who got to say, 'I love you' for the first time."
Fans can see D'Arcy Carden in "Ride the Eagle" in select theaters, on demand, and Digital now.