The Funniest Comedy Series Of All Time, According To Seth Rogen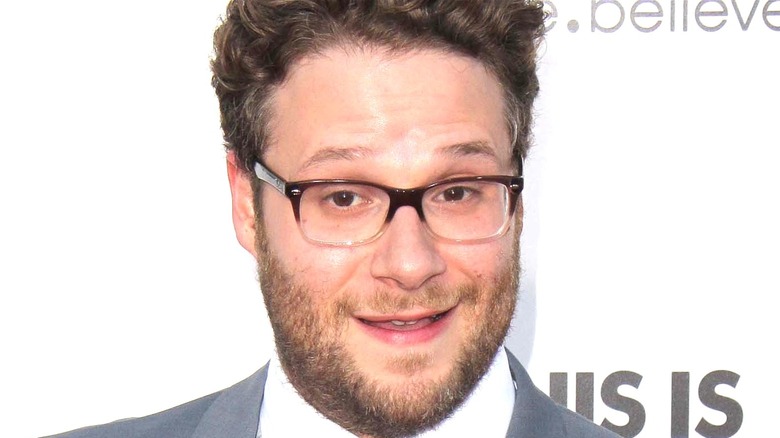 Shutterstock
Seth Rogen, a man who arguably knows better than most what passes for good comedy, casually revealed his pick for the funniest comedy series of all time on Twitter. Rogen's pick will undoubtedly surprise you, if only because the "Superbad" star's pick is a television show that has been released in the last few years. If you were placing your bets on Rogen's choice being a show with a large fandom, like "The Office," or a show that has attained cult-hit status, like "Rick and Morty," then we regret to inform you that you're dead wrong. So, what show did Rogen's namecheck as the funniest in an otherwise unassuming tweet? 
Rogen identified the current show that, in his opinion, sets the new standard for comedy. Below his original tweet, follower @goodmanw's tweeted, "Which is your favorite skit and why is it coffin flop," which led to Rogen sharing his picks for the best sketches featured across both seasons: "I actually think the Blues Brothers and Sloppy Steaks made me laugh as much as coffin flop?"
In addition to these fun posts and Rogen's revelatory tweet on favorite sketches, director-writer James Gunn chimed in with his thoughts. "The Suicide Squad" helmer tweeted, "The first season is one of the few seasons of TV I've watched twice. I had given up hope for a 2nd season – so glad it's here."
So which show has thoroughly tickled Rogen's funnybone?
I Think You Should Leave is a critical and commercial hit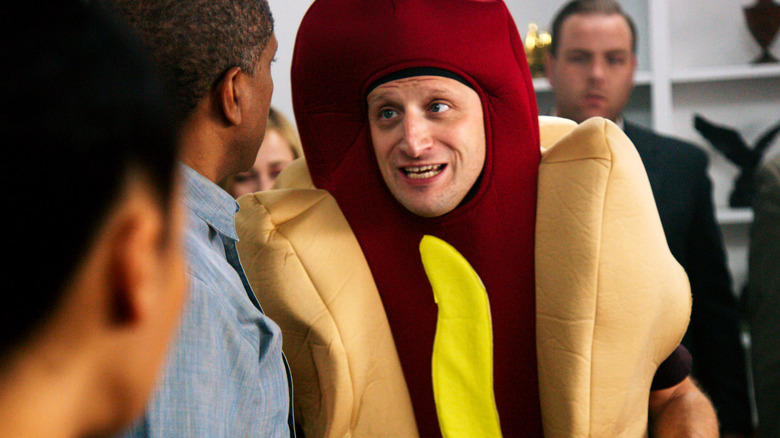 Netflix
Earlier this month, Rogen hopped on Twitter to share the following with his fans: "['I Think You Should Leave'] is the absolute most uproariously funny thing that currently exists. It's [sic] new season is on Netflix and I can't recommend it enough if you haven't seen it."
Rogen's tweet spawned tons of positive comments, with many of his followers tweeting out their favorite lines from the Netflix sketch show "I Think You Should Leave with Tim Robinson" in response.
Rogen's love of "I Think You Should Leave" is more than warranted; it's a win with critics and audiences alike. "I Think You Should Leave" Season 1 nabbed a 96% on Rotten Tomatoes, with a 69% audience score cementing its success. Reviews of the first season praised it as a show that was "frequently (and delightfully!) upsetting, in ways that are sometimes difficult to articulate," according to Birth Movies Death, and gave it "bonus points for its self-awareness" (via Indiewire).
"I Think You Should Leave" has garnered even more favor with the masses following the release of Season 2 in July 2021. Rotten Tomatoes once again reveals just how successful "I Think You Should Leave" is thanks to its six new episodes, with the show earning a 100% Certified Fresh score. The latest round of reviews once again praised the Netflix series for cranking up the absurdity to 11, with many reviews sharing similar praise about Robinson's performance. RogerEbert.com's review noted that Robinson, who has one of the shortest stints on "Saturday Night Live" in the show's history, is "fun to watch even if he's not making you laugh as much as you'd like" because there's "a chance he's could spontaneously combust on camera."
Rogen's praise for I Think You Should Leave is totally justified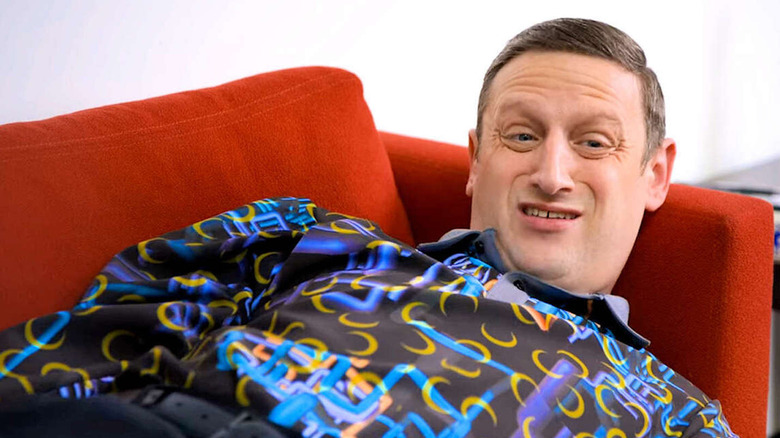 Netflix
It's honestly not hard to see why Rogen loves "I Think You Should Leave" so much. The first season of the sketch comedy series debuted in 2019, releasing its first six episodes on Netflix. Each episode contains a handful of sketches, the majority of them featuring comedic actor Tim Robinson, and all of them revolve around uncomfortable situations that expose the oddest nuances of human behavior. Notable stars across both seasons, including Bob Odenkirk ("Better Call Saul"), Andy Samberg ("Brooklyn Nine-Nine"), Will Forte ("Sweet Tooth"), Patti Harrison ("Shrill"), and Sam Richardson ("Veep"), have helped liven up the show. 
Robinson and his cohort always show up ready to portray characters so oddly specific — be it a co-worker peer-pressuring you to donate to a cause, or a guy accidentally blowing a job interview because of a weird comment, or someone ruining a public event because they don't understand how to behave — who are then caught in a situation that is so weirdly relatable that you can be both regaled and unnerved over the course of a few minutes. Every sketch is chaotic, but it's also a well-written comedy you can't tear your eyes away from.