The Sketch Comedy Hidden Gem You Need To Watch On Netflix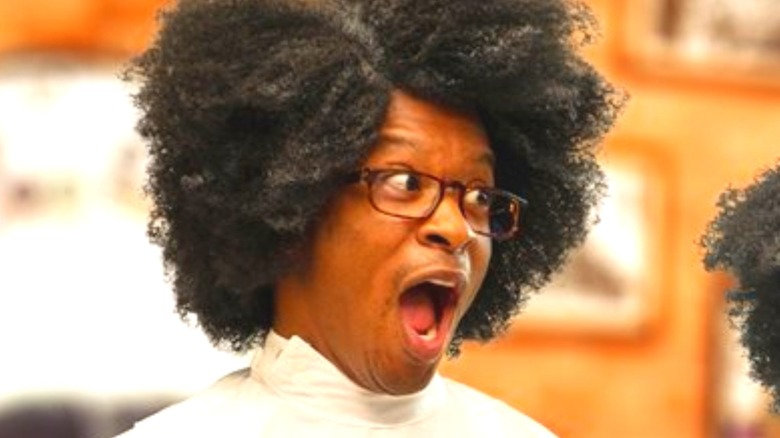 Netflix
Netflix does sketch comedy in an interesting way. The streaming service has only released a handful of sketch shows over the years, the most successful of which is "I Think You Should Leave with Tim Robinson," which captured the zeitgeist in early 2019. Since then, all of Netflix's sketch shows have followed its structural template of short episodes and short seasons. 
Netflix sketch shows tend to top out at 20 minutes long and contain six or seven episodes per season. So they go down very easy. Since "I Think You Should Leave" (which has been renewed for a second season, and the wait has felt interminable), there have been three other semi-short-form Netflix sketch shows: "The Astronomy Club," "The Iliza Shlesinger Sketch Show," and "Aunty Donna's House of Fun." The renewal status of "Iliza" and "Aunty Donna" is still officially pending, but "Astronomy Club" was canceled. Which is a shame, because it's a very funny show.
"The Astronomy Club" is self-titled after the comedy troupe that created and stars in it. The Astronomy Club was the first all-Black sketch team at the famous Upright Citizens Brigade theater. The members are Shawtane Bowen, Jonathan Braylock, Ray Cordova, James III, Caroline Martin, Jerah Milligan, Monique Moses, and Keisha Zollar. The show premiered in December 2019, and was canceled shortly after that, though that information didn't come out publicly until June 2020, per IndieWire. But just because it's canceled doesn't mean you shouldn't still check it out — especially if you like silly-yet-pointed sketch comedy.
The Astronomy Club is an underrated sketch comedy series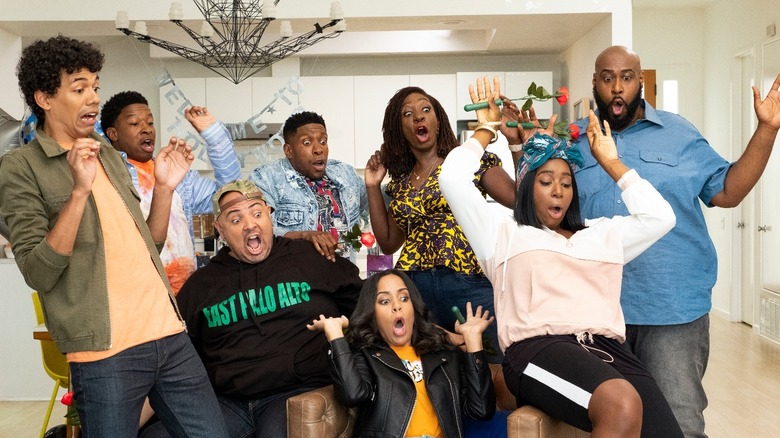 Lara Solanki/Netflix
The show is executive produced by Kenya Barris, the creator of "Black-ish" and Netflix's own "#blackAF." It was the first and currently only Black sketch comedy series on Netflix. It features smart and funny sketches that comment on the experience of being Black in America. A particularly good sketch finds Robin Hood (a white man) stealing from the only rich Black house in Nottingham and getting called out for only giving the money he stole from the rich to poor white people, only to have Little John (a Black man) in turn call the homeowners out for abandoning their old community once they got money. It's a clever sketch that gets at some complicated truths about race and class in just four minutes. Other memorable sketches include a fake trailer for "Tyler Perry's Madea Stole a Time Machine" and a meeting of underappreciated Black inventors who are sick and tired of George Washington Carver.
It's really a shame that Netflix canceled this show after not doing much to promote it, which the members of Astronomy Club noted in their IndieWire interview. But it's still on Netflix, and you can still watch it. Another season of "The Astronomy Club" probably isn't going to happen, but maybe if Netflix sees people are still watching, its executives will give the members of the troupe other opportunities to make content for the platform. Here's hoping they do.