This Is Us: Where Else You've Seen The Cast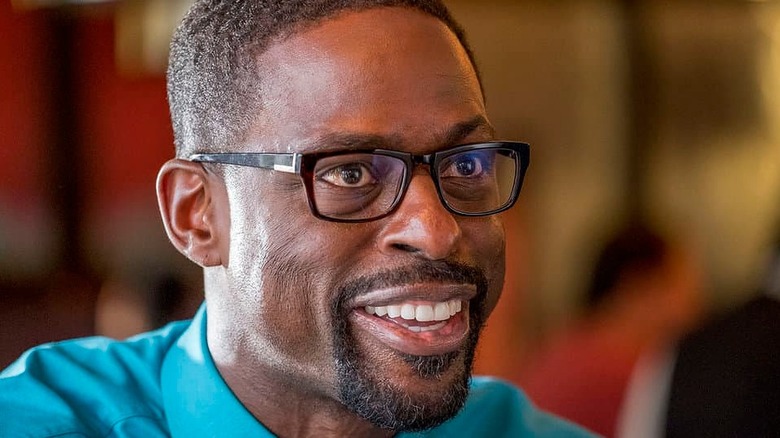 NBC
NBC's award-winning, family-focused drama "This Is Us" will end with its upcoming sixth season and officially conclude the story of the Pearson family. Since 2016, the show has followed parents Rebecca and Jack, as well as their three children, Randall, Kate, and Kevin, across multiple timelines. "This Is Us" explores themes of romance, marriage, birth, adoption, trauma, death, and even coping with the pandemic. The series has received tons of critical praise and dozens of awards, including a Golden Globe and two Emmys.
In addition to critical praise, "This Is Us" has a large and loyal audience, who jumped on board even before the series premiered. According to the Washington Post, "This Is Us" had 10 million same-day viewers for its series premiere in 2016, with a total of 14.6 million viewers once DVR was factored in. Adweek reported that the show had more social media activity than any other fall program premiering that year. The series has continued to crush viewership ratings and social media buzz ever since.
When you look at the absolutely stacked cast, it's easy to see why "This Is Us" became such a hit. Even though the series takes place across multiple timelines, resulting in multiple stars playing the same role (namely in the cases of Randall, Kate and Kevin), these actors are all familiar and beloved — especially among older viewers who grew up seeing them on TV, in movies, and even on stage. Let's break down where else you've seen the "This Is Us" cast.
Mandy Moore was a pop star before she started acting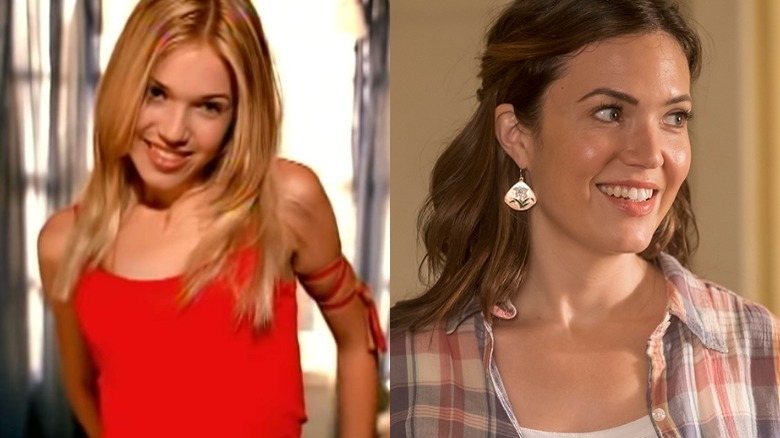 Epic/NBC
Mandy Moore was just 15 years old when she went on her first major tour and announced her debut album. Prior to releasing "So Real" in December 1999, she toured with the Backstreet Boys, who were at the height of their popularity. The first single from "So Real," titled "Candy," came out in August, drumming up buzz for the upcoming album. Since then, Moore has released six additional albums, including 2021's "Silver Landings," which followed a decade-long hiatus in which she didn't make any music, allegedly because her ex-husband wouldn't allow it.
However, Moore isn't just known for her music career. She's also a prolific actress with a number of popular roles under her belt. Moore made her big screen debut as mean girl Lana Thomas in "The Princess Diaries" in 2001, and she later starred in "A Walk to Remember," "How to Deal," and "Chasing Liberty," as well as "Because I Said So," "License to Wed," and more. In addition to her live-action work, Moore has done a fair amount of voice work — perhaps unsurprising for a successful singer! Fans will likely recognize her as Rapunzel in Disney's "Tangled" and as Mara in the animated series "TRON: Uprising." 
Milo Ventimiglia was everyone's favorite bad boy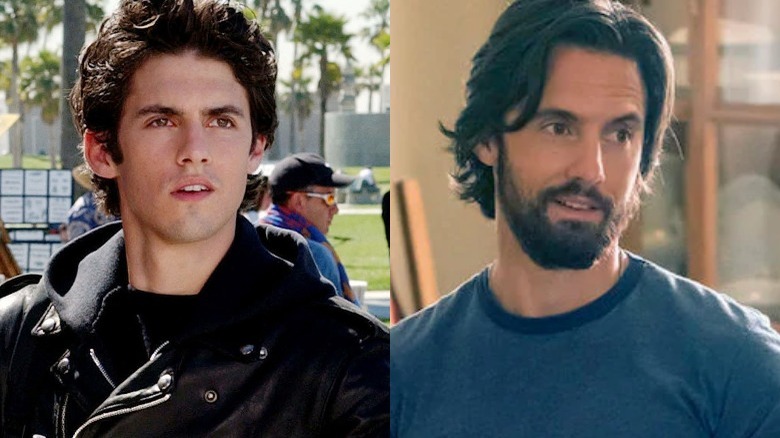 Warner Bros./NBC
Prior to starring in the short-lived Fox series "Opposite Sex" alongside Chris Evans, Milo Ventimiglia had a number of bit parts in popular TV shows and movies of the '90s. Then in 2004, he played one of Brittany Snow's love interests on "American Dreams," before going on to become Stars Hollow's resident bad boy Jess Mariano on "Gilmore Girls." The latter is perhaps Ventimiglia's most famous role, aside from playing Jack on "This Is Us," but he's had a very extensive career.
In 2006, Ventimiglia played Sylvester Stallone's son in "Rocky Balboa," and from 2006-2010, he played Peter Petrelli on "Heroes." More recently, Ventimiglia has done voice work, including the iconic X-Men character Wolverine in two superhero anime series, "Wolverine" and "Marvel Anime," as well as Spider-Man Noir in "Ultimate Spider-Man." In 2013 he returned to live-action TV, starring in both "Mob City" and "Chosen," and in 2015 he appeared in "The Whispers." Ventimiglia even had a guest role in "The Marvelous Mrs. Maisel," reuniting with the same creative team from "Gilmore Girls."
Sterling K. Brown has had a ton of prominent roles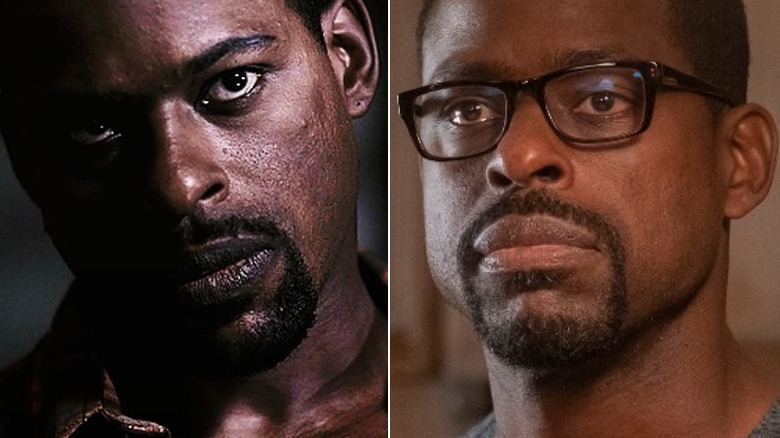 The CW/NBC
Emmy Award winner Sterling K. Brown has been acting since the early aughts, and he has several prominent roles on his resume pre-Randall on "This Is Us," including N'Jobu in "Black Panther." Prior to playing Randall, Brown primarily acted in darker, grittier roles, so "This Is Us" is a new direction since it has a more family-friendly vibe. From 2002-2004, he played Officer Dade on the police drama "Third Watch," and in 2005 he played Adam Williams on "Starved." Following these parts, he played a vampire hunter and semi-rival to the Winchester brothers before later becoming a vampire himself on the CW drama "Supernatural." Brown also played Roland Burton in "Army Wives" and Detective Cal Beecher in "Person of Interest," before taking on the role of Christopher Darden in 2016's "American Crime Story." 
In addition to his prolific live-action work, Brown has also done a good deal of voice work in widely-loved productions. In addition to playing Mattias in "Frozen 2," he voices Lio Oak in the Dreamworks series "Kipo and the Age of Wonderbeasts," Michael Angelo in Netflix's "Big Mouth," and Halk in "Solar Opposites." In 2021, he narrated the TV mini-series "Lincoln: Divided We Stand," and he has had a number of guest-starring roles in shows including "Brooklyn Nine-Nine" and "Insecure." And of course, you can find Brown in the movies, including 2018's "The Predator" and 2019's "Waves."
Chrissy Metz had her breakout in American Horror Story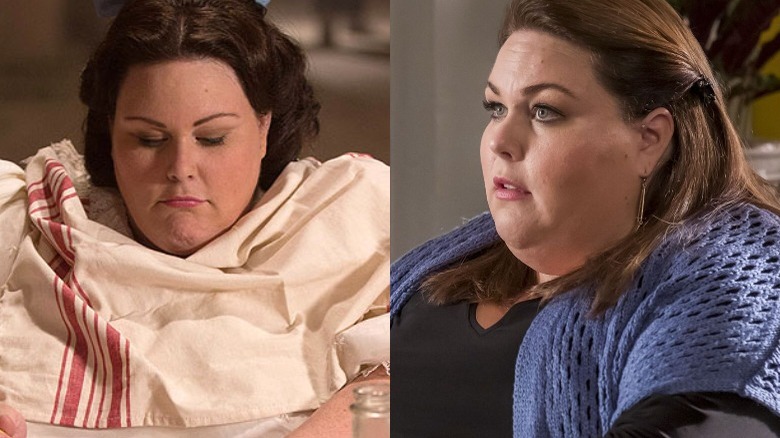 FX/NBC
Before she stole everyone's hearts as Kate Pearson in "This Is Us," Chrissy Metz had a series of small roles in shows including "Entourage," "All of Us," "My Name Is Earl," "Solving Charlie," and "Huge." She also appeared in the movies "Loveless in Los Angeles" and "The Onion Movie," though she was uncredited for her part in the latter. Then in 2013, she had a breakout as Ima "Barbara" Wiggles, a debutante recruited for Fräulein Elsa's Cabinet of Curiosities in "American Horror Story" Season 4.
Her onscreen presence only escalated from there, though she's steered away from comedy and horror to focus on more dramatic, serious parts. In 2018, Metz played Trish in the Netflix romantic comedy "Sierra Burgess Is a Loser," and in 2019 she played Joyce Smith, the real woman who wrote the book "The Impossible" about her son's drowning and resurrection, in "Breakthrough," which is based on Smith's book. During her time as Kate on "This Is Us," Metz has also ventured into voice acting, portraying Mei Mei in the animated series "Kung Fu Panda: The Paws of Destiny." Current projects include a starring role "Stay Awake," a drama slated for release in 2022.
Justin Hartley was superhero Green Arrow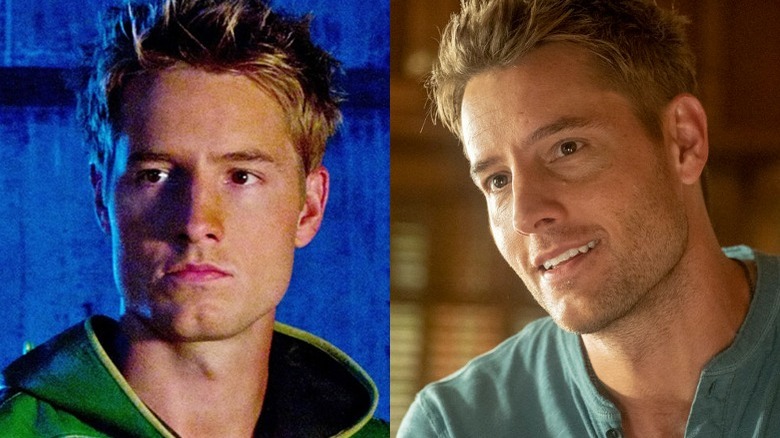 Warner Bros./NBC
Justin Hartley, who plays Kevin Pearson on "This Is Us," has had a few iconic roles where he can play up his charm. Most notably, he played Oliver Queen, aka Green Arrow, on the WB's "Smallville," which is still remembered as a beloved take on the DC Comics character. He also played Dr. Will Collins on "Emily Owens, M.D." and Patrick Osbourne in "Revenge." 
Hartley got his start in the soap opera "Passions" in 2002 as Fox Crane, and he had guest spots on "Cold Case" and "CSI: NY" before starring as Nick Korda in "Gemini Division." Following his turn on "Revenge," Hartley starred as James in "The Challenger" and then as Scott in the TV series "The Mistresses," before returning to his soap roots as Adam Newman and Gabriel Bingham in "The Young and the Restless." Hartley also played Ty in "A Bad Moms Christmas" and Rothbauer in "The Exchange." His resume, including "This Is Us," veers toward sudsy drama, where he's clearly found success. He has a number of upcoming roles on his schedule, as well, including a voice role as Superman in the animated "Injustice: Gods Among Us" movie.
Susan Kelechi Watson starred in Third Watch and Louie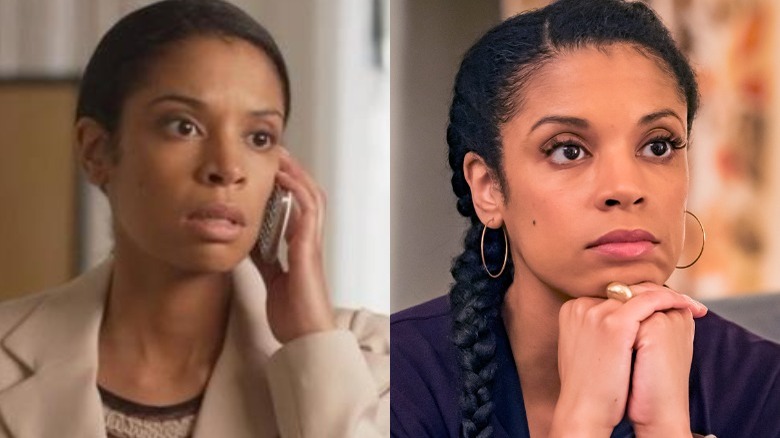 FX/NBC
Prior to playing Randall's wife, Beth Pearson, on "This Is Us," Susan Kelechi Watson starred with Sterling K. Brown on "Third Watch," which made "This Is Us" something of a reunion for the two actors where they got to explore new roles and dynamics — in a family drama this time instead of a crime show. Watson also played an important role as Janet in "Louie," and had a number of guest spots on popular shows like "Medium," "Kidnapped," "Law & Order: Trial By Jury," "NCIS," The Good Wife," "Royal Pains," "Blue Bloods," and "Veep." 
One of her longer-running roles prior to "This Is Us" lasted from 2013-2016, when Watson played Ellie in "The Blacklist." Watson also starred as Andrea Vogel in the 2019 film "A Beautiful Day in the Neighborhood," which featured Tom Hanks as the late Fred Rogers, and she played Patience in "Blood Brothers: Civil War," a period drama about two brothers who fall in love with the same woman. Watson's versatile career has spanned several different character types, all of which are very distinct from Beth. To date, "This Is Us" is perhaps Watson's most iconic role.
Chris Sullivan owned the diner in Stranger Things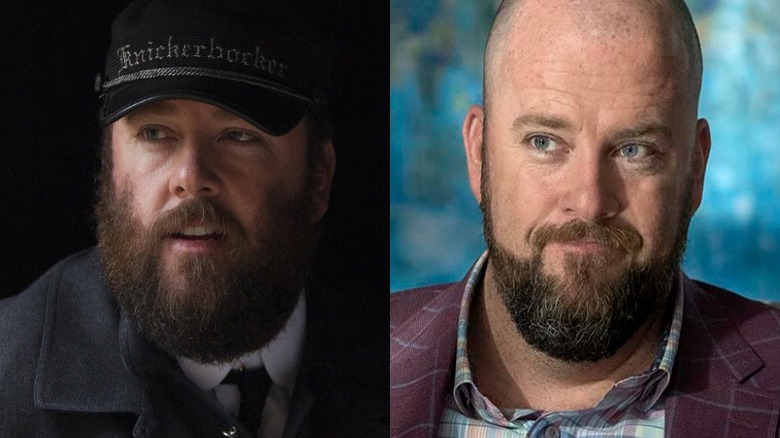 Cinemax/NBC
In "This Is Us," actor Chris Sullivan plays Toby Damon, Kate Pearson's husband. Sullivan has been acting since the mid-aughts, with a screen debut in the 2006 short "Welcome to Man-Bottomless." He's been in several shorts since, in addition to taking on guest-starring roles on shows like "Elementary," "Law & Order: Special Victims Unit," and "The Americans."
Sullivan got his first big break when he starred as Tom Cleary in "The Knick," a Steven Soderbergh period drama set in a hospital in 1900. He then appeared in "Stranger Things" Season 1 as Benny Hammond, the amiable owner of the local diner, Benny's Burgers. Perhaps his most recognizable role, aside from Toby, is as Joe in "Camping," the HBO comedy series starring Jennifer Garner and Juliette Lewis. Sullivan also played Taserface in "Guardians of the Galaxy Vol. 2," a role he will reprise in voice only for the upcoming Marvel animated series "What If...?"" His portfolio also contains a number of movies, including "Imperium" and "Live By Night." The variety of parts in his resume is evidence of how adaptable he is as an actor.
Jon Huertas got his start in Moesha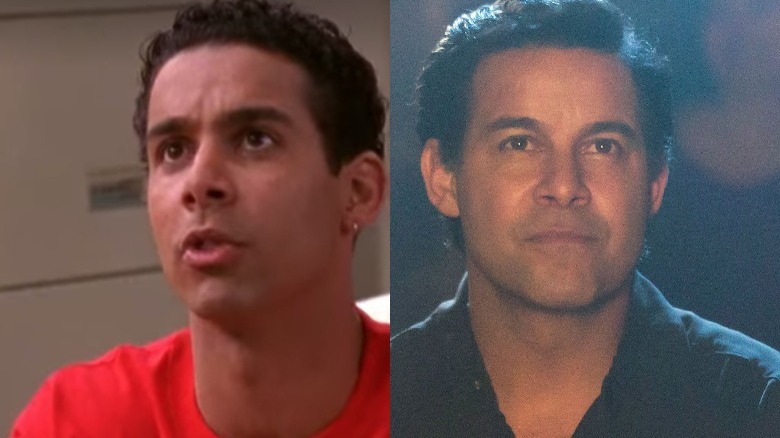 UPN/NBC
"This Is Us" fans who watched teen sitcoms in the '90s may recognize Jon Huertas, the actor who plays Miguel Rivas on the NBC drama, from shows like "Moesha" and "Sabrina the Teenage Witch," where he got his start. On the former, Huertas played Antonio, and on the latter, he played Harvey Kinkle's best friend and witch hunter Brad Alcerro. Huertas also starred in "Undressed" as Evan.
In the aughts, Huertas rose to play even more recognizable parts. In addition to playing T.J. "The Playah" on "The Joe Schmo Show," Huertas made a name for himself in military and police settings: He starred in the HBO mini-series "Generation Kill" as Sgt. Antonio Espera; from 2009 to 2016, he played Javier Esposito, a homicide sergeant with the NYPD, in the hit ABC crime comedy "Castle"; and he had a recurring role in "Elementary" on the other side of the law as gang leader Halcon. He's also starred in a number of shorts, in addition to doing voice work for "Beverly Hills Chihuahua 2" and one of the "Halo" games.
Ron Cephas Jones starred in The Get Down and Luke Cage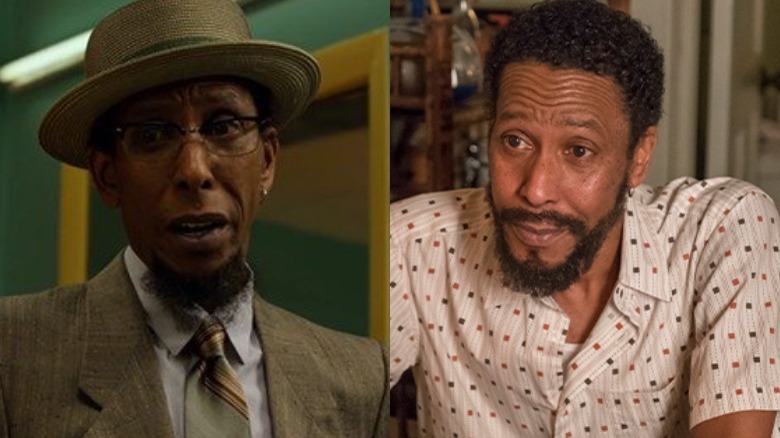 Netflix/NBC
Ron Cephas Jones has had a long and illustrious acting career with several recognizable roles across a variety of genres. Prior to playing William Hill on "This Is Us," he took on iconic roles in "Half Nelson," the 2014 version of the classic "Of Mice and Men," "Dog Days," and "Dolemite Is My Name." He also played Jack in "Venom" and the grandfather in the Netflix original holiday movie "The Holiday Calendar." Some viewers may even recognize him as the unnamed Black Panther in "Across the Universe."
Jones has also appeared in extremely popular modern TV series, often as a side or recurring character whose advice plays an important part in the protagonist's decisions. He played Winston Kipling in "The Get Down" and Bobby Fish in "Luke Cage," then starred in the Hulu mini-series "Looking for Alaska" and the Apple TV+ series "Truth Be Told." His role on "This Is Us" is recurring, and when it ends, he'll likely still have his spot as Professor Roger Dashmiel on "Lisey's Story," the Apple TV+ mini-series based on the Stephen King novel of the same name.
Alexandra Breckenridge recurred on True Blood and The Walking Dead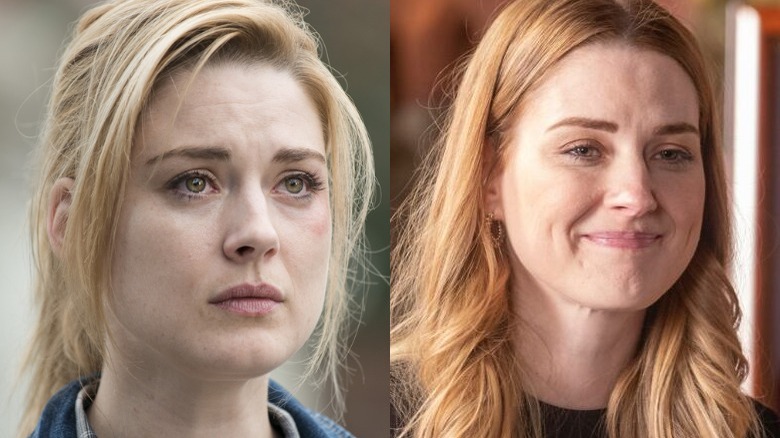 AMC/NBC
In "This Is Us," Alexandra Breckenridge plays Sophie, Kevin's ex-wife and Kate's childhood friend. Breckenridge has been acting since she was a teenager, and she made her screen debut in the 1998 TV movie "Ghosts of Fear Street." Viewers may recognize her from "Opposite Sex," "Big Fat Liar," or "She's the Man," though she's grown up quite a bit since. Breckenridge also played Willa McPherson in the TV series "Dirt," before moving on to play Vivian in "The Ex List."
In addition to these roles, Breckenridge had a recurring part on "Life Unexpected" as Abby, a yoga instructor obsessed with healthy living, and on "True Blood" as Katerina, aka Katie, a wiccan and undercover agent who once belonged to a powerful coven. She was also a recurring guest on "American Horror Story," as young Moira O'Hara and Kaylee. But the actress is perhaps most recognizable for playing Jessie Anderson, an Alexandria resident who briefly dates Rick in "The Walking Dead," and Melinda Monroe, a nurse practitioner and midwife, in "Virgin River." Aside from her live-action work, Breckenridge has also done the voice work for various female characters in "Family Guy," dating all the way back to 2005 — so fans of animation and live-action alike may recognize the sound of her voice.
Griffin Dunne was an American werewolf in London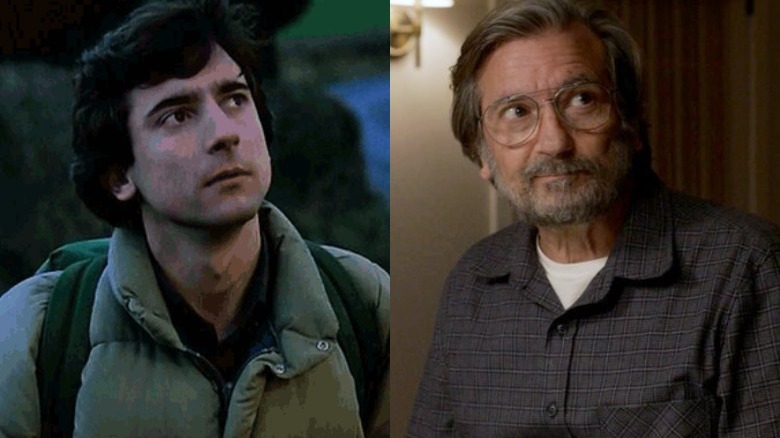 Universal Pictures/NBC
"This Is Us" viewers know Griffin Dunne as older Nicky Pearson, but the actor is perhaps most well-known for a part he played all the way back in 1981, just six years after he made his screen debut. Dunne starred as Jack Goodman, one of two American college students attacked by a werewolf during a trip to England in the classic horror film "An American Werewolf in London." He's been in a ton of movies and TV series since, including a recurring role in "Trust Me" and guest spots in "Alias" and "Leverage." He's returned to horror a couple times, as well, like when he played Jerry in "40 Days and 40 Nights."
Viewers may also recognize Dunne from more recent dramas. The actor played Marco Pelios in "House of Lies," Ruben Garcia in "Red Band Society," Woodrow Lorentzen in "Manhattan," and Sylvere in "I Love Dick." During his tenure on "This Is Us," he also played Gene in the 2019 TV series "Goliath."