A New Teenage Mutant Ninja Turtles Film Is On The Way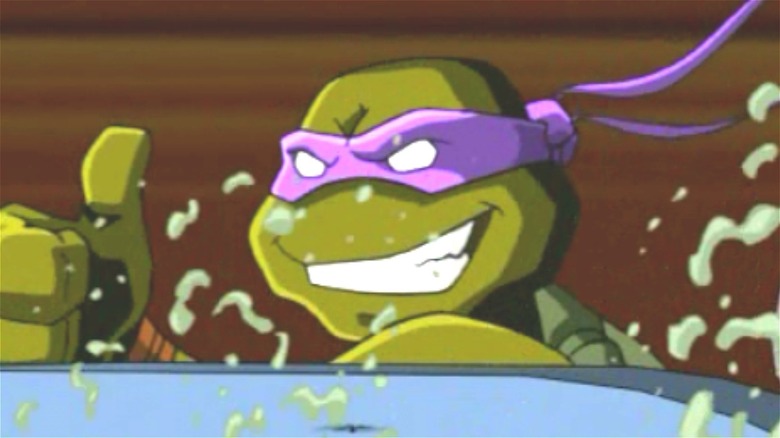 4Kids Entertainment
Back in 1984, two little-known comic book creators named Kevin Eastman and Peter Laird, based in Dover, New Hampshire (via NHPR), released a strange black and white comic about a quartet of adolescent turtles — reptiles of a mutated, ninja variety. 
And while there have been many, many anthropomorphic superheroes and supervillains to grace the pages of comics books, cartoons, and the silver screen, there's never been anything that quite has the staying power of the Teenage Mutant Ninja Turtles. Only three years after their comic book debut, the Turtles also became cartoon icons. In the intervening years, there have been four different cartoon shows dedicated to the pizza-loving squad, as well as a live action series, and six films. By now, we all know that Leonardo leads, Donatello does machines, Raphael is cool (but rude), and Michelangelo is a party dude. 
However, if you somehow thought that the Ninja Turtles had come out of their shells (and the shadows) to find the secret of the ooze for the last time, you would be wrong — there's always more story to tell. We just got some details concerning who will be involved in the next film dedicated to those heroes on the half-shell, and it's not someone you would expect.
Ninja Turtles as located directly underneath 30 Rockefeller Plaza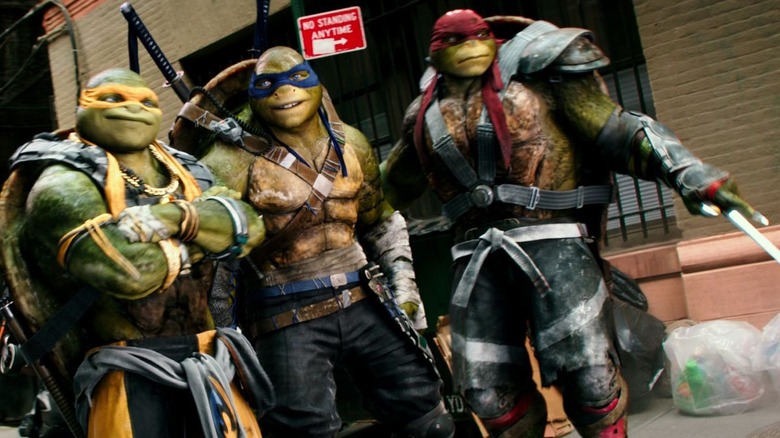 Paramount Pictures
The last two live-action Teenage Mutant Ninja Turtle movies were produced by Michael Bay's Platinum Dunes production company. Those films bulked up the Turtles from their usual, more lanky appearance, and cast Megan Fox as ace reporter April O'Neil, with "Arrow" star Stephen Amell as purveyor of vigilante justice Casey Jones. However, it's been five years since "Teenage Mutant Ninja Turtles: Out of the Shadows" bowed, and with Seth Rogen planning to produce a new animated film (as reported by Insider), there have been many questions regarding when, or if, the ninja superheroes might once again appear in live action.
And now we have our answer. According to Deadline, it appears that Paramount has signed on "Saturday Night" Live head writer Colin Jost – also known as the husband of "Black Widow" star Scarlett Johansson — and his brother, Casey, to script the next film in the Ninja Turtles saga. 
Michael Bay is continuing on as a producer for the film, but it is unknown whether or not these will be the same incarnation of the Teenage Mutant Ninja Turtles that we saw introduced in 2014, or a whole new take on the source material. As for Jost, he has been a writer for "Saturday Night Live" since 2005, and has co-anchored the program's "Weekend Update. This marks his first time he'll be writing a film since 2015's "State Island Summer," and it's certainly first time he's been handed the keys to franchise characters this famous.
The possibilities for the Turtles seem endless. Maybe Jost's frequent collaborator Pete Davidson will be a Ninja Turtle? Or maybe the Turtles will genuinely hide out in the sewers under "SNL" home base 30 Rockefeller Plaza? We'll report more on the latest TMNT film as details emerge.