The Hilarious Reason Colin Jost Didn't Help Scarlett Johansson Rehearse For Black Widow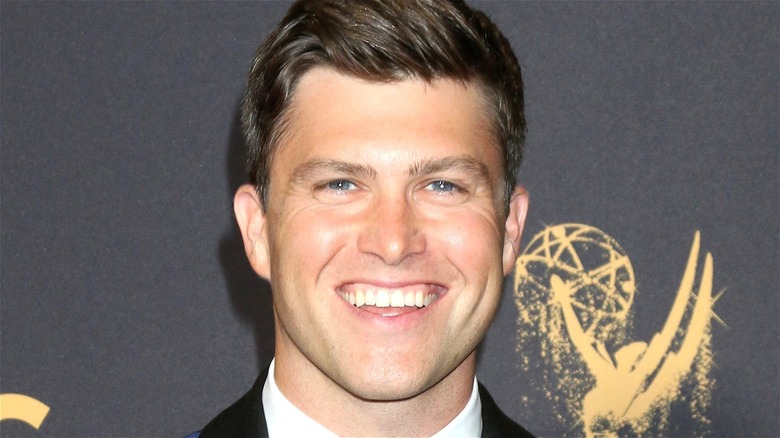 Shutterstock
Scarlett Johansson and Colin Jost have been together since 2006, and they were married in 2020. For most of that time, they have both been fixtures in their respective franchises — "Saturday Night Live" for Jost (he became a writer there in 2005) and the MCU for Johansson (her first appearance as Black Widow came in 2010's "Iron Man 2").
One would assume that, as two people in the same industry, they probably look out for each other and maybe even help each other rehearse. Johansson has been on "Saturday Night Live" many times over the years, and Colin Jost, by contrast, once slimed his wife "You Can't Do That on Television"-style, while she was receiving her Generation Award at the MTV Movie & TV Awards.
While the sliming was obviously a joke, you might get the sense that there's a slight imbalance in the friendly assist department between the two newlyweds. Case in point: Here's how Jost approached his wife's preparation for "Black Widow."
Colin Jost is perhaps too much of an MCU fan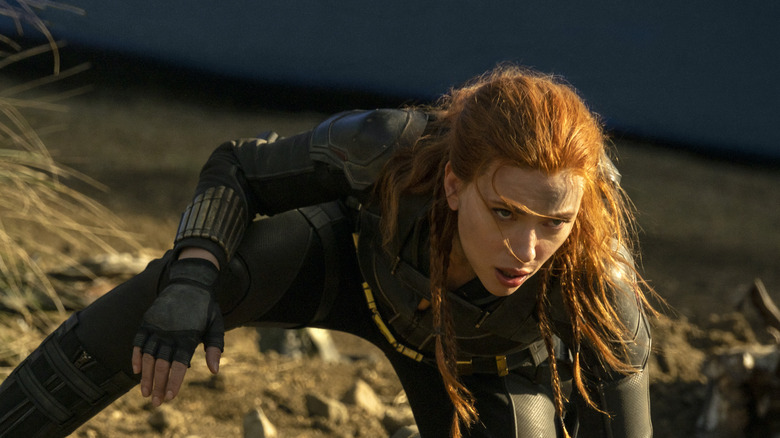 Marvel/Disney
While Scarlett Johansson was filming "Black Widow," Colin Jost was filming a movie of his own: "Tom and Jerry." In what is a rare bit of good fortune, it turned out that both films were shooting in London — and that means more time together in between shooting days. Obviously, we can't speak to what the pair got up to in their free time, however there is one thing Johansson confirmed about Jost, specifically as it pertains to "Black Widow" and the MCU: He does not want to rehearse with her.
If you've never dated an actor, the relevant information here is that it's pretty common for a significant other to help their actor partner run lines. So why was Jost so averse to helping out Johansson with her "Black Widow" prep? One word: spoilers. "[Colin] doesn't like any spoilers, though, so I can't tell him anything, and he doesn't even pry," Johansson said in an interview with People.
"If I was in the middle of a big action set piece or sequence or whatever, he was just not wanting to hear anything about it," Johansson revealed. "Of course he wants to know, 'How was your day?', but as soon as it would bleed into, 'Can you read the scene?' he was like, 'Am I gonna get any spoilers?'"
To let Colin Jost off the hook, he did run some lines with his wife, he was just very careful about it. "He wanted to know 'spoiler alert' before we read lines together," said Johansson. "Can you believe that?"
Celebrities — they're just like us!
"Black Widow" hits theaters and Disney+ beginning July 9.