The Fan-Favorite Character That Could Be Returning For Thor: Love And Thunder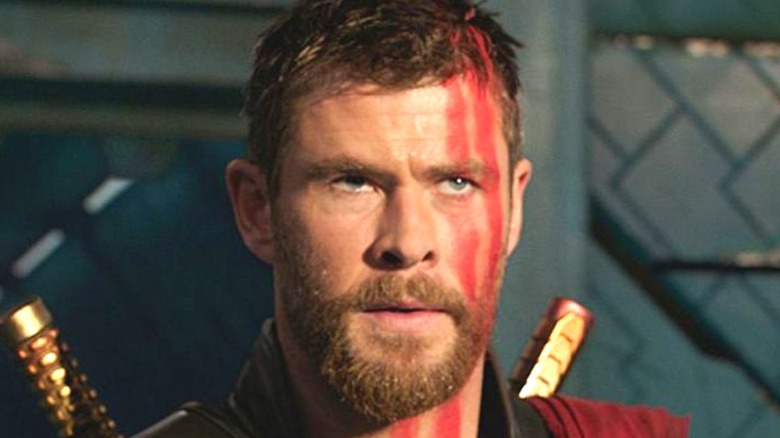 Marvel/Disney
Is "Thor: Ragnarok" the best of the Thor (Chris Hemsworth) MCU films? There's a strong case to be made that it is. It's certainly the one where Hemsworth was given the freest reign to explore his sense of humor. It's also a film that introduced us to Valkyrie (Tessa Thompson), Skurge (Karl Urban), Hela (Cate Blanchett), and so many more. And, perhaps most of all, "Thor: Ragnarok" served as the entry point for director Taika Waititi.
Waititi is returning once again both as director and, of course, as everyone's favorite rock man Korg, but he's not the only one coming back — and thank goodness because there are so many faces we've been missing. Whether you love the first two Thor films or not, we've gone a long time without some of the characters we were first introduced to there. Yes, Kat Dennings returned to help save the day as Darcy for "WandaVision," but the next film, "Thor: Love and Thunder" has the distinct pleasure of bringing Natalie Portman's Jane Foster back into the MCU.
However, if you thought that Foster, Thompson, and Jaimie Alexander's Sif were the only Thor characters coming back, you are in for a treat. A very rarely recognized friend of the God of Thunder seems like they just might also be about to make a shocking return.
Team Thor back in action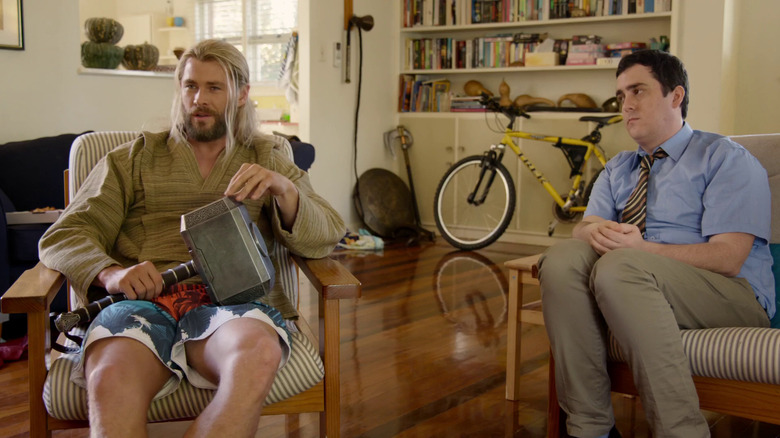 Marvel/Disney
Does the name Darryl Jacobson (Daley Pearson) happen to ring a bell? After the events of the physical media release of "Captain America: Civil War," Taika Waititi scripted and filmed a short called "Team Thor" that answered the question: what was Thor doing when Captain America (Chris Evans) and Iron Man (Robert Downey Jr.) were beating each other up? And the answer is that Thor was in Australia with his human roommate Darryl.
Darryl isn't only a roommate; he also helps Thor send e-mails. And when no one wants to hang out, he's part of a new superhero team — Team Thor. Team Thor doesn't really do anything. In fact, when they appear again on the "Doctor Strange" Blu-ray, they're out of money. And while Darryl thinks a job would be a good idea, Thor's plan is to get a servant using Asgardian money — which is completely worthless on Earth.
Thor ditches Darryl, but the story doesn't end there. In fact, Darryl moves to Los Angeles and gets a new roommate: the Grandmaster. Unfortunately for the Grandmaster, his assistant Topaz (Rachel House) did not survive their experiences during "Thor: Ragnarok." Darryl then becomes the Grandmaster's new proverbial manservant. It goes so badly that Darryl confesses that he misses his old roommate.
And on that note, it seems like Darryl may be back for "Thor: Love and Thunder." In an interview with SlashFilm, executive producer Brad Winderbaum was asked about the possibility of another short Waititi film designed to bridge the gap between "Avengers: Endgame" and "Thor: Love and Thunder."
"Are you talking about Darryl?" Winderbaum asked. "Well, maybe you might get more Darryl. It's possible." That doesn't guarantee Darryl's return, but considering it was Winderbaum himself who namedropped the character, it seems like a fair bet we may see him at some point.
"Thor: Love and Thunder" hits theaters on May 6, 2022.