Jurassic World 2 First Look Revealed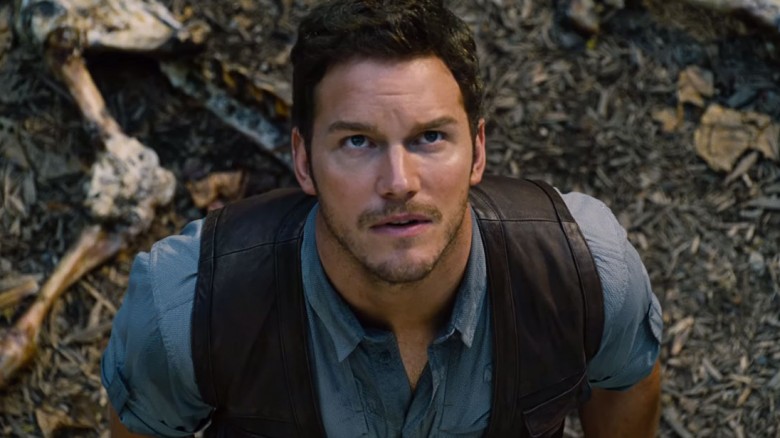 Brace yourselves for some more bone-crushing dino action coming your way soon, and try your hardest not to get the franchise's infectious theme tune stuck in your head while you prepare.
Following the summer smash Jurassic World, a refreshed reboot of the original prehistoric sci-fi series, a follow-up film was near ubiquitous. The sequel has been shooting principal photography across the pond in England for a little over a week, but no significant sneak peeks at the film's progress have emerged. That is, until today.
Film producer Frank Marshall quenched fans' thirst for a teaser, releasing the very first image from Jurassic World 2.
Taking to Twitter to share the inaugural set photo, Marshall shared in the excitement: ""First photo from the set. JW2 lives!" Marshall also included the hashtags #JW2 and #JurassicWorld to get fans even more hyped up, sparking them to spread the news like wildfire.
The first official film photo shows a young girl standing in a dimly-lit museum, staring up at a triceratops skull in an expansive dinosaur exhibit. While her face isn't shown, something tells us she's wide-eyed and wondering all there is to know about the skeletal creature in front of her. Many fans have noted that this tease evokes a kind of childlike curiosity that's become trademark to the Jurassic Park franchise, a sense of nostalgia that has viewers optimistic about what the sequel has in store and eager to get more glimpses in future.
Take a look at the photo below.Other creative minds behind the film, like director J.A. Bayona and scriptwriter Colin Trevorrow, also headed to social media to share the first look.



So excited to show you this!! A first look of the new Jurassic adventure. #JW2 pic.twitter.com/U7eJRANXgg


— JA Bayona (@FilmBayona) March 8, 2017



Walking in giant footsteps. #JW2 pic.twitter.com/fOZrFXp9md


— Colin Trevorrow (@colintrevorrow) March 8, 2017
Not much is known about the identity of the girl in the photo, but some have speculated that she may be a 9-year-old character named Lucy who was cast last year. As reported by
MovieWeb
, Lucy is set to be a main character, and it is "very possible that this is who we are seeing in this set photo."
In a past interview with GameSpot, Trevorrow opened up about the darker, more suspenseful atmosphere intended to be evoked in the Jurassic World series, particularly regarding the upcoming sequel. "Jurassic World was very much made with the fans in mind, and I'm not going to forget it," Trevorrow stated, "but now we've seen a lot of 'dinosaurs chasing people around on an island' movies. I think... the general audience is going to be down to explore where else we can go."
By the looks of this first photo, it seems Jurassic World 2 will be a more mature take on the dinosaur adventures seen in years past. An official release date hasn't yet been set, but fans can look forward to seeing returning actors Chris Pratt and Bryce Dallas Howard in lead roles.
While you wait for more sneak peeks to be shown, discover how the cast of the original Jurassic Park should really look.