Thor: Ragnarok Photos Reveal Hela, Valkyrie, And Grandmaster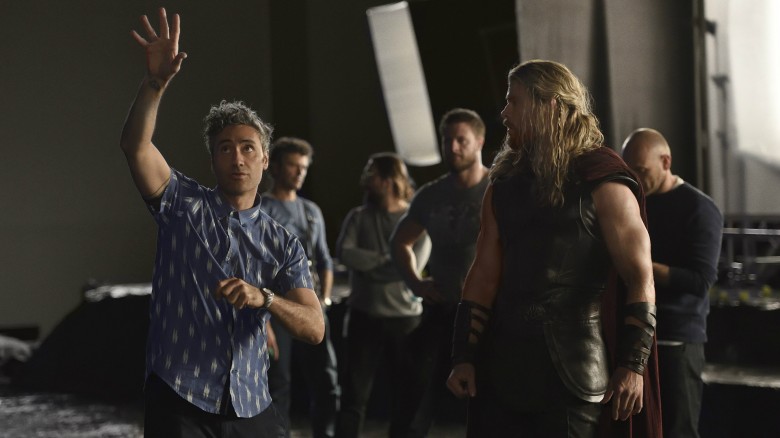 Marvel
While the
Entertainment Weekly
cover story on Thor: Ragnarok gave us our
first look
at Thor's new hairdo (it's business in the front, business in the back), it also provides a peek at a few more key players.
Among them, we get a glimpse at Jeff Goldblum's shady Grandmaster, Cate Blanchett as the villainous Hela, Tessa Thompson as the warrior Valkyrie, and the return of Tom Hiddleston as Loki. There's also a fun backstage shot of Mark Ruffalo as Bruce Banner with Chris Hemsworth's sleek new Thor.
While Ragnarok appears to have an overall look that's akin to the previous installments in the Thor franchise, it's clear that director Taika Waititi (What We Do in the Shadows, Hunt for the Wilderpeople) has infused a little more color and a lot more humor. (After all, he's the guy behind those hilarious "
Team Thor
" videos.)
And although we know Thor will be forced into a gladiatorial
battle with the Hulk
, Ruffalo has previously described the flick as a "buddy picture" and a "road movie" like Midnight Run.
Take a look at the photos below. Thor: Ragnarok hits theaters Nov. 3.



Your space parents will see you now. #ThorRagnarok pic.twitter.com/HtwNzrHoOA


— Joanna Robinson (@jowrotethis) March 8, 2017



And also because this THOR: RAGNAROK shot looks like a WEIRD SCIENCE remake starring Bruce Banner and Thor. pic.twitter.com/UX8GBms2Mg


— Peter S. Hall (@PeterSHall) March 8, 2017



I am coming to THOR: RAGNAROK for many things, including the Space Budweiser. pic.twitter.com/1x2l0KPBht


— Peter S. Hall (@PeterSHall) March 8, 2017



#ThorRagnarok exclusive shots from @EW #cantwait pic.twitter.com/ZKXyfXNMQn


— Andy Park (@andyparkart) March 8, 2017