New Walking Dead Sneak Peek Teases A Glimpse At Negan In Season 11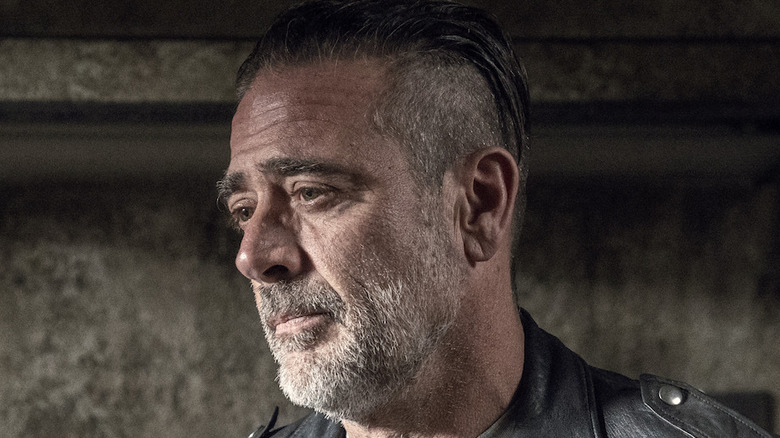 AMC
Season 11 of AMC's "The Walking Dead" is nearly upon us, as its August 22 premiere gets closer by the day. If the wait for the series' return seems even more unbearable than previous offseasons, it's probably due to the air of finality this season brings. "The Walking Dead" Season 11 will serve as the final outing for the main series but fortunately, the last run won't be brief. Season 11 is expected to be broken up into three blocks of eight episodes, with a break between each set, so we'll be with some of the Alexandria survivors for at least until mid-2022.
In the meantime, AMC has been teasing the season premiere with its "11 Weeks Of Reveals" event, which has included special teasers, sneak peeks centered on the upcoming season and its main cast, and "The Walking Dead" Season 11 trailer. This week's reveal pulls from a scene from the premiere episode "Acheron: Part 1," which has the main cast walking underground. However, the trailer mainly focuses on the former villain turned antihero, Negan.
Negan may be the key to the group's survival in the premiere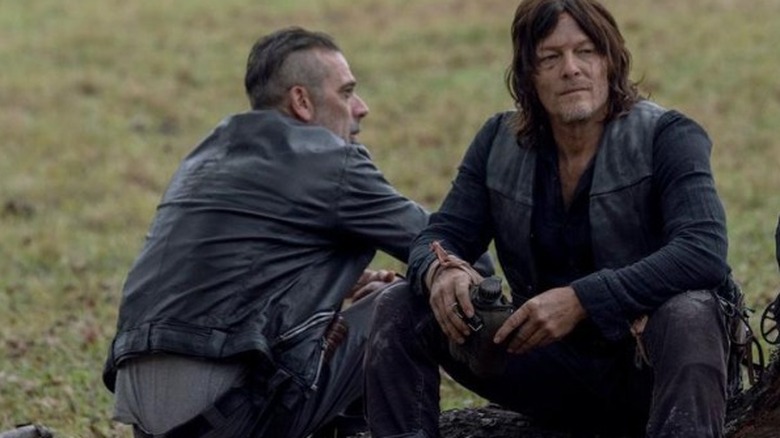 AMC
As the sneak peek reveals, the premiere episode has Daryl (Norman Reedus), Maggie (Lauren Cohan), Gabriel (Seth Gilliam), and the rest of the cast teaming with Negan and traveling in a tunnel with spooky groaning sounds echoing around them, with Negan remarking that the sound is "God telling us to turn back around." He also remarks that the tunnel they're in could be dangerous for travel, as it seems to flood regularly. Negan seems like he is legitimately trying to warn the group of impending danger, but tensions are still high, especially as Daryl shuts him off from talking further. 
It would make sense why anyone is apprehensive about having Negan around. When he made his debut within the series, he violently shook everything by being responsible for the shocking deaths of beloved characters Abraham and Glenn in "The Day Will Come When You Won't Be." And that was just the start of the grief he caused for many of the heroes in the series. Yet, the ending of last season let fans witness Negan experience a massive change when he came to terms with his past. It's still hard to trust the man who is responsible for murdering people who were close to you. The clip seems to reinforce that idea much like the first trailer as both Negan and Daryl speak about trust. In any case, it's clear this final season will serve as a big test for an already shaky alliance.