The Kelly Moment From The Office That Didn't Age Well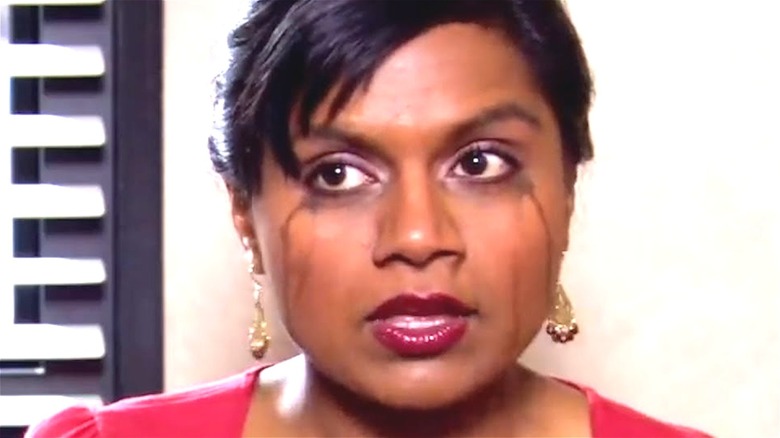 NBC
This article mentions sexual assault.
It's become a familiar refrain across social media that you couldn't make a show like "The Office" today. While the sitcom remains beloved to this day, with its arrival on Peacock remaining a highlight of the streaming platform, not every episode has aged well. Granted, not every episode was all that great to begin with, but people are certainly more aware of offensive attempts at humor in this day and age. 
The powers that be removed a scene from a Season 9 episode that depicted one of the characters in blackface when they were supposed to represent the Christmas spirit known as Belsnickel. That's only the beginning, as there's no shortage of jokes throughout the show's run that deal with race, sexual orientation, and other sensitive topics. 
The offensiveness isn't limited to a singular character, either. Michael Scott (Steve Carell) definitely knew how to make things uncomfortable, but that was only the beginning. It genuinely seems like every person at Dunder Mifflin had a problematic moment, including office firecracker Kelly Kapoor (Mindy Kaling). 
Kelly made light of sexual assault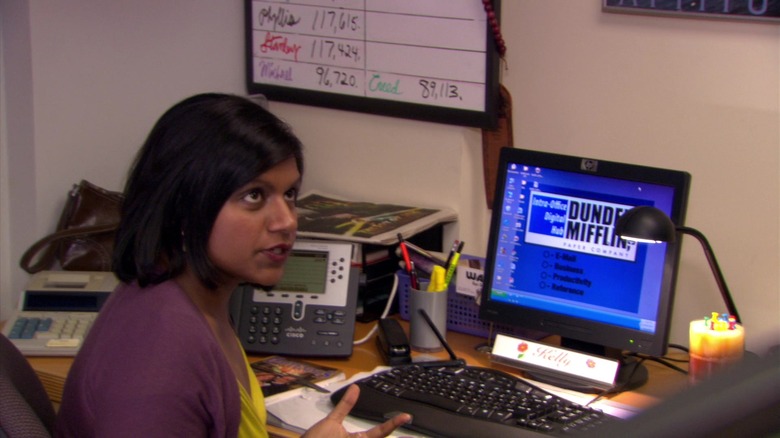 NBC
In Season 5's "Customer Survey," Jim (John Krasinski) and Dwight (Rainn Wilson) try to get to the bottom of why Kelly would give them negative scores. They know she's behind the situation, but they can't prove anything until they get Michael involved, and the three of them confront her. The men want to know what she has against her co-workers, and in an attempt to get them to stop badgering her, she says, "I was raped." This isn't the first time Kelly has used that statement to get out of trouble as Michael responds, "You cannot say 'I was raped' and expect all of your problems to go away, Kelly. Not again. Don't keep doing that." That means this isn't the first time Kelly has lied about being sexually assaulted. 
It's a hurtful excuse to actual survivors of sexual assault, and it's only gotten worse over time. Even in a post-MeToo era, many are quick to dismiss accusations despite the fact only 2 to 10% of such charges end up being proven as lies (via BBC). Kelly making light of such accusations only makes it more difficult for real survivors to be taken seriously. 
Not only that, but her offensive excuse trivializes a serious topic. Throughout the episode, Kelly is seen as a liar, like when she compliments Michael on his tie that she doesn't really like. It's played off as a joke, and no one counters with the idea of how destructive Kelly's lie truly is. There would be times on "The Office" where someone would do something racially insensitive, and it was called out as such. But we don't get that with Kelly's over-the-line excuse. 
If you or anyone you know has been a victim of sexual assault, help is available. Visit the Rape, Abuse & Incest National Network website or contact RAINN's National Helpline at 1-800-656-HOPE (4673).