In Dwayne Johnson's Action Career, One Movie Stands Above The Rest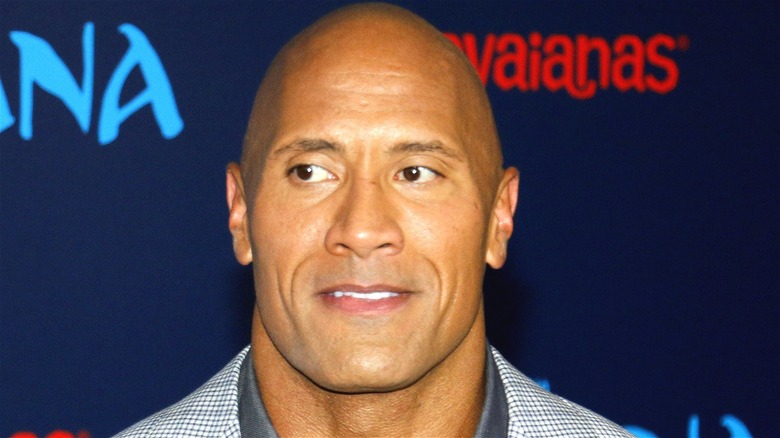 Shutterstock
Box office superstar Dwayne Johnson has become one of the biggest action movie stars on the planet, and for a good reason. Not only is he one of the most well-respected celebrities out there, but he's also a self-proclaimed "hardest worker in the room" and puts all his effort into his films. He nabbed his first movie role in 2001's "The Mummy Returns," and it's been one-action flick after another since.
However, he's not limited to the genre as his comedic and dramatic roles — like HBO's "Ballers" — also deserve praise. His voice acting is also top-notch, with many hailing Disney's "Moana" as Johnson's best movie ever, where he voiced Maui. Still, the statuesque actor is known for his work in action movies, and trying to pick the best of that bunch isn't easy. When you look at all the factors — including box office numbers, critics scores, and fan response — one film stands above the rest in Johnson's action flick catalog.
Dwayne Johnson's best action film is in the Fast franchise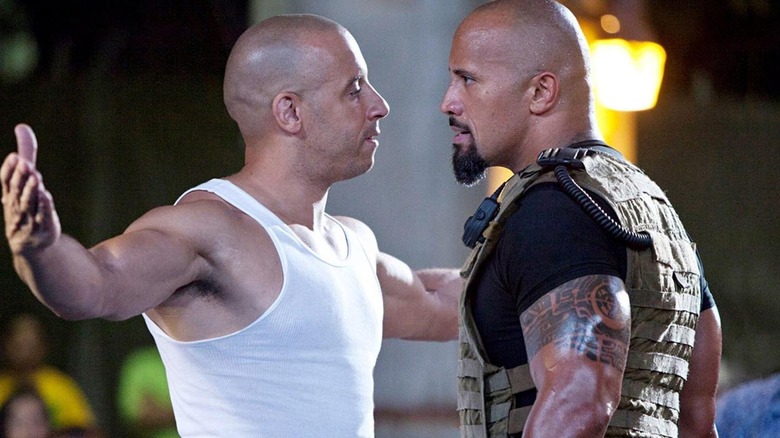 Universal Pictures
In 2009, Dwayne Johnson joined the "Fast and Furious" family for the franchise's fifth installment. "Fast Five" introduced us to Luke Hobbs, an agent in the Diplomatic Security Service, who was tasked with tracking down Dominic Toretto (Vin Diesel) and Brian O'Conner (Paul Walker), who had just been framed for the murder of three DEA agents. Eventually, Hobbs joins Dom and his crew in their elaborate heist and lets his new frenemies go at the film's end.
"Fast Five" has everything you want in an action film — hand-to-hand combat, impressive shoot-outs, car chases, and twists. Johnson was an integral part in making the movie the success that it was, not just with critics but also at the box office. According to Box Office Mojo, "Fast Five" raked in over $626 million worldwide, and the film boasts a 77% rating on Rotten Tomatoes with an 83% audience score. It's one of Johnson's highest-rated movies on the site, landing slightly behind "Furious 7," which has an 82% rating. While the seventh "Fast" film is a blast and a stellar action film in its own right, that'll always be the late Paul Walker's film and one where Johnson takes a backseat.
Other honorable mentions in Johnson's action film catalog include "Fast & Furious 6," "The Rundown," and "The Other Guys." We would have loved to have put the latter at the very top of the list for Johnson's hilarious performance alongside Samuel L. Jackson, but unfortunately, he only appears in the film for a few scenes in the first act. We can't wait to see what the muscle man puts out next, as we're sure his best is yet to come.