Black Adam Producer Teases The Movie's Mind-Blowing VFX Technology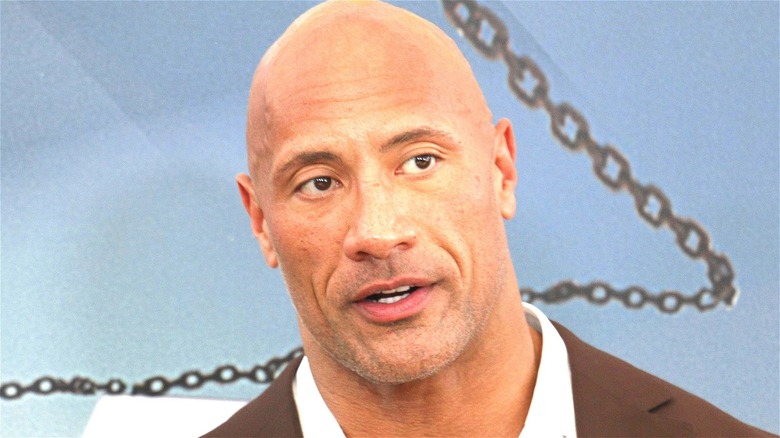 Shutterstock
It might seem like a no-brainer for Dwayne "The Rock" Johnson to star in a superhero movie, but the realities of the film industry have delayed that from happening for years. The Rock was first announced as the star of DC's Black Adam movie all the way back in 2007, when he still had hair (via /Film). The Rock himself confirmed the news in 2014, and since then both he and Warner Bros. have kept teasing the movie without many specifics. The movie finally got a director in 2019, Jaume Collet-Serra, and was scheduled for release in December 2021, until the COVID-19 pandemic upended the movie industry's premiere schedule (via io9).
Now, the film is currently wrapping up production and scheduled to release on July 29, 2022. With production nearly over, we're finally getting a clearer idea of what the movie actually looks like. Weeks after the Rock shared set photos that showed him getting into makeup, producer Hiram Garcia sat down with Collider to discuss the film's groundbreaking use of visual effects. Here's what Garcia had to say about this unprecedented film.
Get ready for a superhero film unlike any you've seen before
In case you're not familiar with Black Adam, he's one of the most powerful magic users in the DC universe. Originally he was an Egyptian slave whom the sorcerer Shazam made his champion thousands of years ago. But Black Adam's newfound superpowers corrupted him. Shazam managed to banish him for millennia to keep him from doing damage. Black Adam then returns to the modern world and tries to establish a utopian society. While many have characterized him as a villain, The Rock sees him as a sympathetic hero (via Gizmodo).
With Black Adam, it's all about the superhuman abilities. And according to Garcia, the film's visual effects department made them a point of emphasis. "This is a character with amazing abilities. He has super speed, can fly, and has world breaking strength to name a few," Garcia said. Unlike another superhero movie that might just show a character's superpower once and never mention it again, Garcia explained that Black Adam's will be a constant presence. Garcia also noted that the film's VFX department is using technology never before seen in films, like the technology used to make Black Adam fly.
Garcia hopes that all of that technology makes Black Adam's entry into the DC universe unforgettable. "We mean it when we say the hierarchy of power in the DC Universe is going to change," Garcia explained. "When Black Adam arrives, everything's going to change."