What Really Drove Criminal Minds Serial Killer Jeremy Andrus To A Life Of Crime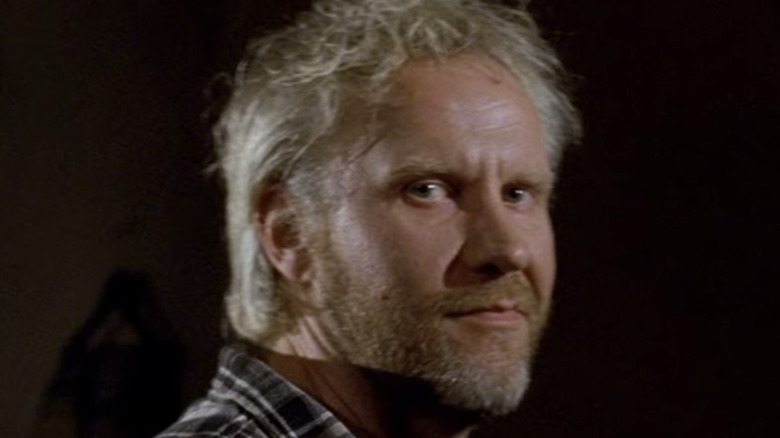 CBS
Since it debuted in 2005, the hit CBS crime procedural "Criminal Minds" has given viewers plenty of nightmare fodder with its tales of twisted serial killers (some of whom are even based on the real deal). One such murderer appears in the Season 3 episode "Limelight" in the form of Jeremy Andrus, played by actor and special effects makeup artist Christopher Allen Nelson (just one of the many celebrities to grace the set of "Criminal Minds"). Jeremy is a sadist who repeatedly abducts and tortures victims to their deaths — and his creative ways of doing so make "Limelight" a bit hard to watch.
The episode opens with a storage auction (a la "Storage Wars"), where two young men buy a unit only to find a stack of pornographic magazines and pages and pages of detailed sadistic fantasies. They call the local police, headed by Officer Jill Morris (Andrea Roth), who in turn calls the FBI Behavioral Analysis Unit with suspicions that these fantasies might have been made real. 
Agent David Rossi (Joe Mantegna) and Dr. Spencer Reid (Matthew Gray Gubler) travel to the precinct in order to assess the boxes of evidence recovered from the storage unit. When they determine that there is no evidence that these are anything besides twisted fantasies of non-consensual bondage, suspension, and electrocution, Officer Morris produces a lock of hair that she says must have been a souvenir from one of the unsub's murders (this ultimately turns out to be her own hair, but it's enough to get the BAU to come in and discover a series of actual murders by this unsub). 
But how could someone become so violent? Keep reading to find out what drove Jeremy Andrus to a life of crime.
The storage unit is a total jackpot ... for the BAU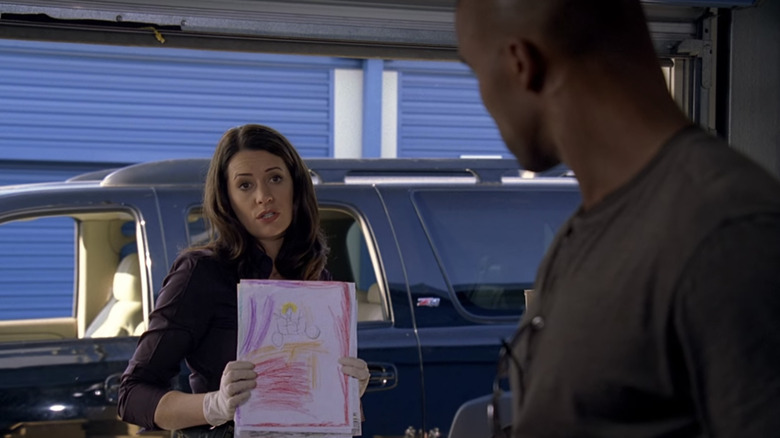 CBS
Agent Emily Prentiss (Paget Brewster) and Agent Derek Morgan (Shemar Moore) are sent down to the storage unit belonging to Jeremy Andrus (under the alias Louis Ivey) to dig through its contents for clues that will help them build a profile for the unsub. Prentiss analyzes the childhood drawings found there: They start out happy, but then the mom leaves or dies, and with only the dad present (and struggling to make ends meet) the child withdraws into himself. They also find among the many BDSM magazines a more vanilla publication from 1982, which Chief Aaron "Hotch" Hotchner (Thomas Gibson) later identifies as the beginning of the murderer's sadistic fantasies.
The BAU gathers the local police to give their profile. Prentiss reports that the unsub targets women who are attractive and professional, whom he sees as being in higher social standing than him. He thus strives to punish them, demoting them to nothing but sexual beings. Hotch jumps in to explicitly call him a sadist who has "anger-excitation" — sexual arousal from the suffering of others. Rossi then makes the somewhat shocking revelation that the killings are an occupational hazard for the unsub — he's really after the torture. Finally, Prentiss explains the last step of each murder: The unsub alters his victims' clothing to fit himself, so that he can reenact the scene later for sexual gratification.
With the profile established, the BAU feels that they're getting close to catching the killer. But he's smarter than they anticipated — in fact, he's been pulling the strings the whole time.
A master manipulator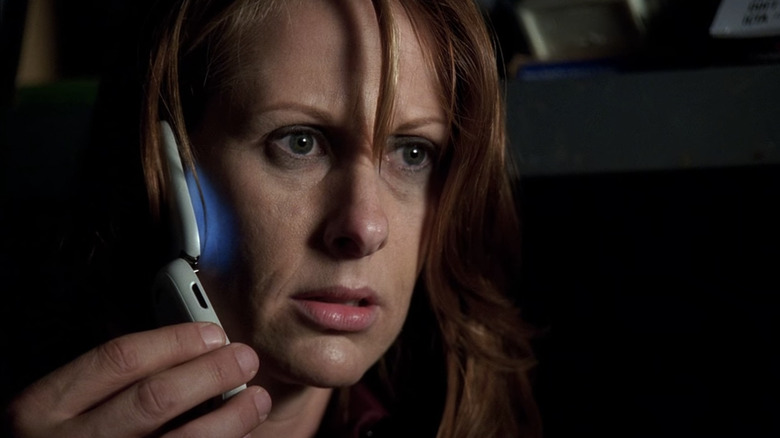 CBS
After Jeremy Andrus calls 911 with an anonymous tip revealing the burial site of two of his victims, the BAU discovers that their unsub is actually trying to get caught so that he can become known for the torture and murders. But he's not just going to turn himself in. Instead, he's waiting for them to walk through his entire life story, step by step. The defaulted storage unit was planned so that he could provide a beginning to the story of his criminal sexual tastes.
In a particularly deft move, Andrus abducts a journalist, Kat Townsley (Wendy Braun), whom he knows has contact with Morris in order to lure the officer into a vulnerable position so that she can be his final victim. As an intelligent, attractive, and career-oriented woman, she fits the victim profile, and because she's the one who got the hunt for him started, she's the perfect victim to make him feel like he's better than the women he victimizes — he had manipulated her from start to finish, after all. Ultimately, Townsley dies but Morris survives, and Andrus is taken into custody. 
It's hard to feel closure from the episode, as everything goes according to the murderer's plan. The ending is good, but nothing's perfect. With its guiding notion that BDSM is inherently violent and nonconsensual, "Limelight" definitely joins the ranks of "Criminal Minds" episodes that didn't age well. But you can't deny the screenwriters' ability to make your skin crawl with this grisly plot.