Why Rosario Dawson's Instagram Has Ahsoka Fans Freaking Out About Ezra's Casting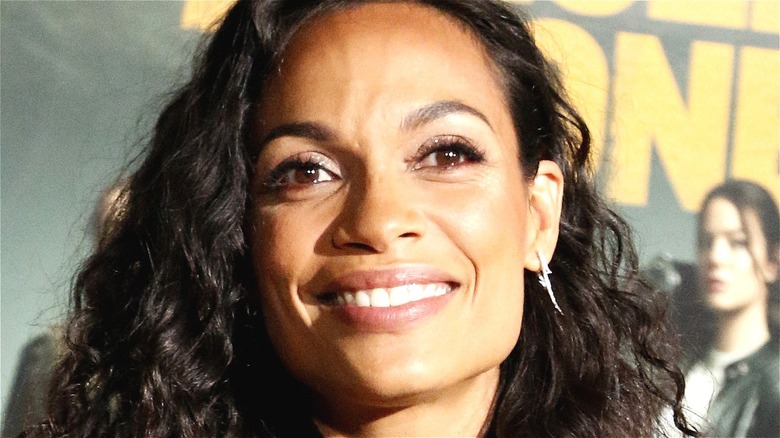 Shutterstock
In the past, fans would have to wait several years in between "Star Wars" movies. There may have been novels, comic books, and animated series to tide people over for the time being, but live-action properties were always a cause for celebration. Now, thanks to the development of Disney+, we'll get more "Star Wars" than ever before.
In December 2020, during Disney's Investor Day, the company unveiled many new "Star Wars" projects coming down the pipeline, the majority of which were live-action. We already had an inkling about some of that were announced, such as the hotly anticipated "Obi-Wan Kenobi" series, which sees Ewan McGregor return in the titular Jedi role. Others were a pleasant surprise, and fans anxiously await the release of a live-action "Ahsoka" series with Rosario Dawson reprising the role she first played in "The Mandalorian" Season 2.
Anakin's former Padawan gets the chance to assume center stage, and she'll likely continue with the plotline initiated with "The Mandalorian." She looked for any information she could find on the whereabouts of Grand Admiral Thrawn. His inclusion in the show will pick up where "The Clone Wars" and "Rebels" left off, and those who follow Dawson on Instagram have recently received a reason to be extremely excited.
Too good to be true?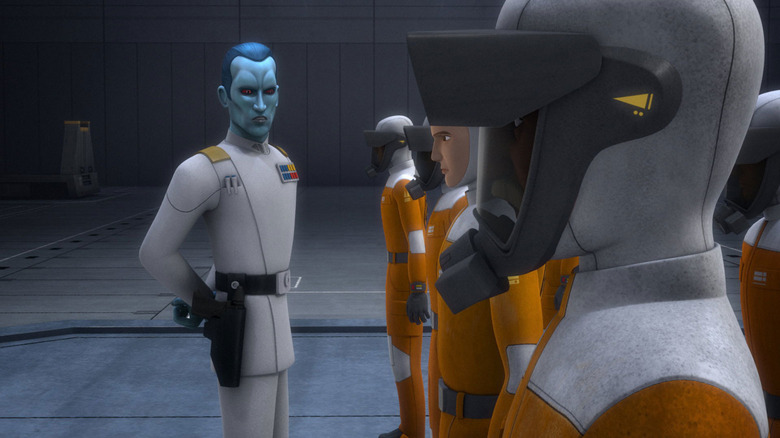 Lucasfilm Animation
It makes sense for Ezra and Thrawn to appear in the live-action "Ahsoka" series. They both play vital roles in her storyline, but as of this writing, there hasn't been any confirmation about whether they'll actually show up in Season 1 of "Ahsoka," let alone who would portray them. That's why it's critical to take this news with a hefty dose of space salt because until Disney confirms anything, we don't know what's going to happen. 
With that being said, Dawson's recent Instagram post, which she later deleted, certainly raises a few eyebrows (via CBR). Dawson shared an Instagram story from another user declaring that Lars Mikkelsen ("The Witcher") and Mena Massoud ("Aladdin") will play Thrawn and Ezra, respectively. These two have long been the fan favorites to land the parts, and Mikkelsen even voiced Thrawn on "Star Wars Rebels." Some fans may interpret Dawson's repost as confirmation the two have landed roles in the series, but it's entirely possible she merely likes the idea of working with these two. 
Dawson could've seen this post and merely wanted to throw some fuel on the fire as fans speculate wildly. After all, Disney likes keeping things as secretive as possible with its "Star Wars" and Marvel series, as evidenced by the massive Luke Skywalker reveal at the end of "The Mandalorian" Season 2. Suffice to say, when official casting announcements for "Ahsoka" come out, you won't be confused in the slightest.