Who Is The Athlete In The New Tonal Commercial?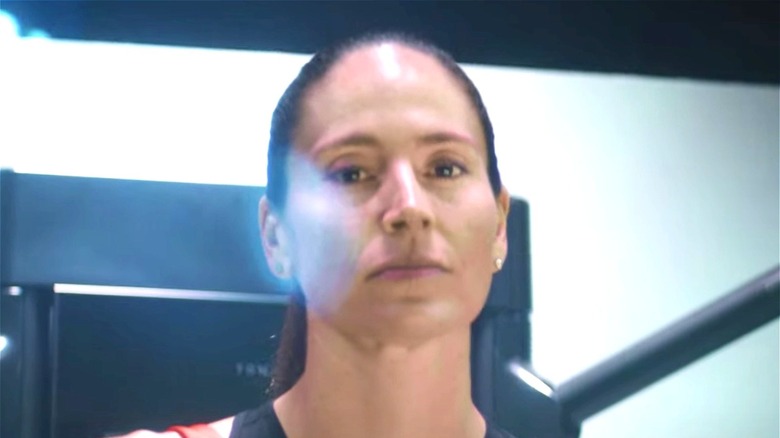 Tonal
The wall-mounted, AI-powered strength training machine Tonal that came out in 2018 (via Inc.com) launched a new ad in late June starring a female athlete that may not necessarily be a household name if you don't pay attention to a certain part of the sports world. However, she's at the 2020 Tokyo Olympics right now, representing the U.S. in basketball, so she's definitely someone you should know.
Her name is Sue Bird, and she's considered to be one of the best players in the history of the Women's National Basketball Association (WNBA). The 30-second spot features her voice, alongside images of her using the equipment. She says, "I've redefined my position and what a champion looks like. So how do I keep changing the game for good? By raising the bar even higher."
The voiceover may intrigue you if you're not well-versed in her history, or that of women's basketball. But it's a pretty accurate representation of her role in women's sports. Who is Bird, anyway?
Sue Bird is the oldest current WNBA player, playing with the Seattle Storm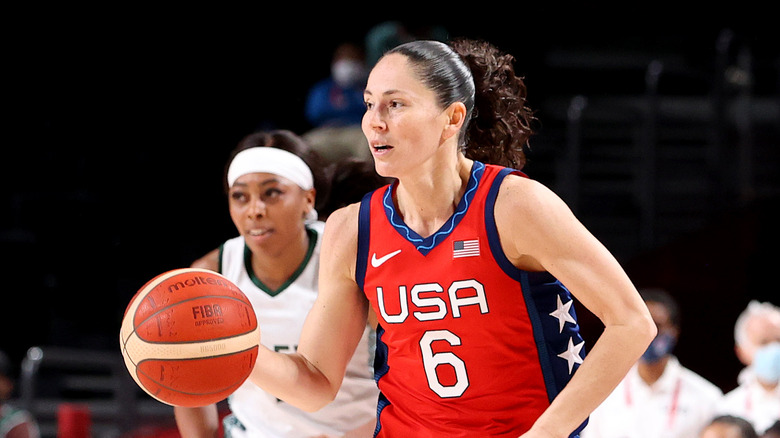 Gregory Shamus/Getty Images
Sue Bird, 40 years old and standing at five feet and nine inches, started her basketball career in high school in New York and then at the University of Connecticut, a women's NCAA basketball powerhouse. She played there from 1998-2002, winning the following honors in  2001-2002: Naismith Player of the Year, Associated Press Player of the Year, U.S. Basketball Writers Association Player of the Year, NCAA Player of the Year for the state of Connecticut, Honda Award for Women's Basketball, NCAA Final Four All-Tournament Team Selection, NCAA Tournament Mideast Region Most Outstanding Player, Big East Player of the Year, Senior CLASS Award for the nation's most outstanding senior basketball player, and more (via UConn). Then, in 2002, she became the first-draft pick at the WNBA draft. ESPN said it was the first time a guard had been the first player drafted. At the time, Seattle coach Lin Dunn explained, "We felt we could not pass on this young woman. She is absolutely special."
She hasn't left Seattle yet, and she's helped bring the Seattle Storm to the playoffs for 14 out of the last 18 seasons. They've won the WNBA Championship four of those years, in 2004, 2010, 2018 and 2020. Her list of accomplishments there is quite long: she is the WNBA's all-time assists leader, all-time career starts leader, all-time career games leader (she's started 470 of them), and an 12-time WNBA All-Star. She was named one of the league's greatest 20 players in 2016. 
And that's just the tip of her domestic professional career. It doesn't count her impressive accomplishments on the world stage.
Sue Bird owns the most Olympic and World Cup medals of any basketball athlete in history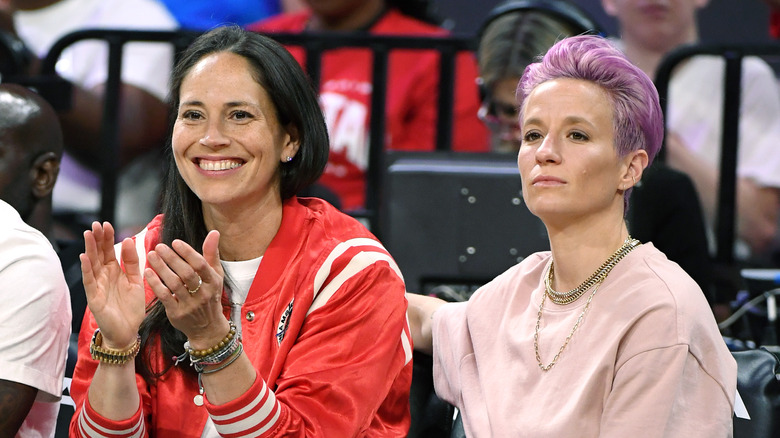 Ethan Miller/Getty Images
Sue Bird played for U.S. select teams in international competitions starting in 2000, and was called up to play for the U.S. Basketball Women's National Team before she even left college. She has helped Team U.S.A. win four-straight Olympic Gold medals and five International Basketball Federation (FIBA) World Cup medals since then. USA Basketball says that she has a 142-6 record in a U.S. basketball uniform from 2000-2020 (54-2 in exhibition games). Sports Illustrated also reports that she's obtained each of the "Four Queens" — Olympic Gold, FIBA World Cup gold, a WNBA title, and an NCAA championship. Wow.
In the Tokyo Olympics currently taking place, Bird (and teammate Diana Taurasi) are going for their fifth gold medals. Her journey mirrors that of the WNBA itself, which was in its infancy when she started out. "It's hard for people to understand now, with the WNBA in its 25th year, but there was no professional basketball for me growing up," she told SI. "That's not what I dreamt of. I dreamt of the Olympics."
And now she's there for the fifth time — which in itself is an accomplishment, considering the fact that they take place every four years — looking for a record fifth gold medal. Bird can next be seen representing her country in a game against Japan at 12:40 a.m. ET on Friday, July 30 on the USA Network. It'll be re-aired later that day on NBCSN. We wonder if the Tonal ad will run during the game?
On a personal note, Bird is engaged to National Women's Soccer League (NWSL) star Megan Rapinoe as of October 2020 (via ESPN), who is also in Tokyo repping America with the U.S. Women's National Team (USWNT) in that sport. Now, that's a heck of a lot of athletic excellence in one relationship!